I'm overwhelmed by the response of my first blog I wrote and all the filmmakers out there who reached out to me. If you haven't had a chance to read it yet, please visit the following link: Follow Your Heart.
I want to start where my last blog ended and share with you my personal experiences working on my first professional attempt at making a short film back in 2012.
I struggled (like most filmmakers) through my earlier film projects. For me it was a lack of self-confidence, which saw me fail to act on instinct and ultimately have the courage to make creative decisions based on my 'gut' feeling. For what it's worth, I've learnt that ignoring these inklings when something doesn't feel quite right can quite often be costly. In this post, I share my experiences working on 'Bloodless' and the struggles we faced.
I owe a lot of thanks to my friend Jose Walters Rangitihi who inspired me to jump back in the director's chair. I still remember things clearly. The first question I asked myself was, "Where do we start?"


Bloodless cast and crew with Co-Director Jose Walters-Rangitihi

If you didn't my first blog, let me remind you about my situation…

I am a filmmaker living in a small town in New Zealand with no established film industry or network of cast and crew. I had to recruit everyone, and to make things even more challenging, I had to recruit people with no prior experience.
I am a huge 'The Walking Dead' fan and I had an overwhelming desire to shoot my own zombie film. Another one of my inspirations was Zack Snyder's remake of 'Dawn of the Dead.' I recall the fear I experienced when he introduced me to running zombies. I want to add here that in case a zombie fan is reading this post, that Danny Boyle's '28 Days Later' also involved running zombies. I would argue that they weren't actually zombies, however the film was also terrifying.
Co-Directors Aaron Falvey and Jose Walters Rangitihi
Pre-Production
I made the decision to write, produce, direct, and DP this project, since I didn't know anyone who could help me. My first task was getting the screenplay written. Now I'm not bad at coming up with concepts, but when it comes to writing dialogue, I am terrible. I had an idea for a film and I started writing a script, but I got about halfway through and got writer's block.

It was actually the first time I had the inkling that something wasn't right. Fortunately, I acted smart and made the right decision to recruit a writer who could help. Where do you go when you have no money to pay someone and don't know anyone who writes? Facebook!

After some time writing posts to my friends, I finally found a lead and they weren't in New Zealand. It was by sheer luck I had been added on Facebook by someone who shared the same name as me and lived in the United States and his wife (at the time), and was actually a writer.
I made contact and after a long discussion, Lee Quarrie offered to help me write a script for my film. The most challenging part of this was working out time when we were both free to collaborate, this meant looking at our schedules and making times which worked around both our daily jobs and also navigating the time zone differences.
Jose Walters Rangitihi testing out the first bite wound prosthetic

I found that Google Docs was the perfect platform to collaborate with on scripts. It has the ability to share documents, write comments, and message whilst in the document to discuss changes. After about a month the script was completed. Lee added some wonderful elements to the script, which really brought the story to life, including its big twist at the end. I'm forever grateful for meeting Lee and we have become good friends since.
Casting The Movie
My next step was casting my characters. I had to cast a lead actor and three supporting actors along with about 50 zombie extras. I certainly had my work cut out for me. I used social media to advertise my film. Initially I didn't get any interest, but I waited a week and then posted again. I finally got a bite (no pun intended)!

A friend of mine, Matt Flight, was interested in acting. He had no prior experience and he happened to have a friend, Nate McQuade, who was also interested. We met and I made the decision to cast them. A work mate, Matt Williams, filled in another role and I found my final actress, Nic Brasch, on Facebook through a friend of a friend. I posted again and sorted out most of my extras through pure generosity of the public. I was very surprised by how many people were keen to be zombies, some even more passionate than me.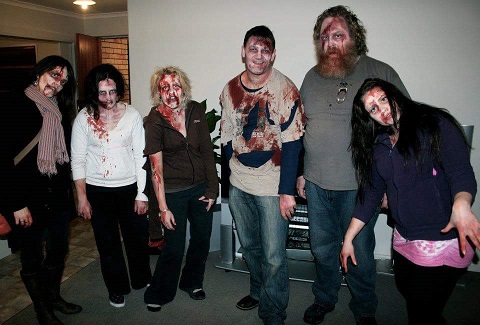 Zombie Extras during the final shoot in the evening.

Make Up and Hair
My cast was sorted, but there was one thing I was lacking and something I really wanted: A great makeup artist. I made an attempt to make a bite wound prosthetic myself, but soon realised how terrible I was and how much I needed a true artist.
Back to facebook I went. Soon I got some referrals from friends for two incredibly talented makeup artists who happened to be a father (Shane Sutherland) and daughter (Chloe) team. I set up a meeting with them and discussed my needs. I had a pretty clear vision about what I wanted and we discussed the need for latex prosthetics to be made so we could do zombie bite wounds and gashes. I still remember the first test trial they did. It was amazing! For the first time, I started to see my vision coming to life. It was a very poignant moment in my filmmaking career. Shane and Chloe are outstanding artists of the highest level.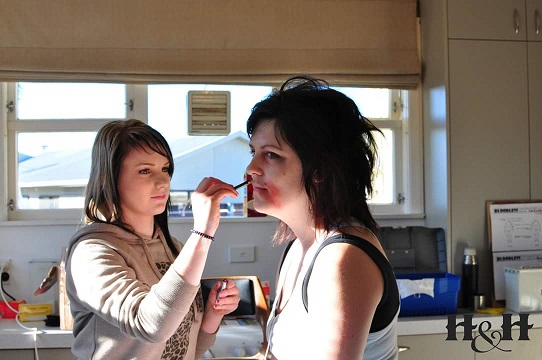 Makeup Artist Chloe Sutherland


The first bite wound prosthetic crafted and tested by SFX Makeup Artist, Shane Sutherland


Zombie Extra Glenn Kirby posting for a shot

Scheduling was an interesting task for me. I had a 20 page script and no real idea of how long it was actually going to take to shoot. Being conscious of people's time, I decided to split the film into a two day shoot. Instincts told me I should allow more time, but I ignored it. How accurate do you think I was? Let me explain…


Making Time Sensitive Mistakes
We planned to be on set for our featured zombie extra at 6:00 AM. I should remind you that this is a passion project. People were helping me because they believed in the project and are passionate about the genre. In return, I offered to provide food and drink.
Anyway, one of the extras gave me every indication he would be there. I didn't know this person personally, but I'd spoken to him several times via Facebook Messenger.
Do you think he turned up?
No. This setback disrupted the entire production. Our next scheduled zombie extra was due on set at 7:00 AM, so we had to wait until then before we could search for a new featured zombie who could wear contact lenses. We found someone, but were already an hour and a half behind schedule. By lunchtime I had come to the realization that my shooting schedule was wildly ambitious and that we were going to have to make some changes. This was perhaps the biggest lesson I learnt from this project...
You cannot compromise on time.

Allow more time than you need to achieve your shots. It will improve the overall quality of your film, including your actors performances. This will also reduce stress levels across the board.



Stuntman Hamish Duncan on roof with Natasha Walters Rangitihi

Follow Your Instincts
After lunch we managed to make up quite a lot of time. Jose stepped in to direct a large action sequence, which was very VFX intensive. At this point I took a break while the last scene of the day was completed. I was mentally and physically shattered. I don't recall ever feeling as tired as I was that night and I certainly gained an appreciation of what it really takes to make a film. We only required an extra couple of hours of filming to make up for delays on the first day and these shots were completed later that week after work.
The final day of filming was all night shots and had a high number of zombie extras required in scenes. Arranging zombies into a natural looking formation on film can be quite challenging. There were shots in the final film which really let the film down. This was another lesson learnt on my journey as a filmmaker.
As a director I also learnt how important it is to follow your creative instincts. While shooting scenes on set, I would often ignore the inklings to do things differently as I watched a scene unfold. I put that down to being under too much pressure and not allowing enough time to allow for additional takes.
Self-confidence was also a factor and I was conscious of what others would think of my ideas. When I look back now, I realise how crazy it was that I could be afraid of such a thing and when I watch the film and see those elements I should have changed. It gives me the motivation I need to always act on my instincts and speak up when I see something that bothers me.

Attention to detail is huge and you need to follow your instincts. I learnt a lot about my strengths and weaknesses and this was something I would go on to correct over the coming years.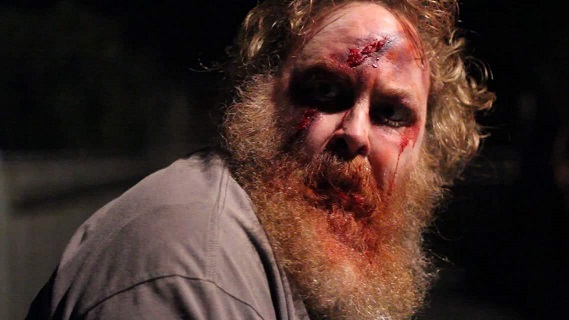 Featured zombie extra, Geoff Anderson

Post-Production
I left most of the editing up to Jose to complete because this was one area which interested him. It's certainly not an area that interests me. It ended up taking us almost a year to complete post-production. I learnt lots, from the importance of good sound to the design of the sound and how much the score can change the tone of a scene.
I also learnt a lot about pacing. I find that most new filmmakers struggle with this aspect about making the right decision on whether or not to remove footage from their film. Every scene serves a purpose, but some scenes can upset that overall pacing of your film. It can be a very delicate balance and hard to let go of a scene for one reason or another. I highly recommend getting an external perspective on your film when you think it's completed. It can make all the difference.


Completion
Finishing any film is an incredibly satisfying experience. After pouring my heart and soul into this project, it was no different, and sharing my films with others is the most rewarding part for me. I still find myself dissecting my work and acknowledging its flaws, but there is no better way to learn than from your mistakes. If you can't see or ignore your faults, how will you improve? Be truthful to yourself.
As a director, I can often relate those flaws and to that fact I did not follow my instincts. I encourage everyone reading this to acknowledge and act on those inklings the next time something doesn't feel right.
Challenge yourself to follow your instincts and make those brave creative decisions. I guarantee you'll be glad you did.
Aaron Falvey has been been passionate about filmmaking since the age of nine
when his friends' parents bought a handy-cam. They spent their weekends making
short home movies and since then it has inspired him to become a film director. In
2012, after working in the photographic and video production industry for 14 years,
he decided to focus on professional filmmaking. Since then, Aaron has been involved
in a number of films. His most recent films are Ascendance (2017) and The Flame
(2016). Although he primarily directs films, He is also a very talented producer
having produced all his own films. Learn more at: www.aaronfalvey.com


---
Like this blog post? Please share it on social media (Facebook, Twitter, LinkedIn, email etc) by using social media buttons at the top of the blog. Or post to your personal blog and anywhere else you feel appropriate. Thank you.
As always, we welcome thoughts and remarks on ANY of the content above in the Comments section below...