If you're a creative of any kind - actor, filmmaker, screenwriter, producer, or any below or above the line talent - crowdsourcing is the tool you need to give yourself a competitive advantage in a crowded marketplace. Winning champions of you and your work is essential! But did you know that you could crowdsource just about anything including locations and equipment for your project? It's true and it's proven! All it takes is your time and effort.
Today's video explains why Crowdsourcing is so essential for ALL creatives!
Crowdsourcing for Filmmakers: Indie Film and the Power of the Crowd, written by Stage 32 Founder and CEO, Richard "RB" Botto, is one of the best-selling titles in the multi-decade history of Focal Press/Routledge and was published under the prestigious AFM (American Film Market) Presents banner. Through detailed chapters and numerous case studies, the book details how creatives can find the competitive edge that will make all the difference in gaining an army of support.
Crowdsourcing for Filmmakers has garnered over 80 5-star reviews and has reached #1 in 6 film and business categories on Amazon/Audible.
The Audiobook version of Crowdsourcing for Filmmakers also debuted as a #1 New Release on Audible and was featured on the Audible platform as the Featured Audiobook of the Day. And you can now get it for FREE through Audible. Just choose your country below and download it today!
Want a FREE audiobook?
Want a paperback or e-reader copy?
With more outlets than ever for independent film, television and digital content, there is a massive and immediate opportunity for ALL CREATIVES to create and control their own content. But to do this, you have to know how to crowdSOURCE in order to rise above the crowd. This is something completely in your control and something you can learn beginning today!
In the video below, RB explains why crowdSOURCING is so essential.
Why is Crowdsourcing Essential?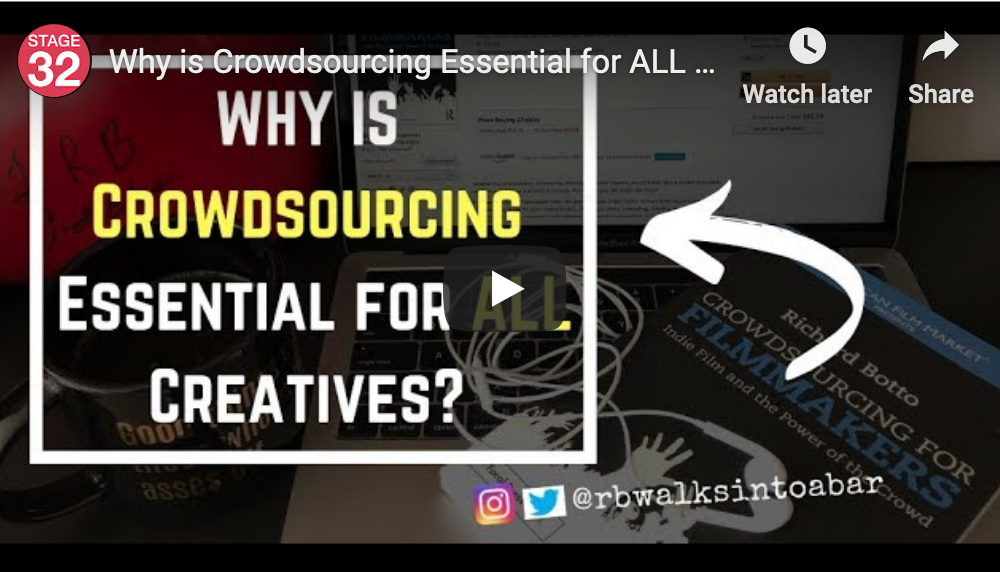 See other videos from RB in our Crowdsourcing for Filmmakers Blog Post Series
Crowdsourcing Praise
---
Let's hear your thoughts in the comments below!
Got an idea for a post? Or have you collaborated with Stage 32 members to create a project? We'd love to hear about it. Email Joleene at joleene@stage32.com and let's get your post published!

Please help support your fellow Stage 32ers by sharing this on social. Check out the social media buttons at the top to share on Instagram @stage32online , Twitter @stage32 , Facebook @stage32 , and LinkedIn @stage32 .