Today we are announcing an exciting new feature on Stage 32 - Vanity (Personalized) URL's.

If you are a frequent viewer of my On Stage With RB webcasts, you often hear me speak of "closing the circle" on social media by making certain you list the URL's of your other social media accounts with your bio on each platform you utilize. Having a shortened Stage 32 vanity URL will make it easier to post the link to your profile on social media platforms where limited space is an issue - Twitter for example.

Having a vanity URL will also make it more convenient to promote your Stage 32 account on your online and offline promotional materials. (More on this below.)

It's easy to claim your Stage 32 Vanity URL...Let me show you how:

---
There are two ways to access the username selection page: you can do so by choosing "Edit Username" from the "Account" dropdown menu: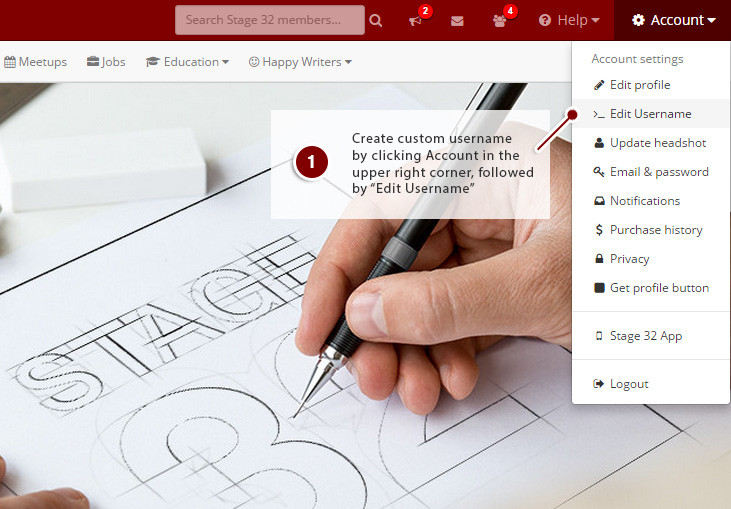 ---
Or you have not yet set your username, you will see it on top of every section of your profile:


---
There are few things you need to know. You can only change your username once – so pick wisely!

If you made a mistake once, you'll be able to modify it one time, but after that you won't be able to make additional changes. Also keep in mind that the username has to be at least 5 characters long:

"mike" would be too short and you would get an error message.

---
If username is taken you will also be prohibited from choosing it:

"derrick" is taken, if this is your name, we recommend to follow it with a period and a last name.

---
Once you choose exactly what you want – you will be able to save it:
---
This will be your personalized link / username that you can put on your resumes, professional websites, other social media accounts, business cards or anywhere else you deem important!



So, what's your Stage 32 vanity URL?...

---
Like this blog post? Please share it on social media (Facebook, Twitter, LinkedIn, email etc) by using our social media buttons at the top of the blog. Or post to your personal blog and anywhere else you feel appropriate. Thank you.
As always, we welcome thoughts and remarks in the Comments section below...