As many of you know from our Mission Statement, Orson Welles played a significant role in the naming of this site. I am one of those people who has a warm spot for Welles. I believe that time has treated him quite unfairly - perhaps even more unfairly than he was treated when he was at the pinnacle of his craft. Surely, there is no arguing his prodigious talents as a writer and a filmmaker. And as an actor, one could surely make the argument that he remains seriously underrated and underappreciated.
A few nights ago, I revisited Welles noir classic, Touch of Evil. I had forgotten how much I enjoyed that film, particularly the third act, which is just note perfect in my estimation. The version I watched was the so-called director's cut, culled together from scenes left on the cutting room floor after the studio had wrested the film Welles' hands. At the beginning of this version, there's a crawl reminding us the Welles wrote a 58-page memo to Universal's head of production, practically begging him to reconsider his cut. The request didn't even warrant a response.
This was just the latest in a long line of incidents where Welles fought for his creative vision against those who cared little about art, and much about money. Through the years these same people painted him as an egomaniac. The reputation stuck. The truth of the matter is that Welles was a great collaborator. He understood that when it came to a production, any production, be it for the radio, stage, or screen, he was only one man. He couldn't stand alone.
Here's a quote from Touch of Evil co-star, Janet Leigh:
"It started with rehearsals. We rehearsed two weeks prior to shooting, which was unusual. We rewrote most of the dialogue, all of us, which was also unusual, and Mr. Welles always wanted our input. It was a collective effort, and there was such a surge of participation, of creativity, of energy. You could feel the pulse growing as we rehearsed. You felt you were inventing something as you went along. Mr. Welles wanted to seize every moment. He didn't want one bland moment. He made you feel you were involved in a wonderful event that was happening before your eyes."
Quite the control freak, huh?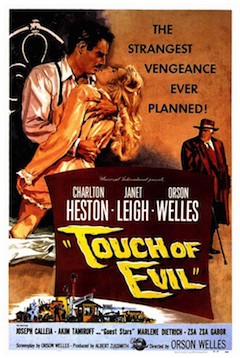 Welles understood what most creatives learn along the way. We may write alone, we may practice our monologues in front of the mirror, we may frame and edit a scene in our minds, but when we're ready to put our craft to use, we depend on others to assure all the practice and honing pays off and comes alive.
The bottom line: As creatives, we're all in this together. If you try to go it alone, failure isn't an option, it's a guarantee. All the accolades you'll ever receive are at least partially owed to the talents and generosity of your peers. Welles knew that. Probably better than anyone.
At the end of Touch of Evil, there's the famous line - which kicks me between the eyes every time - delivered by Marlene Deitrich's Tanya, speaking of Welles' Captain Quinlan:
"He was some kind of a man... What does it matter what you say about people?"
She could have been speaking of Welles himself.
Have a terrific - and creative - weekend.
Richard "RB" Botto, Stage 32 CEO


PS - A special shout-out and thank you to author and Stage 32 member, Virginia McKevitt for her coverage of Stage 32 on Indies Unlimited.
It never goes unappreciated when members of this community help spread the word of 32. I thank Virginia for her generous spirit.