Sue Scott-Escudero: My question is - What is the main thing you are trying to accomplish with your films.. when you die, what kind of message or influence do you hope to leave to mankind here on Earth? Thank you.
TS: When I was first starting out, I wanted to be able to make people feel like I had when I watched Gary Cooper, Marlon Brando, James Dean. As I matured, I realized something inside me was beckoning.
Trevor Mayes: Hello Mr. Stamp. What's your secret to imbuing your characters with such incredible presence and gravitas?
TS: I had to really accept that there was only ever this moment-even between "Action" and "Cut"-that is my life. When the film in the camera is moving, that is my canvas as an artist, so to speak. It became an opportunity, a frame, whereby the previous unnoticed 'moments' slipping by became fused with an attention; the attention inside, yet not limited to 'me'.
Robert J Gilman: Acting is defined in many ways, a couple being - "Acting truthfully under imaginary circumstances" another is, "Acting is being." What is your opinion and experiences with training and acting coaches/teachers?
TS: My own acting teachers were primarily concerned with performing in the theatre. As life steered me into the world of celluloid, my instruction came from directors I had the good fortune to work with. I was always alert on film sets; fellow actors didn't go unnoticed. I must confess that condition (intention) of becoming a good student has been primary in my long career.
Stavros Spyrou: Did you ever visualise being nominated for an Oscar - was that a goal of yours?
TS: After my Billy Budd nomination I was often told the films I made were worthy of Oscars. Yet, as time passed and the ceiling of my efforts was overlooked, I acknowledged that the Academy and I saw things differently.
Brandon Brandy Welile' Bran: Hi Mr Stamp. First of all, I'm a young artist in between auditions... a few tips please... What's the best way to present yourself at auditions in order to nail your audition and the character?
TS: I do two things. Usually only one. If I know anything about the part, I dress as the character. If I am flush and don't know, I try to look well turned out. I often look at the footwear of the producer, director, casting person, to keep things in perspective. More importantly, stay in the moment. Genuine spontaneity is rare in the business. Feel how your feet 'feel' as you step in or sit down.
Laureen Vonnegut: Do you prefer acting in film or theater? And why?
TS: I began in the theatre. I loved it and it stood me in good stead. But as soon as I made Billy Budd, I became addicted to film. Still am.
Jeffrey Staab: Terrance,
How has your career, as an actor, made you a better man, a better person? I ask you this because you have had a long successful career. No doubt, like everyone else, you've had ups and downs.
TS: When I was sure I could earn my rent by performing, what I wanted most was a long career because I loved it all. During the eight years in the wilderness I remained in love, yet during that barren time the consciousness I had in front of the camera began seeping over into my life offstage. I came to accept that the Universe seems to know what I need. The thoughts in my head are usually only concerned with what I want.
Frank Wood: There has been much scuttlebutt about the best actors seeking roles in which the dialogue contains subtext. However, I have not heard an opinion on the subject by any prominent thespian. How important is subtext in dialogue, and is it an important consideration to you when choosing a role?
TS: As soon as I accept a role, I begin to explore the subtext, whether it is there or not. The working artist is like everyone else when it comes to paying the rent and buying groceries (albeit organic, in my case). And often lead (crap) can be transmuted into gold if one is paying attention when the curtain is raised.
Greg Smith: Your characters frequently project a gravitas laced with menace and ruthlessness. Not knowing you in real life, my questions are whether in normal human interactions you present yourself with these characteristics, or are typically perceived to; and whether these aspects of your film personality are ones that, to you, come from something innate or could be taught. In other words, I'm guessing that you're no Jimmy Fallon or Chris Rock in real life so how far away do you feel you are from the characters you portray when you take on a role?
TS: Energy is energy. Sex, for example, is a direction. I seem to have always had an inkling of that. The very first time I strode the boards and got paid for it in London's West End was at the Arts Theatre Club on the first of June, 1960. It was a small part of a Teddy Boy. I exercised continence during rehearsals to increase my onstage force, even withholding release with a beauteous redhead who came my way after the dress rehearsal. More in my next tome.
Leslie Green: Hi Terence, Congrats on all your achievements. My question is how to grow your audience base. I have followers however, I would like them to grow more and I would like to travel out of NYC to do so.
TS: I can only interact with what and who life presents to me. As a writer and actor I strive for the best in myself, which I believe is not separate or disconnected from anyone or anything.
Emem Henry: Hi mr. Stamp, great to have you here...my question is; how did u get people (directors and film makers) believe in your talent?
TS: I believed in myself. Originally, when I didn't get cast I told myself there was a lack of discernment in them. This could be considered conceit. I look at it differently. Cherishing that divine spark in myself (consciousness) at whatever cost I call being selfishly intelligent.
Jake Glascock: Would you like to be the villain in my new sci-fi fantasy film script? If you'd like to see the treatment first, I totally understand. It would be great to look for funding with a fantastic actor attached.
TS: Get it to my manager at Untitled Entertainment in Beverly Hills or Another Tongue in Soho, London. It will be read.
Nichol Lewis: Hi Terence! Thank you for visiting Stage 32. I have a question. How did you get started in the film/movie industry?
TS: I studied acting at the Webber-Douglas Academy in London. I won a scholarship, as I came from a poor family. I worked on stage until Peter Ustinov saw me-along with every other young actor in London-and cast me as Billy Budd.
Dante Mcguire: Did you have any regrets making the Limey?.. would you have preferred your character to be more bad ass and more brutal?.. I still like to replay your famous quote, "tell him I'm coming.. tell him.. I'm fucking coming," as it makes me laugh haha.
TS: The only regret I have is that Soderbergh is retiring before making the sequel. I'm glad you liked the film. You're obviously a discerning guy.
Miss Forty: First of all, Mr. Stamp thank you so much for being here among us. This is not a question but an affirmation: You are one of the most attractive men I've ever seen!
TS: That's the nicest thing I've been told this year. Thank you.
Jason Figgis: Hello Mr. Stamp. Two of my favourite performances in cinema are the ones you gave in Far from the Madding Crowd and The Limey. Being decades apart, do you find the techniques of director's from both periods of film to differ greatly in terms of approach and style?
TS: John Schlesinger was the first director I worked with who didn't really want or like me. The producer foisted me on him. Schlesinger was a nightmare to work with. I only got through it because of Julie, the crew, and my girlfriend at the time, Jean Shrimpton. Soderbergh was the opposite, a dream come true-the director and the camera operator. The result, a film actor's best scenario-a film that was mostly comprised of take ones.
George Mendeluk: The Collector has always been forever etched in my mind. What do you think of your performance, the character you created and your working experience on the film?
TS: After my debut with Peter Ustinov and Billy Budd, I never thought it would get better. Yet coming to Hollywood for the first time and being chosen and directed by William Wyler (perhaps the best filmmaker of all time, artistically and commercially) set the bar even higher. Samantha was nominated; I was overlooked. We both shared the Palm D'Or at Cannes. I consider The Collector one of my best.
Amilee Hagon: What is the most interesting and the most complex makeup you've had to experience for a movie?
TS: The most complex was Alien Nation (four hours in the chair before, two hours after, plus seven weeks of night shooting). One of the worst experiences of my career. Bernadette, in Priscilla, Queen of the Desert, camp, but interesting, and fun!
---
Please feel free to leave remarks for Terence in the comments section below.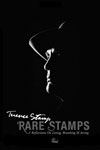 And check out Terence's incredible new book Rare Stamps: Reflections on Living, Breathing & Acting here: