In October of 2004, I was living in Scottsdale, Arizona. At the time, I was editing a national men's magazine called Razor. There are many perks to co-owning and editing a magazine, but perhaps none bigger than the swag. Everyone wants coverage and they're willing to send you just about any item, big or small, to secure a couple of column inches.
In October of 2004, I was living in Scottsdale, Arizona. At the time, I was editing a national men's magazine called Razor. There are many perks to co-owning and editing a magazine, but perhaps none bigger than the swag. Everyone wants coverage and they're willing to send you just about any item, big or small, to secure a couple of column inches.
The thrill for me was found in books and movies. We would receive galleys sometimes nearly a full year before a novel or biography would hit the shelves. Movie screeners would arrive at our office months ahead of their release date. Accompanying the screeners, what we called a "Beggar's Pack" - press releases, McNugget quotes from the actors or the director, and requests for interviews. In mid October, as we were putting together our year-end issue, the one that would include our "Best of 2004 Cinema" summary, I realized there was only one film with Oscar buzz for which we had no material: "Sideways."
"Sideways" had its debut at the Toronto Film Festival in September. We were covering the festival, and the buzz was strong. Many felt it was a sleeper, a film surely to be heard from during awards season. I used all my powers as a magazine editor to secure a screener. I called in favors. Nothing. Honestly, I had never seen anything like it before. Most studios would sell their souls for a blurb. But the company line out of Fox Searchlight was that they wanted the word of mouth to be organic. This was a movie of the people, for the people, press be damned.
On October 22, 2004, "Sideways" opened in limited release. For a person living in Scottsdale, limited release means a 50-minute flight to LA. To my amazement, the film was showing in a theater 40 miles away. I enlisted a female friend of mine, seven years my junior (worth noting), and dragged her ("sounds boring") to an opening night screening.
From minute one, I was invested. By the time Miles and Maya have their "wine as a metaphor for life" conversation (concluding with Maya's infamous line: "And it tastes so fucking good."), I was convinced not only that I was watching the best movie of the year (with all apologies to "Million Dollar Baby"), but one of the most well constructed and fully-realized character studies of any film - a fact emphatically confirmed with each repeat viewing. The ending - Miles, hangdog expression, appears on Maya's doorstep with nothing left to lose, and seemingly nowhere else to turn, cut to black - was so pitch perfect, so optimistic, that it did what few movies ever do: left me wanting more.
My date was much less impressed. "I didn't get it," she said. "It's like a chick flick for dudes." And that's when it hit me. Sure, there had been films for guys before. Most of the time, they're about high-speed chases, blowing shit up, or cops bickering with one another while trying to catch the ubiquitous "bad guy." But had there ever been a film that so captured the complexities of male friendships? One critic called it a "Dick Flick" - the review was positive - and I remember nodding in agreement ... and wishing I came up with that phrasing first.
In the ensuing months, I assisted Fox Searchlight with their organic word of mouth campaign. I told anyone and everyone I knew to seek out the film. My interest piqued, I searched for the Rex Pickett novel on which the film was based. It wasn't an easy task. For a film with rising momentum, featuring memorable characters and precise plotting, promotion for the novel was surprisingly sparse. From a business standpoint, the lack of support was stupefying. As a writer, and as someone who had been around the film business for a number of years, witnessing the back door politics firsthand, I couldn't help but wonder about the story behind the novel and the process of bringing it to the screen.
My curiosity reached another level on February 27, 2005 when Alexander Payne and Jim Taylor, much to my happiness, accepted the Best Adapted Screenplay Oscar for "Sideways." They immediately thanked Rex Pickett, but the cameras never cut to him. I remember wondering if he had been invited. He hadn't. He had to beg for a ticket. As Payne and Taylor walked off stage with their shiny new awards, Rex was sitting in the balcony, solo, his bittersweet journey coming to an end.
A few months later, I finally read "Sideways." It was a thrill to re-enter the world of Miles and Jack. I was struck by a few things: one, Payne's adaptation was lovingly faithful; two, the nuances of the characters, so well illustrated in the film by the performances, were even more rich and rewarding in the novel; and, three, Rex Pickett is a hell of a writer with a staggering vocabulary. I've vowed never to play Scrabble with him.
The influence "Sideways" had on the wine world is well documented. Upon its release, sales of Merlot dropped 4%, while sales of Miles' favorite varietal, Pinot Noir, increased by 17%. The Santa Ynez Valley wine country recognized unprecedented visitation. The Windmill Inn (now the Day's Inn) was consistently booked and securing a table at The Hitching Post a nearly impossible feat. Wineries sold "Sideways" maps and people came from all over the world to tour the same vineyards Jack and Miles visited in the film.
About four years ago, three of my lifelong friends and I decided to spend a week touring the Napa and Sonoma wineries. A few days in, over a couple of bottles of vintage Cabernet, we got to talking about "Sideways," and decided, spur of the moment, to head toward Santa Barbara Country. The next morning, we started at Sanford (the first winery Miles and Jack visit in the film) and hit all the haunts. We even stopped by the Los Olivos Cafe to recreate the "No fucking Merlot" scene in the alleyway (my buddy Lou playing Miles, me playing Jack). The week was as memorable as any in my life. The experiences invaluable.
Last year, we did it again. Only this time, it was the Willamette Valley trail in Oregon. In almost every tasting room we visited, the buzz was the same: A "Sideways" sequel was on the way. Rex Pickett was working on the novel. It would take place at the International Pinot Noir Celebration (IPNC) in Oregon. Filming would begin within the next 12-24 months. The excitement throughout the valley was palpable.
As it turns out, part of the story is correct. Rex has written a sequel called "Vertical," and it's every bit the equal of "Sideways." Miles and Jack are back on the road, their placement in the world a bit upside down, the boundaries of their friendship tested in a variety of hilarious ways. It's another brilliant character study and a must read.
Over the last few months, I've forged a friendship with Rex. Based on his writing, and on the fact he is the model for the character of Miles, he's exactly what you would expect - smart, funny, analytical, selfless, and pragmatic are some words that come to mind. As I imagine any fan - and probably more so, a fellow writer -would, I couldn't contain my interest as to his experiences with "Sideways." The path from conception to screen was something that fascinated me. I wanted to hear about the challenges and triumphs, the bumps, bruises, and broken bones. It would be an understatement to say I got more than I bargained for.
At some point along the way, playing to his penchant for generosity, Rex offered me (and, by virtue, the Stage 32 community) the exclusive story detailing the twisting, winding roads of his "Sideways" travels. I jumped at the opportunity. Rex's tale is alternately inspiring and heartbreaking, filled with the highs and lows, the self-doubt, and the paralysis associated with surrendering control of your talent, which should be relatable to any artist.
I believe that relatability is the reason "Sideways" has grown in stature over the years. Every guy sees a little of himself in Miles and/or Jack. Years later, even my date came around, phoning me to say: "I get it now. I SO understand Maya." Great art connects; the journey infinitely more interesting than the destination.
Rex's journey has been nothing short of fascinating. I appreciate him sharing his experience with the Stage 32 community. It's truly a gift.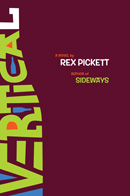 - RB
Rex Pickett's six part series begins Monday, December 5 and concludes on Thursday, December 22. New posts will debut every Monday and Thursday.
"Vertical," Rex Pickett's sequel to "Sideways, is available now for only $10.20 in paperback
and $7.69 for the Kindle edition
. It would make a great holiday gift for any "Sideways" fan.
Check out Rex's Stage 32 profile here.