It was supposed to be a quick rewrite.

Three weeks tops. Not just that, but a favor at a discount price. Fix the dialogue. Crank up the tension and action. Three short weeks and I would be back to my comfortable life. Cue the theme song to the iconic TV show, Gilligan's Island.
"Just sit right back and you'll hear a tale, a tale of a fateful ship..."
Yeah. That three-week-rewrite-as-a-favor morphed into a year and a half of my life lost to the making of a single movie. I know. That's a high-class problem. Who doesn't want to make a movie? Aside from making the New York Times bestseller, list, that's always been a goal of mine. So why do I sound like I'm complaining?
I'm professional screenwriter. A journeyman word merchant with a mortgage and a pair of kids in private school. Oh. And I'm disposable. At least that's the general fashion with which the movie business treats blue collar writers. I can't exactly say that this is a cautionary tale. Rather it's an exceptional story about a historically unexceptional movie. Not that the movie is unexceptional to me or anybody else who slaved over it. The major market reviews tipped from thrilled to hateful. The box office was solid, but hardly newsworthy. Still, the day-to-day making of any picture, be it one that results in awards and acclaim or some direct-to-DVD shelf-filler, is a soul-sucking grind.
Yet I wouldn't trade the Hostage experience for anything. Well, maybe the nearly one million dollars that's still owed me. I can say that I learned a lot... and I lost a lot.
AND SO IT BEGINS...
When I got the call I was in southwest Ireland with my family. Our annual pilgrimage to my wife's homeland. It had been drizzling all day in that Celtic sort of way that keeps the country greener than Kermit the Frog. Because I so desperately wanted a cigar I'd gone outside with a folding camp chair, a good book, and a huge golf umbrella to protect me from the elements. My phone trilled. And on the line was David Wally, a producer for Cheyenne Enterprises, the production company owned by Bruce Willis and his partner-slash-manager, Arnold Rifkin.
"You mind if we send you something to read?" David asked. "It's a script."
"What for?" I asked, reminding David I was on vacation.
"It's Hostage," he answered. "Think we're gonna need your help."
The screenplay in question was penned by Robert Crais from his own novel. I was keenly aware of the script's existence. At the time I had three projects of my own at the company, primarily the adaptation of my second novel, True Believers. Japanese scare maestro, Hideo Nakata, was attached to direct it as his very first English language film. We'd already been through holy wars with the studio, ridiculous fights over whether Hideo's English was proficient enough, casting snafus, petty dick measuring on the part of a studio chief, leading to more production stops and starts than a stuttering geek at a speed dating party.
"Bruce wants Hostage as his next movie," said David. "We were hoping you could to do us a favor."
Favor? That's Hollywood code for "free work." Or writing at a significant discount. But considering how deep I was into other Cheyenne projects, they had leverage. I wasn't in a position to say no. Nor did I really want to.
David promised to overnight the screenplay. I told him there was no such thing in County Kerry. I suggested he send it DHL. Though uncertain I would receive it within forty-eight hours, I knew the package would find me. In rural Ireland, you can send mail with no more than a name, proper postage, and a mild hint written on the envelope. On the movie Far and Away, a friend used to have packages sent from the States addressed to his name and underneath, "The Tom Cruise Movie, Ireland."
The screenplay was delivered to my Irish office-a worn pub booth where I spent morning hours smoking cigars and swilling pints of Diet Coke. Three hours later, I'd read it and aired only some of my opinions, but not all. One thought I kept to myself was that the script needed a hell of a lot more than three meager weeks worth of attention. But that wasn't my job. If Bruce and his fun bunch needed three weeks of scene polishing and dialogue tweaks, I'd dutifully do whatever I could. Thoughts I kept to myself, smile upon my face.
What I did pass on to David Wally was that the present script seemed pretty stock and in dire need of some opera. Ergo, a string of high notes. I could surely whip up the melodrama quotient. But without a director who was pitch perfect, my high notes could end up sounding like nails on a blackboard. I mentioned Florent Siri, a French director whose film The Nest (the most recent homage to Fort Apache) had been making the rounds in Hollywood. David Wally, in fact, had been the one to screen the movie for me. Upon my suggestion, I could hear David's face cracking into a grin over the phone.
"We're making Florent's deal right now," said David. "Cross your fingers."
Back in Los Angeles, a meeting was arranged between Florent and myself. The Frenchman was charming and energized. I don't think he sat but for a nanosecond. His initial concern was that his hit-and-miss English could be an obstacle between our communication. I assured Florent that after the past year of working with the English-challenged Hideo Nakata, navigating his thick French accent was more than doable. There was an instant connection. We talked of our favorite movies, international cinema, our love for the films of Sergio Leone, and eventually about the Robert Crais script. It became obvious that Florent's attraction to the project was the opportunity to work with a giant American movie star. What gave him pause was the present screenplay, which he deemed flat and in need of a page one rethink. Florent had clearly not been informed that I had committed to only a few short weeks of doctoring.
"I'm on a time clock," I confessed to the Frenchman. "Just three weeks and I'm back working with my Japanese director."
"Ah. But we can change a lot in three weeks," said Florent.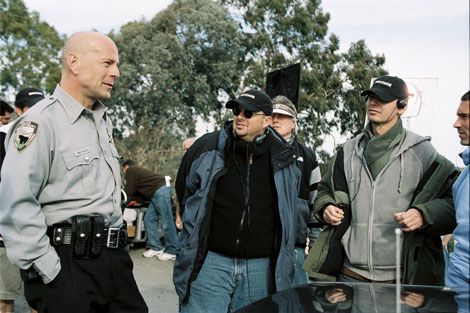 Yes, I agreed to myself. We can change the movie from a picture Bruce and the indie financing company intend to produce... into a hundred plus pages of something I like to call "great on the page, but never to be seen on the screen." I'd had plenty of experience with that. Still, there was something infectious about our shared idea to transform Hostage into something more than a suspense programmer. Florent and I agreed to see what could be accomplished in three short weeks.
WEEK # 1 - THE FRENCH INVASION.
Like most writers, I work alone. In solitary. Me, myself, and my collection of LA Dodger bobbleheads. I do like the company of a dog. But in my backyard office, I can't even get one of our four mega-mutts to hang out because outside, beyond all those double-hung windows I installed, squirrels chirp and taunt the dogs into impossible distraction. From time to time, I've had guests come to work with me. Producers, directors, the occasional movie star. They arrive, we meet, they smoke or drink, then they leave me to my work.
But on Hostage, time was incredibly short. I had only three weeks to both "fix" the script and please the director. As an experiment, I agreed to write with Florent in the room. I reasoned that because he'd be busy location scouting and putting together a crew, his time with me would be limited to a maximum of two, maybe three, hours per day. Enough time to walk him through script changes and apply his notes and bid him a fond au revoir.
I was so very wrong.
Florent arrived promptly at 9:00AM with Dominique Carrara, his French production designer-slash-artistic consultant, and Virginie Drouot, his French personal assistant. The trio spread out in my already cramped work-space, flipped open their laptops, plugged in and didn't move out until ten long weeks later.
Culture shock? Yeah. But moreso for me than them. And let me tell you it was close damned quarters. As I kept to my own ten square feet and puked out pages, they'd speak amongst themselves in a tongue I hadn't wrestled with since college. I heard more French in one day than at a Jacques Cocteau film festival.
Midday we'd break for lunch, a daily ritual that required its own discussion, deliberation, and execution. For example, Florent had developed a passion for hamburgers. So we'd debate over where to find the best hamburgers. What makes a great hamburger? Is there really a joint called Fatburger and why on earth would anybody want to eat anywhere associated with the word "Fat?"
Imagine the international crisis I created among my new French comrades when I confessed that I absolutely loathe cheese. Work stopped for an hour. Florent immediately assigned Virginie to set up a tasting of fine French cheeses. I had to insist that they stop all attempts to retrain my uneducated pallet. I reminded them I was hopeless and American and in desperate need to get back to work.
And it wasn't just I who was invaded. I'm talking my entire family. In fact, on our very first day together, my lovely Irish wife baked fresh raisin scones and delivered them to my office on a tray. My new guests made such a fuss over her baking that the very next day, she whipped up a batch of her famous carrot-pineapple bread. With every progressing day, my wife's initial welcoming gesture had become something so expected that she began baking the second she returned from dropping our children off at school, addicting us all with a prompt 10:00AM carb injection.
Daily, Dominique peppered my wife with the same flattery. "Do you have a sister?"
"No. But I have a cousin," she would tease.
Then came the arrival of Florent's wife, Fleur. For those of you reading who speak French, yes, that's her actual name. Fleur. Once upon a time, in France, a boy named Florent met a girl named Fleur and they married. Now on with the story.
During week number two, Fleur arrived with their one-year-old toddler, Angelo. She began to visit daily and avail herself of my wife's never-ending hospitality, our espresso machine, and quite a few of my children's playthings. If my children were bothered, they didn't let on. At least not until Thanksgiving. When it became my preschool-aged daughter's turn to share with her classmates and teachers about our family's Thanksgiving tradition, she blurted that the French were coming.
"Which French?" her teacher asked.
"My daddy's stupid French friends who I really, really hate!" she flatly stated.
When my daughter's preschool teacher recounted the moment for me and my wife, we practically collapsed in laughter. Weeks later, at a dinner party attended by Florent, I retold the story. He roared. But only days later, at our annual Christmas party, Fleur angrily sought out my daughter. She found Kate prone on the kitchen couch engaged in a Barbie war, towered over the child and barked, "Here we are. Your father's STUPID French friends!"
From that day on, my four-year-old Kate, perhaps scarred from the terrifying experience, began to insist that she really did like my new French friends.
"That's good," I'd tell her. "Because they're likely going to be around your daddy for a little while longer.
"How long?" she innocently asked.
"Not long," I promised.
Though my three-week favor had elasticized into three grueling months, the end was finally in sight. The movie had a firm start date. The ship that was Hostage would soon sail and I would be released to attend my family, not to mention my other projects.
Or so I thought.
---
Remember, Doug will be available throughout the series to answer any inquiries or humbly accept accolades. Now is the chance to ask an industry insider those questions about the craft, the business, or his wife's baking, burning inside of you.
You can pick up Doug's book The Safety Expert for only $14.99 in
paperback
and $7.99 for the
Kindle edition
. I highly recommend it.
-- RB