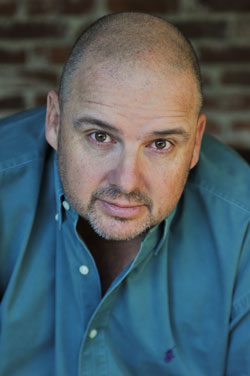 Doug Richardson
WEEK #18
It was January. That little three-week rewrite-a favor to Bruce Willis and his producing partner, Arnold Rifkin-was now entering fifth month. I had no deal. I hadn't been paid for anything beyond the initial three weeks. So you ask, why hell didn't I walk? That's the ultimate test in a negotiation, isn't it? Hit the door and see if the other side balks. If it were only that simple.
Arnold and Bruce were producers on three other projects of mine that were in various states of movie development, including the adaptation of my second novel, True Believers. I felt as if there was a gun to my writer's head. And despite the coolness that was my history with Bruce, his partner Arnold was a package stenciled with a warning: "handle with extreme caution."
If I may, let me rewind back to around week number seven of my three-week favor. I felt as if I'd finally cracked the back of the new script for Hostage. My French-born director, Florent Siri, was also thrilled with the new draft. But so far, Florent and I were a fan club of two. Nobody else had yet read the script. Not any of the producers. Not a soul in the production office. And certainly not our most important audience and resident of Malibu, Bruce Willis.
Because I couldn't trust Bruce to refrain from the movie star move of copying and distributing the draft to his entourage to read, I suggested he trek over to the Valley for an afternoon with me and the script. I bussed Florent back to his rental house and locked Bruce into my office with the promise that if he agreed stay put I'd be back with something icy-sweet and blended from his favorite vice, Coffee Bean & Tea Leaf.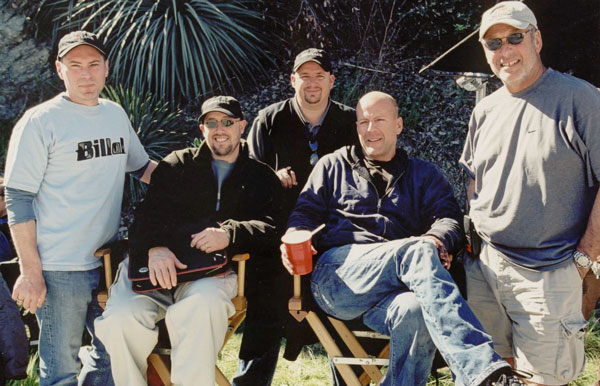 Bruce, a speedy reader, finished in around ninety minutes. When he'd turned the last page, he dropped the script to the floor, smiled through his graying beard, stretched, and said "Thanks, pal. This is finally the movie I'm excited to make."
If shit and syrup both flow downhill, so do the wants and whims of a movie star. Bruce loved the new script, therefore all the producers loved the new script. And since much of the financing was predicated on Bruce's value in foreign markets, the production company had plenty of affection for the new script. For as far as my French friend and I could see, the lights were all green. As I returned to tweak and polish the draft and pre-production surged toward a hard start date, Florent continued to insist that he needed daily support from the writer... ergo yours truly. My reps dug in to see if I could get paid considering I'd moved well beyond contractual obligations.
Enter a man called Hawk.
The Executive Producer-slash-Unit Production Manager of Hostage was none other than Hawk Koch, aka Howard Koch Jr. Hawk's old man, famed film and TV producer Howard W. Koch, had a career that spanned decades. Young Howie Jr. was raised on studio backlots, quickly moving up to be a first assistant director on movie classics like Chinatown and Marathon Man. He's a keen UPM whose job it is to run herd on the day-to-day show, keep the train on schedule, and mind the piggy bank.
That and with his foghorn voice, Hawk has a million Tinseltown war stories. All of them gems.
Hawk described himself as a director's producer, installed to have the helmer's back. Defend the filmmaker from all matter of distractions and/or saboteurs.
That included protecting the director from me... the writer.
Hawk's experience with writers was that we were all no good, meddling, wannabe directors. A necessary evil to movie-making, but best when kept locked in a hotel room and fed from a room service menu. Never ever to step foot into a production office or onto the sacred movie set. Hawk was, in part, correct. Screenwriters are, as a breed, frustrated filmmakers, looking for opportunities to control our work, nervous about handing our tightly engineered architectural schematics over to a contractor who might not know a hammer from a houseplant.
But that wasn't me. Not on this movie. I was still looking for a clean exit.
Production neared. And every time I'd bump into Hawk, he'd inquire as to whether or not I planned to continue tinkering with the script as cameras rolled. I assured him that I couldn't if I wanted to. I owed a script to Paramount, and Japanese horror maestro Hideo Nakata was long past waiting patiently for me to return from my French sabbatical.
And then. The showdown.
It was the second Wednesday in January. Filming was set to begin on Friday. Florent and I were going over some last minute script notes with Bruce at his Mulholland pied-a-terre when, as if I'd stepped on a Bouncing Betty land mine, I discovered a significant flaw in the movie's first act. The pair of scenes in question were holdovers from the original Robert Crais draft. And within them, the actions of our three young antagonists set the rest of the narrative in motion.
What an idiot I am!
How the hell could I have missed it? Or for that matter, anybody else with a brain switched on. I expressed my concerns to Florent, then Bruce and David Wally. And where both Bruce and David instantly agreed with me, Florent wasn't so sure. He'd already carefully storyboarded the first act of the picture, and the scenes in question were scheduled for day four of photography. Not only was I suggesting excising a scene, but also rewriting another in such a way that it would cause a ripple effect throughout the entire script, requiring even more last minute revisions. There's no way in Hades that the production was going to suddenly downshift on a last minute notion from the writer. The producers, the director, and the movie star would need to see the changes on paper before ultimately deciding.
With Bruce's backing, I made the announcement that I would do a quick set of revisions that night. Unpolished, of course. But containing enough information to give all pertinent parties an educated vote. The most important vote, of course, belonged to Florent. I tanked up on Diet Cokes and climbed into my office chair. With David Wally as my go-to editor, we had the new draft printed by noon the next day.
The reading summit was set for three o'clock. Drafts were hand-delivered to Bruce in Malibu and producers Arnold Rifkin and Mark Gordon in Santa Monica. In our Raleigh Studio production offices, doors were slammed shut in order to create a hush for those reading: Hawk Koch, assistant director Mark Catone, Florent, and Dominique Carrara, Florent's French production designer-slash-artistic consultant. The rest of the crew tiptoed on eggshells while feigning to treat me as a stranger, the pariah writer who was looked upon as some kind of rogue wave threatening to capsize the smooth-sailing production. While we waited for the six o'clock conference call to commence, David Wally and I escaped outside. My erstwhile doppleganger must've blazed through two packs of smokes while I slowly prayed over a lucky Cuban cigar.
Hawk quit reading after fifty pages and hauled me into his office. I could instantly read where he stood on the new pages. Content didn't matter as much to him as how changes would affect the carefully budgeted production which, by Hawk's early calculations, would mushroom by around a half a million dollars if anybody was crazy enough to take me seriously.
"We're tight enough as it is," he growled. "No place to steal a half a million out of an already squeaky budget."
"But I cut out an entire scene," I argued.
"On a set we've already built. Plus that moves us up one day onto a new set that we need to hire a swing crew to complete!"
Hawk went on to nickel-and-dime me through the rest of the costs that I'd threatened to inflict with my rewrite. He argued that his primary job was to protect the director's vision. And that's precisely why he was staunchly against writers being anywhere near the production.
And though I reminded Hawk that all movies were broken-down, story-boarded, and budgeted based on a screenplay created by the writer and not the director, he continued to play his parlor game of author versus auteur.
Six o'clock arrived. While we all gathered in Hawk's office, Bruce, Arnold Rifkin, and financing partner, Mark Gordon, were piped in via speakerphone. Hawk weighed in about the budget and the importance of Florent sticking to his vision based on the former script. Bruce topped Hawk by offering to cover whatever overages were created by my last minute alterations. Arnold, of course, backed Bruce. As for Mark Gordon? He didn't see any real differences between the drafts, though suggested erring on the budget-side of the coin flip.
During the arguments that ensued, Florent stayed silent, quietly debating the choices in his head. At last, Mark Gordon said that in the end it was Florent's decision.
"So I must decide," said Florent, "Between Hawk's way? Or Doug's way?"
"Yes, Florent," said Mark. "You're the director."
"I don't know which is better," said Florent. "I need to think longer."
"No time," said Hawk. "We start shooting tomorrow."
The silence that followed seemed to last a life's sentence. The limiter on the speakerphone crackled as Bruce, Arnold, and Mark waited for Florent to make his decision.
"Okay. I decide," said Florent. "I trust Doug."
In my screenwriting career, I haven't had-nor will ever have-the kind of validation held in that one, singular moment. Not that I was vindicated or proven right with those last minute changes. It was merely the faith that this Frenchman, who I'd met just months ago, had placed his faith in me.
With the battle won and production beginning, I was leaving on high note. Sure, I'd be available if the phone rang. I might even stop in to watch a few dailies if invited. But the three-week favor was, at last, over.
"You're going to be on the set tomorrow, yes"? asked Florent via his cell phone. He was already on his way back to his rental in the Palisades. I was on my way back to the Valley.
"Yes tomorrow," I said. "Maybe Monday and Tuesday. But then I'm done."
"I don't think you can go yet. I think I'm going to need you."
"Let's just see how tomorrow goes," I fibbed.
But I was just lying to myself. It had only just begun.
---
Remember, Doug will be available throughout the series to answer any inquiries or humbly accept accolades. Now is the chance to ask an industry insider those questions about the craft, the business, or his wife's baking, burning inside of you.
You can pick up Doug's book
The Safety Expert
for only $14.99 in
paperback
and $7.99 for the
Kindle edition
. I highly recommend it.
Don't forget to check out Doug's Stage 32 profile and website. You can also follow @bydougrich on Twitter.
Cheers,
RB