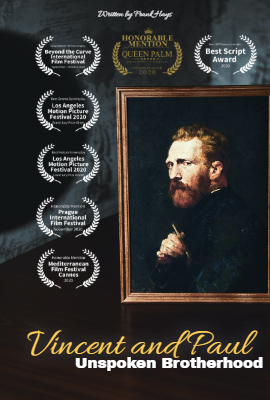 VINCENT AND PAUL: UNSPOKEN BROTHERHOOD
By Frank Hays
LOGLINE:

After being exploited by his narcissistic lover, a mentally unstable painter experiences fits of madness before entering an asylum for treatment.
SYNOPSIS:
Vincent and Paul: Unspoken Brotherhood is a biographical drama. Historians and biographers agree or have hinted that Vincent van Gogh's adulthood included periods of homosexuality. This screenplay delves into the tumultuous relationship between Vincent van Gogh and Paul Gauguin.
Did Vincent cut off his ear, or did Paul sever Vincent's ear in a fit of rage? Did Vincent commit suicide, or was he shot accidentally? These questions and more are answered in Vincent and Paul: Unspoken Brotherhood, the untold story.