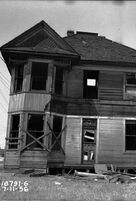 THE HAUNTED HOUSE
By Cobus Vermeulen
LOGLINE:

Imagine yourself in doing something interesting, drawing attention to yourself; just be careful it does not turn around, biting you!
SYNOPSIS:
When Dean decided to shoot a little short film for his Crowd Funding plan, he listened to get the cheapest (none payment) location he could find.
Just one issue, Ryan who helped him with his Camera work as well, never really told him where they would end up, shooting this Short Film.
Little did Dean ever expect to become part of the story himself.