Get advice you need from professionals you can trust.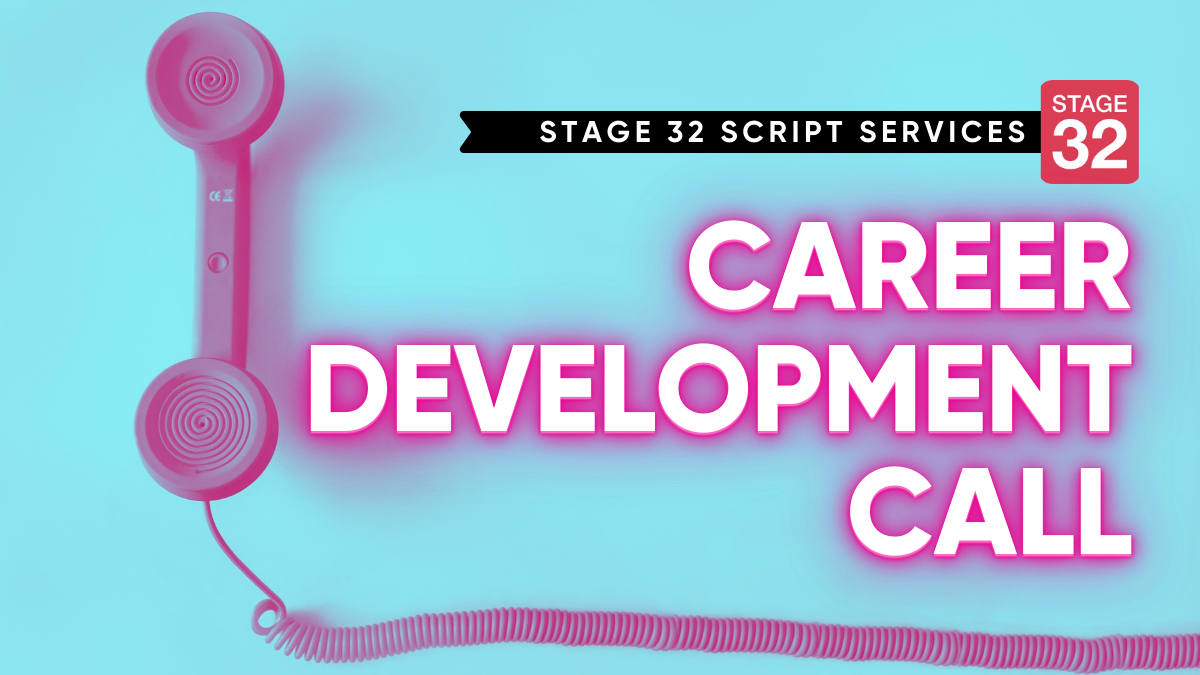 Feeling stuck?
Trying to navigate uncharted territory for a script or project you are working on?
Need to understand what your "next steps" are in order to advance your creative career?
Look no further, you've found your answer.
Stage 32 Career Development calls were designed to put you in control of your career or your project. We have worked tirelessly to bring on industry professionals who have worked on all types of films and television shows all over the world to serve as mentors to our Stage 32 community. Whether you're a writer, producer, filmmaker or actor we have incredible mentors that can help guide you on next steps.
How do you know if a Stage 32 Career Development Call is right for you?
You are a creative interested in obtaining a manager or agent and want to discuss your work
You've been placing in contests but haven't been able to truly get traction
You are stuck at a part in your script and need professional advice to help crack the story
You are looking to transition to a full time creative career
You want to learn how to navigate the entertainment industry
You are interested in filming or producing your own material
You are interested in taking a project from concept to completion and beyond
You are a filmmaker seeking advice on working with production companies, making the jump from shorts to features, securing financing in a DIY world, or finding great material
You are a producer seeking advice on raising financing, securing talent, putting together line budgets, filming in different locations or working with directors
Whether you're a novice trying to find your way or a seasoned professional looking to take the next step up the ladder, our Career Development Call will help you cut through the noise and shorten your path toward reaching your goals.
You will leave your call with answers to your questions and inspired to take your next steps with confidence.
NOTE: All available mentors have been vetted by Stage 32 and are guaranteed to be working professionals. They all have extensive knowledge about the craft, industry and current trends in film, television, and digital content. Many have launched the careers of writers and filmmakers who are now working in the industry. All are incredibly approachable and interested in the success of those they mentor.
"Sarah helped me see my scripts in a totally different light. I was considering myself a jack of all trades but didn't realize that I had a speciality with my writing that she brought out of me. I've reframed my bio and feel much more confident in the meetings I've been getting as a result!" - Clayton L.
"Spencer was able to give it to me straight. He cut through the noise and made my game plan super clear on where I needed to take my script. Thank you so much Spencer!" - Alan F.
"In 30 minutes Anna helped me crack my second act that had been taking me months to figure out. THANK YOU STAGE 32. Wish I would have done this sooner." -Debbie M.
What You Receive
CAREER RELATED CALLS
60 minute private phone call with a mentor (literary manager, producer, development executive, etc) of your choice.
Detailed and specific answers on how you can best navigate your career.
Advice from industry professionals who have launched the careers of working creatives.
Please note: This service does not include a script read or coverage. If you are interested in script coverage or consultations, please click here.
PRODUCTION RELATED CALLS
60 minute private phone call with a mentor (literary manager, producer, development executive, etc) of your choice.
Detailed and specific answers on how to navigate contracts, package projects, filming in different locations and more. Get the right advice from professionals you can trust!
What You Submit
Going into your call, your mentor is trying to get a better idea about you, what your background is and what your intentions are during the call. In order for it to be most productive, here are our recommendations:
Please submit a one to two page overview detailing your bio, your creative experience, logline(s) from your portfolio of scripts or completed projects, your professional goals for the call, and 3 sample questions you'd like to ask your mentor.
Please make sure to also provide two different methods of contact for your call (multiple phone numbers, a Skype handle, etc.)
Turnaround Time
Not sure which executive is the best choice to read your script and hop on the phone with? Email success@stage32.com anytime with information on your script's genre & a logline/synopsis (if available) for advice.