Dark. Twisted. Scary. Creepy. Suspenseful. Psychological mindf***. Bring it.
We want it.
Stage 32 and the Stage 32 Happy Writers are thrilled to bring back our (now 2nd annual) Search for New Blood Contest. We are looking for the darkest, scary, creepy, suspenseful, mind-boggling, most twisted scripts from undiscovered writers from all over the world. We are searching for NEW blood. We are looking for the top 3 unrepresented horror/suspense/thriller writers that come from Stage 32. That means you.
You know that we pride ourselves on creating opportunities that give our talented members access beyond the gatekeepers and this contest is no exception. Last year, our grand prize winner Glenn Forbes was flown to Los Angeles for numerous meetings we arranged and immediately signed with Seth Nagel from Infinity Management International. We set our second place winner, Frank Ponce, with Atlas Entertainment (American Hustle) and he was quickly offered and signed an option agreement. In all, our top three winners met with some of the biggest companies in the industry including Relativity, Revolver Picture Co. and Benderspink. This year we have more incredible judges who work for major management firms, agencies and production companies ready to read your scripts.
But wait, there's more. In addition to our prizes (including direct access to the judges and other industry executives), this year, we're creating even more opportunity. The loglines of all finalists will be posted in a special section of Stage 32 where any of the 300 industry executives will be able to view them. If there is interest beyond the logline, we will facilitate the communication between the exec and the writer.
Also new this year, all writers submitting scripts will receive a scorecard outlining how their script was judged in every category. You will not just submit and be left in the dark.
So bring us your best and we'll give you ours! The search for New Blood is on!
Cheers!
RB
Testimonials:
"I have signed with a management company in LA, Infinity Management International. I met them when Stage 32 flew me down to LA, and now the deal is done. I'm so thrilled to have Stage 32 Happy Writers in my corner for this ride. I've been plugging away for more than 10 years to secure representation. My message is never give up on your dream, and surround yourself with people who can help you get there. For that, Stage 32 has become my lynchpin ."
- Glenn Forbes, Grand Prize Winner, Stage 32 Happy Writers Search For New Blood Contest, 2014; Signed with Infinity Management International
"My only wish was to find this site sooner for the sake of saving time, discovering in-depth educational value, and making legitimate connections. I have to tip my hat at RB, Joey and the gang for changing the game and helping shape my future in filmmaking. I'm honored to be swimming in a community of like-minded individuals. I'm proud to be Stage 32's HAPPIEST WRITER right now! "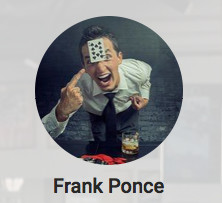 -
Frank Ponce
, 2nd Place, Stage 32 Happy Writers Search For New Blood Contest, 2014; His script has been picked up for development by Atlas Entertainment (
The Dark Knight, American Hustle
)
---
Like this blog post? Please share it on social media (Facebook, Twitter, LinkedIn, email etc) by using social media buttons at the top of the blog. Or post to your personal blog and anywhere else you feel appropriate. Thank you.
As always, we welcome thoughts and remarks on ANY of the content above in the Comments section below...