Never mind solutions: the challenge is where to begin with the problems.
This post is for all of you newbies, like myself. This coming year I intend to make my fourth and (possibly) fifth feature. They are No Budget features, as I still have another year at University and am thus skint. Apologies for teaching people to suck eggs, when I am but an egg myself. But you never know. There may be an odd but useful nugget in here.
Here are my suggested solutions for no budget film problems:


1) Keep it Simple
If you have no money, you should positively never do period films.


A lot of this arises from the script. Limit your number of locations. You can keep changing them and ensuring that these changes contrast with each other, but don't have scenes that mean that the cast and crew have to move great distances or even go to other terrain that requires an overnight stay.
Yes, Gareth Evans did it in a van with his film Monsters, but his was a micro budget ($400k), not a No Budget.

Keep it live action, unless you have a MA in graphics and a few years experience in animation yourself (because you are very unlikely to find a collaborator for extensive animation work). This means that you avoid sci-fi and fantasy genres. Also, avoid costumes. So again, this means no sci-fi, fantasy, or period drama.
Finally, use your own intellectual property,not another writer's. This way you avoid paying both options and rights as well as having to argue with your writer as to why you just don't think that septuagenarian, lesbian pornography would work in this TV feature (sic!)
Humble admissions of idiocy: I usually use several building locations, and lots of different outdoors ones, too. So, yeh, my cast and crew get lost, despite detailed instructions and maps, and it's like herding cats. Did do a sci-fi, but it was very simple. Also, the VFX I have done, again, have been very simple, e.g. with a ghost, or a monster in the fridge. And, yep, I did a 3/4 hr. featurette, set in the Edwardian era. Lovely people loaned me costumes for credits, only, but, ohhhhhh, the hassle of not fitting, and pinning, and different characters in different scenes, but she is wearing his spats and why won't this bow tie tie? If you must get a period wardrobe, you must get a wardrobe person, too!
2) Only Pick People Who Want a Career in Film


Our DP, Ross, being very professional (and not even complaining).

Cast and crew who want clips for reels are the ones to go for. These are the people who seriously want to get on with their careers. They're are not doing it for a laugh and will not suddenly realize that their hangover feels better in bed than out of it on your shooting day.
Early professional people will still work for credits and a share in possible profits. I have managed to get actors from NZ's Shortland Street and the Maori TV channel. Mind you, when I have been let down, I have had terrible sweeties step in at the last moment. One guy, when phoned at 8:30 a.m. one morning, dropped everything and came in. I found out later that his own firm had just started scaffolding an office block tower that morhing, so he was unable to supervise them (I hope he had a number two.)
3) Use a Wiki Page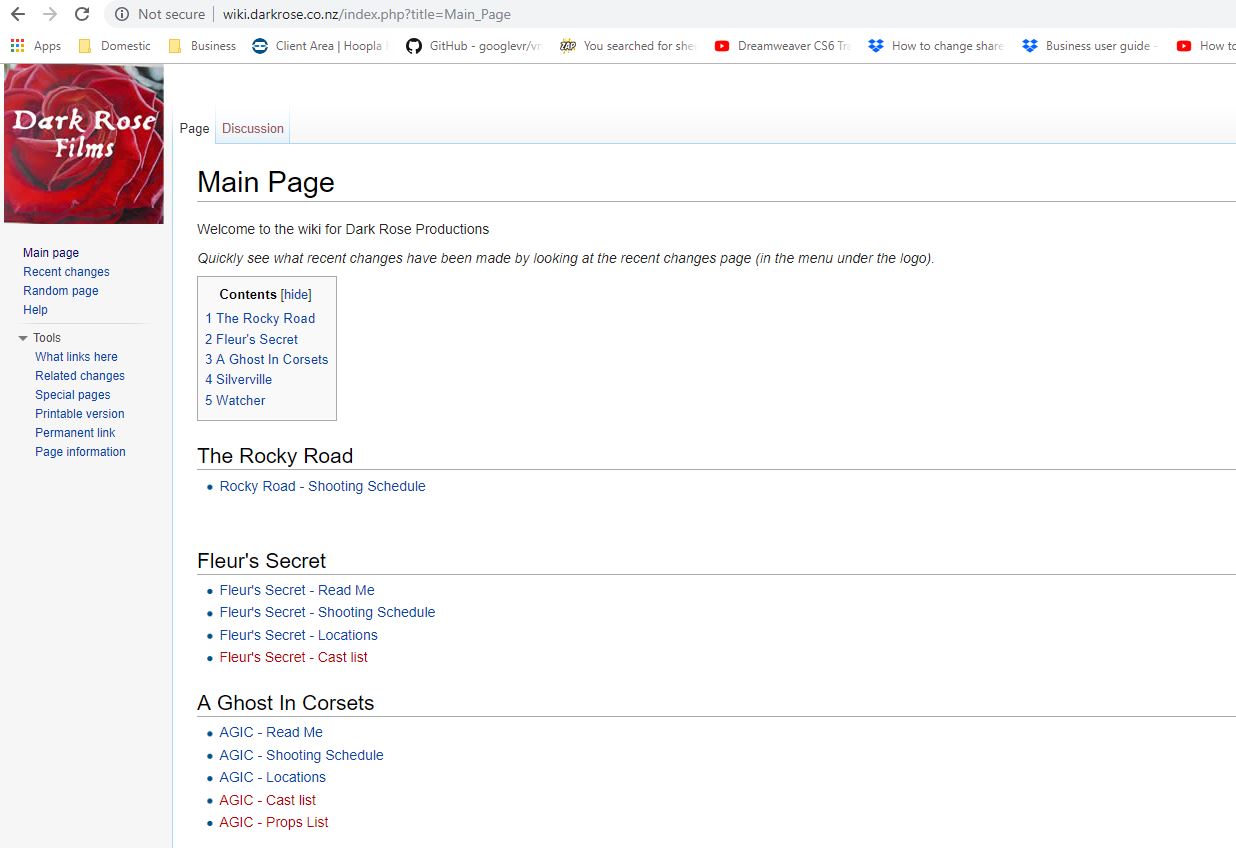 Not sure what a Wiki page should look like? Here's one of mine.


I started with a Wiki page at the onset of this mad career so I could have organizational lists, shooting schedules, carpools, costumes, locations, and so on to share with others and give me something to point them to.
If you have a website, you can just shove the Wiki page on one bit of it. That means you need to keep sending shout-outs on social media that say, "Look at my Wiki page!"

I try to get people to look at least twice a day. This is because I constantly have people texting or phoning saying that their Aunty Bertha has had an aneurysm and can they miss tomorrow? Or, like my last lead said, her boss had just stopped two out of her three weeks of holidays (the swine). To anticipate this and start fire-fighting asap, make sure you're always asking people if they are happy with their forthcoming dates and times. (Yunno, nonchalantly, while putting the non-flat wheel back on your megalithic Volvo estate.)


4) Keep Your Sense of Humour


Being run over by a car is all in a day's work for a movie director.

This is the entertainment business. You are not dealing with ruptured colons or emergency root canals.
You are not rescuing old ladies from the roofs of moving trains, and, sorry, your work does not advance the cause of democracy in North Korea.
So what have you got to lose?
Relaaaaax.
The good thing about making film at this level is that you don't have investors sharpening their knives at you. At the worst, you have to cobble bits of footage together as a featurette/short.
Next worst is that you don't get any screenings or awards. So? You all got some credits and experience and can move on to the next project. Don't reproach your colleagues. You are sure they are trying their best, even if they did say, "I LIKE that hat" instead of "I like THAT hat."
Look to the poor blighters' health. Did they have brekky? Give them snacks and ensure they bring water bottles, sun hats, and lotion, if outdoors. Make sure everyone has transport home, especially the young and elderly.
Finally, enjoy yourself. Tell yourself, this could be the supermarket, the office, or the factory floor. Think about that and smile. (No gritted teeth, now.)
Rose Goldthorp (www.rosegoldthorp.com) is about to start her final year in 'Communications, with Film & TV' at the University of Auckland, NZ. She is a company director of her own feature production company (www.darkrose.co.nz). This forthcoming year (2019), Rose is making her features no. 4 & 5.

Rose is looking for film makers who want to work collaboratively with her, on her feature project no. 5, "Middle Earth Uncovered" (www.projectmeu.com #projectmeu). She is inviting film makers to make small bags of scenes, from her screenplay; film composers to write / record one, or more songs using her lyrics; and other artists to sell (when she has built her shop) their related trans-media products on her web sites.
Rose describes Project MEU on Vimeo at https://vimeo.com/rosegoldthorp/projectmeu-advert

Rose is a writer / director / PM / editor at the moment, of course, because her early films are No Budget narrative features. She welcomes any and all approaches from similar mad minds.
---
Like this blog post? Please share it on social media (Facebook, Twitter, LinkedIn, email etc) by using social media buttons at the top of the blog. Or post to your personal blog and anywhere else you feel appropriate. Thank you.
As always, we welcome thoughts and remarks on ANY of the content above in the Comments section below...