Hey, guys! Alex and Trevor here with a Stage 32 segment we'd like to offer you regularly: Ask us Anything.

Nicole Punday asked a question about directing in the Filmmaking/Directing Lounge a few weeks back, so we grabbed our phone and shot a short video to answer her question.
Nicole posted: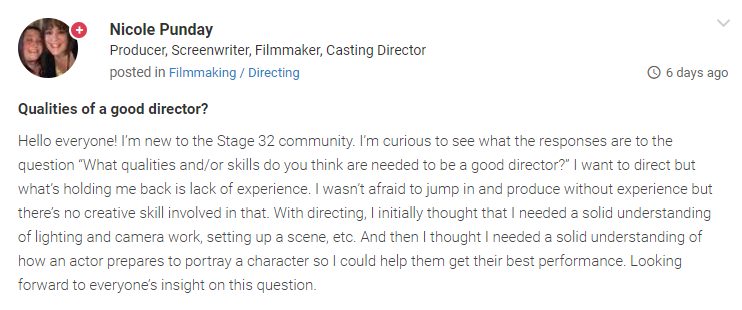 This is a very interesting question that we think a lot of people have, especially when starting out. It can be very intimidating to hop on a set in any position because you think there is an entire crew of more experienced people looking to you for answers.
BUT...the good news is, in reality, you don't need to have all the answers to the technical questions. Instead, you need to have the answers to the questions of your vision and be able to communicate your answers effectively to the departments that will have the technical know-how to achieve your desired outcome. (This includes the actors.)


The first step is having a clear vision of your project.
You'll find over time that those moments on set when you feel the extra pressure like you don't know what you are doing comes down to not having as clear of a vision as you should. If you are questioning your own decisions on set, you can bet that the crew is questioning your decisions as well.
Good communication is a skill you will learn over time. And, you'll understand that you will need to communicate differently to various people. Directing actors is a different skill than directing camera moves and lighting, or the art department. So, you'll have to make adjustments to your methods as you go and as you gain more experience. But by always striving to be the best communicator that you can be, you'll always be heading in the right direction.


Management is also a crucial skill.
Both time management and personnel management will become a huge part of your life. The phrase "It's like herding cats" will start to make so much more sense as you begin directing larger crews. And again, mastering the ability to efficiently manage the production will make you a much stronger director.


Lastly, it all comes down to experience.
No matter what. You need the hands-on experience and the successes and mistakes that come with it in order to really start making progress on your quest toward excellence. We would urge you to just get out there and start. It is like riding a bike. It can seem scary and you may fall a few times, but once you get it you'll be on a roll and it'll only get better from there.
We take a deep dive right here in this video. Happy directing!



Alex Darke and Trevor L. Nelson are the co-hosts of the
No-Budget Filmmaking Podcast, creators of Cinema Summit,
and co-founders of Gilded Cinema.
---
Like this blog post? Please share it on social media (Facebook, Twitter, LinkedIn, email etc) by using social media buttons at the top of the blog. Or post to your personal blog and anywhere else you feel appropriate. Thank you.
As always, we welcome thoughts and remarks on ANY of the content above in the Comments section below...