Happy Monday everyone! As I am sure you know by now the 26th Annual Austin Film Festival kicked off last week and Stage 32 was in the middle of it all. Stage 32 has always had a presence at the festival and this year we expanded our relationship and became official partners with AFF. Our leader Rich Botto and I spoke on filmmaking panels, we screened our 4th Annual Short Film Program, we hosted our 7th Annual Rooftop Bash at the Handlebar and I was fortunate enough to personally conduct interviews with honorees and festival award recipients including Catherine Reitman ("Workin' Moms") and Meg Lefauve (Inside Out, Captain Marvel).
This was the first time that I had attended AFF and I was thoroughly impressed by the quality of the writers and filmmakers I had the privilege of meeting. Our Stage 32 booth was buzzing with activity and I was excited to speak with dozens of creatives who shared their projects and goals for their careers. Many of these creatives told me about the successes they are experiencing through Stage 32!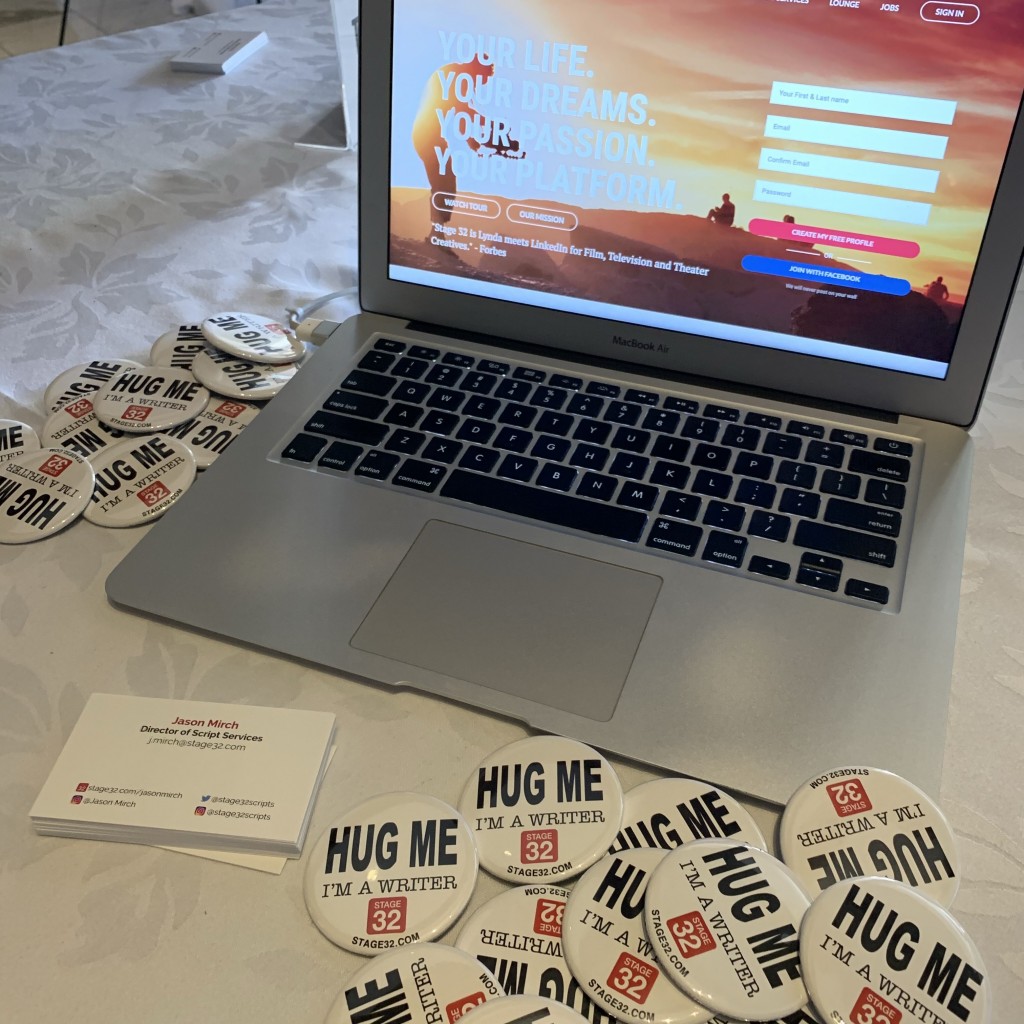 Stage 32 SWAG at the AFF Booth
I spoke with Stage 32 writer Danielle Erlich - who has contributed to this blog before with her success story - and she told me that she continues to get extremely positive reaction on her projects from industry leaders and executives! Danielle used Stage 32 pitching services and connected with Miguel Valenti who continues to be one of her mentors to this day! I also spoke with Sarah Eagen who had 2 projects in the festival and has since been commissioned to write her first feature film!
I had the honor of meeting two Writers' Room members, in person this weekend, Kelly Krause and Holly Jurbergs, who were at the festival participating in panel discussions and networking events. I was so pleased to hear from both Kelly and Holly that their membership to the Writers' Room continues to educate and inspire their screenwriting endeavors. As I always say, I am allowed to host the Writers' Room because of the passion of the participants. I sincerely appreciate being a part of their journey and the journeys of every writer I speak with. For those of you who would like to join the Writers' Room, please feel free to reach out to me directly! I would love to tell you more about it!
Stage 32 Founder & CEO, Rich Botto (R) speaking on a Filmmaking Panel at AFF
During the Rooftop Bash, I met with several dozen writers and creatives including several who are brand new to the site or discovered our community just this weekend. It was such a thrill for me to be able to tell these writers about the successes in our community, including writers Jonathan Jordan, Christina Pamies, and Christine Torres all landing representation as a result of connections made through Stage 32.
Stage 32 7th Annual Rooftop Bash!
Finally, on Saturday I met with some of the filmmakers who screened shorts as part of our 4th Annual Short Film Program. I continue to be inspired by the passion these creatives have for the craft. The screening was sold out and the capacity crowd participated in a Q&A with Rich Botto and the attending filmmakers!
It was a whirlwind weekend and I was very happy to be a part of the screenwriting and filmmaking community that participated. If you attended, give a shout out in the comments below and let us know about your experience! I am excited to carry this momentum through the rest of this year and beyond!
---
Let's hear your thoughts in the comments below!
Got an idea for a post? Or have you collaborated with Stage 32 members to create a project? We'd love to hear about it. Email Joleene at joleene@stage32.com and let's get your post published!

Please help support your fellow Stage 32ers by sharing this on social. Check out the social media buttons at the top to share on Instagram @stage32online , Twitter @stage32 , Facebook @stage32 , and LinkedIn @stage32 .