We are honored to announce that Stage 32 Founder & CEO, Richard "RB" Botto was featured on the cover of the February 2015 issue of Robert McKee's STORY Magazine. Inside the magazine is an exclusive interview with RB. Some of what RB discusses includes his professional background, his journey from acting, writing and producing to starting Stage 32 and what the future holds for the site and the community. He also tells the story of how he met his manager, David Greenblatt of Greenlit Creative, directly through connections made through Stage 32 (and talks about the script that they currently have in development!). Additionally, RB speaks on all the offerings the Stage 32 Happy Writers has for screenwriters and filmmakers plus the hundreds of successes that have come as a result. RB also discusses the best way to utilize Stage 32 to get yourself noticed, ehance your craft and further your career and chances of success.
No matter what your discipline, this wide-spanning interview has something for everyone. We hope you enjoy the piece and ask you to please pay it forward and share it with your creative peers via email or other social media accounts. Our thanks in advance.
We also thank Robert McKee and his publishing team, Matthew Lutz and Zander Robertson, for taking the time to recognize and report on the impact Stage 32 is making on the industry.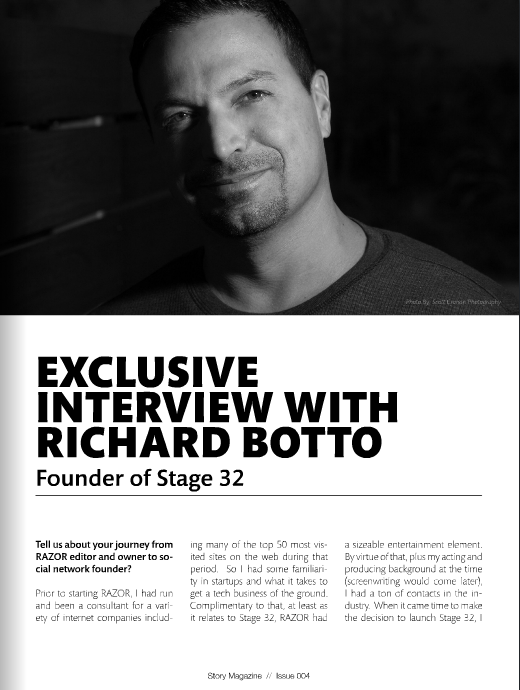 To continue reading the article - click here!
---
And, if you haven't subscribed to STORY Magazine yet, you can do so by clicking here.
Like this blog post? Please share it on social media (Facebook, Twitter, LinkedIn, email etc) by using our social media buttons at the top of the blog. Or post to your personal blog and anywhere else you feel appropriate. Thank you.

As always, we welcome thoughts and remarks on the content above in the Comments section below...