Good morning Stage 32 Creative Crew! We're back with an update on a fantastic Stage 32 success story that started over 3 years ago. I'm particularly excited to share this story with you because it highlights a few important points that we have been making here for a while. The first is that writers and creatives need to be ready to pivot when faced with challenges, form meaningful relationships with producers and industry professionals, and pay attention to trends in the market when writing.
In particular, the market for Family and Faith-based films is growing and that audience has been woefully underserved to this point. This week on Stage 32, we are taking time to highlight executives, managers, and producers who are looking for Family-friendly features, Faith-based content, and inspirational stories of all genres. Netflix is looking for more family entertainment. You've also heard us say that producers are looking for inspirational true stories for both features and television. Those needs are going to continue well into the future.
It was no surprise that 3 years ago when producer Brad Wilson of Higher Purpose Entertainment first gave Lynne Logan development notes on her script through Stage 32 Script Services, he saw promise in her writing ability and her Faith-based projects. (You can find the original blog post here.)
By way of a bit of background, Brad is a fantastic producer who began his filmmaking career in 1985 with Academy Award-winning actor Robert Duvall, operating Robert Duvall Productions in New York. Brad developed COLORS with Sean Penn, DAYS OF THUNDER with Tom Cruise and Nicole Kidman, FALLING DOWN with Michael Douglas and the critically acclaimed WRESTLING ERNEST HEMINGWAY with Richard Harris and Shirley MacLaine. Brad also worked with Duvall on some of his most memorable television roles, including the CBS miniseries (and my personal favorite) LONESOME DOVE and the HBO epic STALIN, for which Duvall won the Golden Globe for Best Actor.
Meanwhile, Lynne Logan was writing for ABC's "A.M. Los Angeles" morning talk show for ten years as a semi-regular. Later she appeared several times on OPRAH, writing the content and being on the show for the full hour as the 'expert." Between "A.M. Los Angeles" and "Oprah," doors opened for Lynne. She ended up doing most of the popular national talk shows over those few years. Ted Turner encouraged her to start her own "talk show" and told her how to do it — on local cable.
As she transitioned out of talk television, Lynne said that she gave into her burning desire to write scripts. Though she had no knowledge of how. Lynne explains, "During the next ten years, I wrote, read, and went to every writing class, seminar, workshop I could attend. Robert McKee, James Bonnet -- the best of the best. I watched hundreds of movies, some over and over. I wrote several scripts and studied twice as hard. I entered my best script in numerous competitions, and ended up with over 25 awards, first, second, and quarter finals. I knew the script had interest. So What?"
But she admits she didn't know a thing about the script industry -- the rules, the players, or how to break in. She searched the internet for resources for writers and found Stage 32. She spent a lot of time reading the content, taking Stage 32 Next Level Education, and chatting with other writers. She believed so much in one of her scripts, she was determined to figure out how to make contact with anyone remotely important in the industry.
In the meantime, Brad had co-founded Higher Purpose Entertainment, a production company dedicated to telling stories in film and TV that encompass truth of character and strive to embrace inspirationally redeeming qualities. Through HPE he's produced a number of films including THREE BLIND SAINTS, CHRISTMAS ON SALVATION STREET, MY MANY SONS, THE MEANEST MAN IN TEXAS, and THE RESURRECTION OF GAVIN STONE, which was released last year in 1,100 theaters across the country.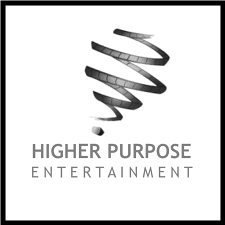 Brad Wilson co-founded Higher Purpose Entertainment to produce inspiring & faith-based projects.
That's when Brad and Lynne's professional paths crossed.
They connected through Stage 32 when he read her script, A RELATIVE UNKNOWN. They connected and Brad loved the script so much that he optioned the property through his production company, Higher Purpose Entertainment. But there is so much more to the story afterward!
As Brad explains he has been a fan of Stage 32 for years, saying, "first let me say how truly happy and thankful I am to be working with Stage 32. These guys are legit and the real deal. The writers I've met through them are really very good. In the world of film and television one has to learn very quickly how to avoid the land mines and Stage 32 is a blessing for any writer to be on safe grounds. They truly care about the writer and helping them."
Brad goes on to describe how he connected with Lynne in the first place, saying, "when I first saw the info on Lynne's script A RELATIVE UNKNOWN it caught my attention. I requested to read the script and from that point on I wanted to be in the Lynne Logan business. The script was one of the best scripts I've read. Excellent. And that's why she has won so many awards. It seemed based in such truth that I asked if it were a true story. It was not! You would never know that from reading the script. That's how real she writes. Great story! Great characters! Very visual!"
But what really caught Brad's attention is the way the "Faith-based" elements were embedded into the story. "The reader doesn't know until the very end that the entire time they have been reading a faith based screenplay!" Brad said. "Just brilliant! I immediately requested a telephone conversation with Lynne and in that call let her know that I wanted to option the script. It all worked out and now we are working to get the financing in place to do the film."
But again, the collaboration continued from there. Brad says that Faith-based, family films continue to grow. Including Faith-based biopics. He has the opportunity to develop one of those. "I was presented with just such a story and immediately thought of Lynne."
Brad asked Lynne to do a 'work for hire' script - a faith based biopic - but as Lynne says, she momentarily had the same doubts that every writer has at some point.
"Could I really do this?" Lynne remarked to herself, "could I rise to the occasion? So many ``what if's?"
Ultimately, she said 'yes' to the opportunity. She took about four months to complete the script. In the end, Brad loved it. But the individual the story was about had a different vision. So - always one to pivot - Lynne kept the script, changed the names and few scenes and "The Color of Dark" is now back on the market.
But again, their friendship - and professional collaboration - didn't end there. "[Brad] asked if I could do another faith based biopic on a pretty famous country singer," Lynne says, adding, "She had just written her book, No Turning Back -- Regardless. Her life story of drugs, dealing and alcoholism -- and faced with five years in prison for a felony. And how she turned her life around with the help of God."
This was exactly the kind of story that Lynne gravitates toward. "Now we're talking," Lynne quips, "This is my wheelhouse. I could see all kinds of emotions, and human suffering in this story. A true story of redemption. I completed the script in March. Brad read it and loved it. The singer loved it. We're on our way."
Then, Covid hit. Lynne - like many in the world thought, "this will be temporary. Right?" Unfortunately, like most of the industry, their project went into a holding pattern.
But, Brad and Lynne are pivoting once again and are taking the next steps on the project now. While Covid has certainly presented production challenges, Brad and Lynne feel that is no reason to stop development.
"We are about to enter this script to some film festivals during this Covid pandemic," Brad says, adding, "it's been a tough year for our business but as Lynne pointed out there is no reason to sit still and there are things we can do."
Lynne says, "regarding the faith based genre: I'm hearing that faith-based scripts are in demand. Not enough product. There's three things I think people look for in a good story (besides entertainment). Number one, "Inspiration." Two is "Hope," and three is "Laughter". If you can make your reader/audience cry, feel sad, feel anger, feel compassion, offer a solution to one of life's many challenges and then laugh a little, you might have the golden ticket."
Lynne leaves us with a fantastic message of hope and optimism.
"During these times of change for all of us, I believe people are yearning for hope. We don't know how long our lives will be altered by Covid. Or how it will change our lives forever. But we can still carry on with our dreams. If writing is in your blood, stay with it. Remember, look for people who can help you. Yes, most professionals, you will pay for their expertise. Choose one person who can mentor you through the ropes. Stage 32 will give you the resources you never thought possible."
---
Let's hear your thoughts in the comments below!
Got an idea for a post? Or have you collaborated with Stage 32 members to create a project? We'd love to hear about it. Email Taylor at taylor@stage32.com and let's get your post published!

Please help support your fellow Stage 32ers by sharing this on social. Check out the social media buttons at the top to share on Instagram @stage32 , Twitter @stage32 , Facebook @stage32 , and LinkedIn @stage-32 .