You know when you're a filmmaker and you move to Los Angeles away from all of the resources you've worked tirelessly to secure? A fresh start? No? Oh... Me neither...
Just kidding.
Earlier this year, I moved to Los Angeles with my best friend and co-collaborator, Courtney Birk, from Baltimore, Maryland. A 2700 mile drive to further pursue my film career. Being in a brand new city, I was at a loss for cast, crew, and locations. After finally getting settled (beyond finding a survival job and eating ramen for dinner) I was looking into several Directing programs based in Los Angeles. Since they required film samples I decided to make a new short film to submit for these opportunities. My short film, "Under The Influence," would serve as a cautionary tale of how easy it can be for a female newcomer to Hollywood to lose their way in the industry.
A little about me. I graduated from Towson University in Towson, Maryland with degrees in audio, business, and psychology. After graduating, I found work as a PA for several films, but that wasn't where I aspired to be. I wanted to tell stories and create films for myself. I wasn't seeing women like me represented in films, and I truly wanted to change that. In 2013, I started a production company, Miss Ash Productions. Since then, I've created over 80 short films and one feature film. I really love storytelling if you didn't notice.
Okay, back to "Under The Influence." As in the nature of the industry, we were tight on time, money and resources, but I still wanted to create the best visuals and tell the best story we could. After all, we were attempting to shoot a 26 page short in three days with minimal crew, cast and location moves. I quickly casted through my acting school, Beverly Hills Playhouse. Through connections I've made over the last few years, I was able to find an eager and hardworking crew.
Locations, locations, locations... With only two weeks to lock locations (a wide-open space with white walls to accommodate 50+ cast and crew for a party scene, and a morgue location) I scoured LA only to turn up discouraged. Morgue locations and sets around LA were pricing around $2,000 for a day of filming. Fortunately, during my search I browsed Stage 32 for location resources (top menu bar) and stumbled upon Peerspace. Let me tell you how much of a lifesaver that was. For reasonable prices and on short notice, we were able to find all the locations we required, as well as inspiration for future locations.
Peerspace offers spaces for film shoots, meetings, parties, photo shoots, workshops and more. You can search for the specific type of location you need as well as the region you're in. Once there, you can sort by price and how many attendees you will have for your shoot. They have a super easy user-friendly platform that allows communication with the hosts of the spaces for questions, and request tours of the spaces before you book. Let's be honest, pictures don't always match what they advertise so being able to check a place out is a must.
Both my hosts were extremely accommodating, and allowed me to scout the locations before filming. My host for my first location, Daria, was quick to respond and provided unlimited support before my shoot. She even came to the location on our filming day to make sure everything was perfect. My filming setup for this location required neon lighting against the white walls and open space. Her location worked perfectly for the look I was achieving, a deep blend of neon lighting influenced by Neon Demon and Atomic Blonde. The footage turned out absolutely stunning.
For my second location, I was incredibly lucky to find my next host, Steve. Talk about someone who really cares about his guests. He went above and beyond to make my experience incredible. He offered so many solutions and truly turned his space into exactly what I described I needed. He even built walls to make my location feel like an authentic morgue. He was readily available and accessible. As a filmmaker himself, he is very passionate about helping filmmakers succeed. He provided his team of interns to help out on the day of filming with anything my production needed. We were able to get into the studio, set dressed, filmed and wrapped out of the location in three hours because of his assistance.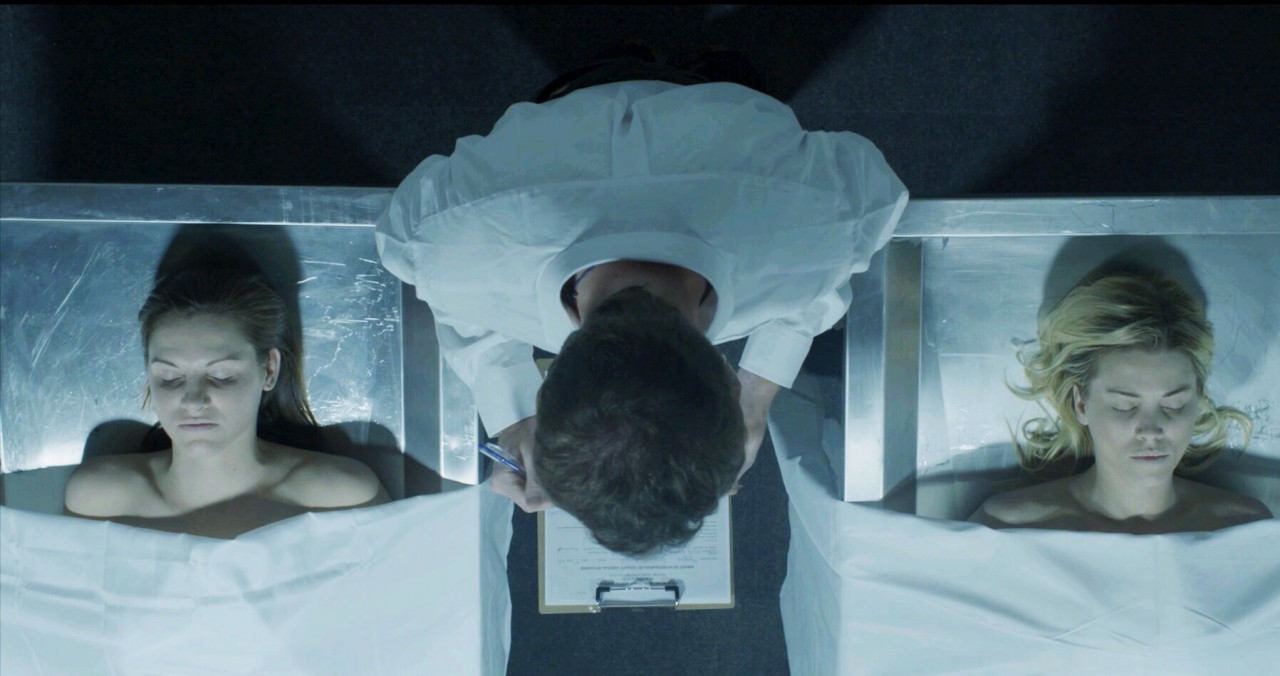 Overall, I couldn't have asked for production to have gone smoother. We worked with passionate artists and creators who were eager to tell a truly authentic story. Under The Influence turned out better than I could have anticipated.
Without Peerspace, I wouldn't have had access to these locations and could not have made my vision come to life. Since filming "Under The Influence," I've used them to find various locations for additional short films. I've built great relationships with new people and had great experiences. I'm so happy to have found them through Stage 32 because it really enables independent filmmakers to find attainable locations for a couple hours or couple days to fully realize their vision. I'm stoked to see what future projects I'm able to bring to life!
About Ashleigh Coffelt
Ashleigh Coffelt is an award winning Filipino American director based in Los Angeles. Over the last few years, Ashleigh has written, directed, filmed and edited over 70 short films, 15 of which have screened at film festivals both internationally and nationally.
In addition to being a Sundance Screenwriter's Lab Semi-Finalist, she has been awarded numerous awards including "I For I" (director, cinematographer), winner of Best Director at Festival de Cannes with Creative Mind Group, "5ive" (writer, director, cinematographer, editor), winner of the Grand Jury Award at the Adrenaline Film Festival and RAW:Baltimore Filmmaker of the Year.
Coffelt is an Act One Fellow and alumni of the Creative Mind Group. She holds a BS in Psychology and Electronic Media and Film from Towson University. She focuses on creating projects that empower women and help change media portrayals of women and minorities.
---
Like this blog post? Please share it on social media (Facebook, Twitter, LinkedIn, email etc) by using social media buttons at the top of the blog. Or post to your personal blog and anywhere else you feel appropriate. Thank you.
As always, we welcome thoughts and remarks on ANY of the content above in the Comments section below...