Black Creek originated as a writing exercise during quarantine. Now, it's an independent TV pilot with network actors, Sundance Fellows, and a cutting-edge health and safety solutions company attached. Michael Goitanich and Connor Pannell, the Canadian/American co-production duo behind Black Creek, discuss what they learned throughout production, virtual post-production, and their plans for distribution.
This article focuses on what we learned during production, to learn how we handled pre-production during COVID, read part one here.
Sean Kaufman of Studio Health & Safety Solutions distributing hand sanitizer.
Production
Lead With Health & Safety
Health and safety was our top priority in both pre-production and during production. Everyone on set was required to fill out a general health survey once they were hired. Leading up to the shoot, all cast and crew also filled out a daily survey that took stock of their health to make sure everyone was in great shape before the cameras started to roll. This creates an inherently low-risk set.
While it may seem annoying, we had full compliance, with many of our crew commenting that these surveys made them more aware of their personal health and environment. When we arrived on set at 6 AM each morning, there was a temperature checkpoint that all production members were required to pass before being allowed on set.
Through the use of PPE (personal protective equipment), a great deal of pre-screening work, and the sophisticated infectious disease management behind Studio Health & Safety Solutions (SH&SS), I am pleased to share that we were able to wrap Black Creek, a crew of 30, with zero incidents of COVID-19.
Cinematographer, Bryan Redding, prepares for the first shot of the day
Keep The Crew Happy!
We shot in the Georgia heat during the two hottest days of the year. And everyone was required to wear a mask- talk about uncomfortable. Knowing the rough conditions, a large part of the shoot was taking care of our crew. We specifically pushed constant hydration (waters were periodically distributed throughout the day by craft services), kept sugar generally off the set, and made nutritious (but tasty) snacks available.
On top of that, we provided enough lunch and dinner to make sure everyone always had extra to take home. In hot conditions during a global pandemic, crew morale has to be a top priority, or it all falls apart. We made sure to do all in our power to make sure each crew member's hard work was not taken for granted.
Noelle Cameron & J. Gaven Wilde maintain their zen.
Flying In Talent
One of our actors was flying into Atlanta from LA, so this was a massive safety factor given the pandemic at large. Michael, my co-writer and producer, and I had discussed various discouraging risks, so Studio Health & Safety Solutions played a large part in helping us handle the flight situation properly.
To put it simply, flying in the age of COVID-19 is very possible. But one must be prepared to fly. SH&SS provided our talent with a manual for safe flying behaviors, a consultation before he flew so he had the opportunity to ask questions and discuss the scenario, and even got on the phone to walk him through the airport when he initially went through LAX. I am happy to share that this individual flew across the country to and from LA with no incident of COVID-19.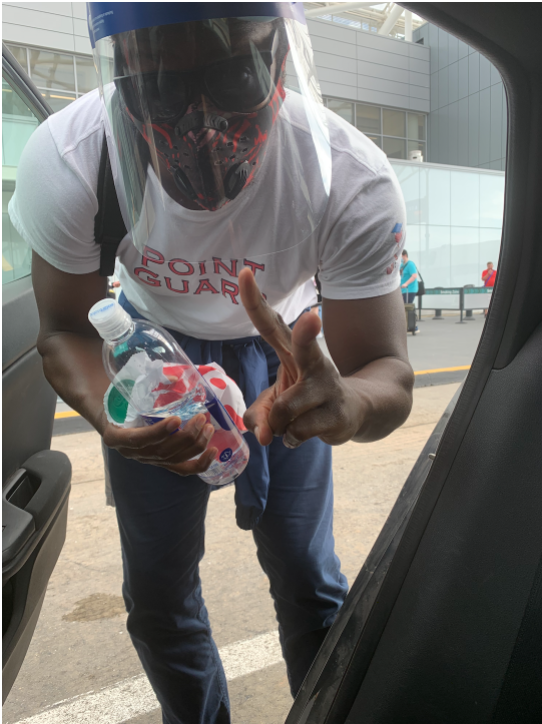 Left: Nican Robinson leaving Atlanta's Hartsfield-Jackson Airport
Right: Production Still of Nican Robinson from Black Creek
IDHG For The VIP
An innovative service that Studio Health & Safety Solutions provided us was something called the "Infectious Disease Health Guard" or the IDHG. An IDHG was assigned each of our VIPs (Critical Cast & Crew) and constantly made sure they were comfortable, practicing safe health behavior, and were not accidentally putting themselves at risk.
This was another critical element for us in terms of taking care of our cast, but also preventing an incidence of COVID-19 that would've put an indefinite pause on production should a cast member fall ill. Cast Members becoming sick was simply not an option, and the IDHG removed this worry entirely from the production.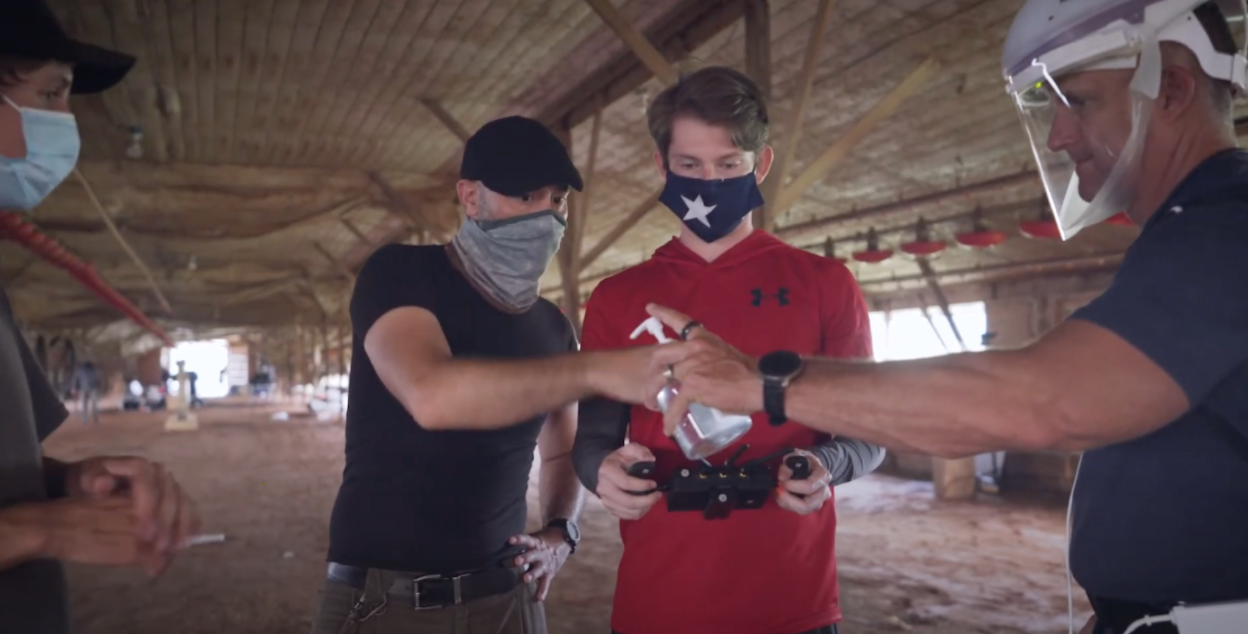 Sean Kaufman of SH&SS ensuring safe behavior on set.
Show Your Producer The Love
Due to closed borders between the USA and Canada, Mike, our Canada-based producer, was not able to be present during the production. We joked that we would strap an iPhone to a broomstick so he could be there, but there was virtually no cell-reception where we were shooting.
The key here was a daily check-in during lunch, and also sharing the occasional still to let Mike know all was well. Mike put in a great deal of pre-production work, and his presence was strongly felt on set despite his absence. Constant communication and engagement were the keys to our remote partnership.
Production Still of Allen L. Rowell from Black Creek
Post-Production
Remote But Not Really
As soon as dailies were available, Mike and I hopped on facetime to get the post-production train moving for our editor. We talked for hours on end as we combed through footage and left no stone unturned.
At this point, if we don't talk at least once a day, it feels strange. With the frequency that Mike and I speak to each other, he might as well be my roommate. Working remotely is all about perspective.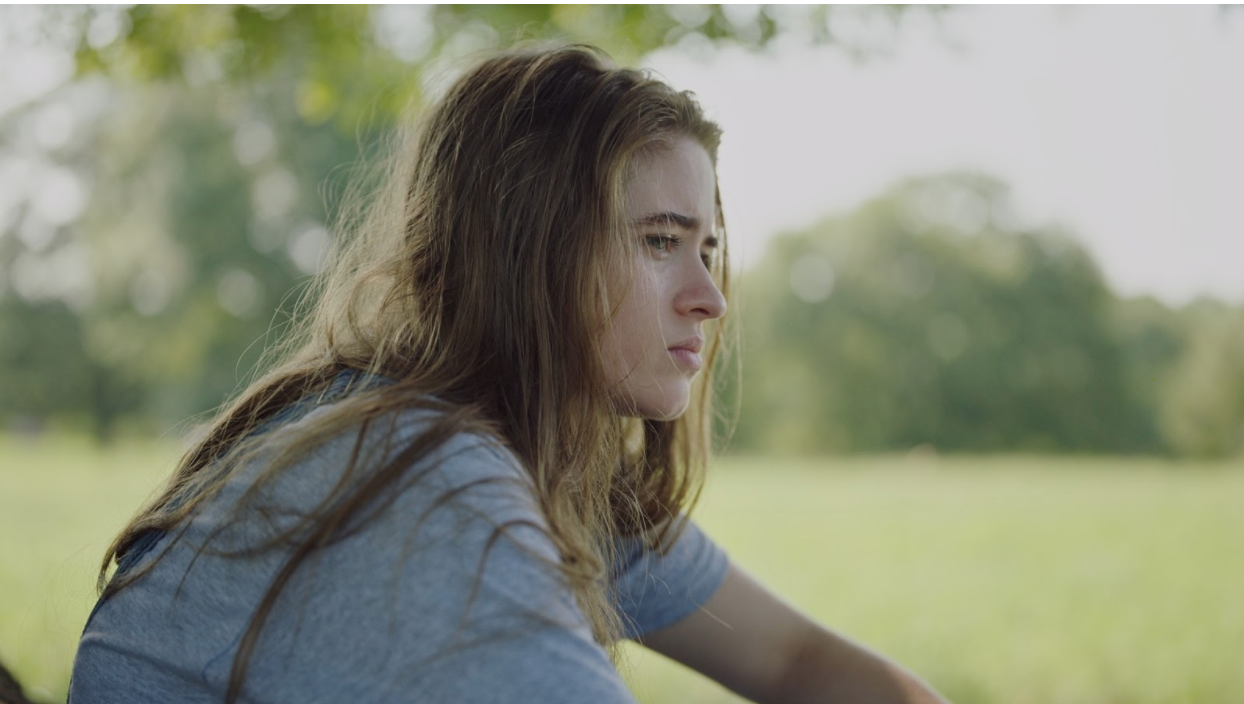 Production Still of Noelle Cameron from Black Creek
Creator Communication is Key
We review rough cuts together after a solo viewing, and we make all of our edits together. It's as collaborative as it gets given the nature of our constant communication. Whether your producer is a mile away, or a thousand miles away, discussion is what brings the project through the finish line.
No collaboration is complete without disagreement as well, but the key here is talking through each edit in terms of what suits the story or character. As co-creators, that's always our top priority and keeps ego out of the way. Keeping it about character and story always leads to the right answer.
For more information about Studio Health and Safety Solutions and how they can help YOU prep you safe shoot visit their website or email them at contact@studiohealthandsafetysolutions.com
About Connor Pannell
Connor Pannell is an American filmmaker and entrepreneur. During his childhood, Pannell frequently moved between Georgia and California, until his family made a final move to settle in Athens, GA in 2002. In Athens, Pannell attended Athens Academy and North Oconee High school. Connor was admitted to The University of Georgia and graduated with a degree in Entertainment Media Studies in 2016.

While Pannell was officially trained in filmmaking at UGA, his education in film came long before. A voracious child with a love of video games and movies, Pannell's fascination with grounded science fiction, thrillers, and fantasy came at a young age. Pannell began writing and directing films in middle school; a passion that would inform his education and future career. He set foot on his first real set in the 7th grade as a production assistant.

Pannell attended the 2014 Cannes film festival during a study abroad through The University of Georgia's Grady College of Journalism. He would go on to produce and direct short films and TV pilots from Athens to Israel, form his own production company, Midnight Rooster, as well as his own camera equipment company, New East Rental, in addition to Studio Health & Safety Solutions. With deep roots in Georgia, Connor's stories often play on the juxtaposition of the down-home aspects of the South and the emerging technologies and anxieties of the future.
About Michael Goitanich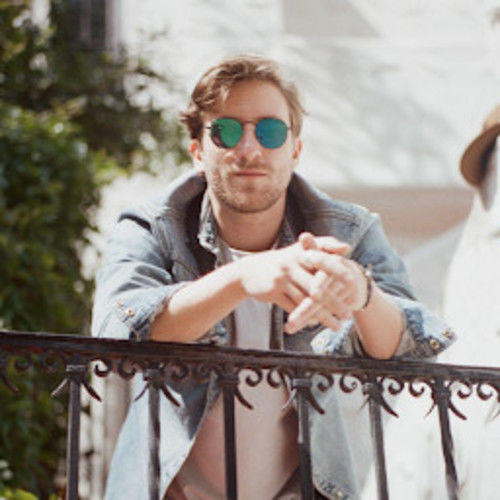 Michael Goitanich is an award-winning writer, producer, and graduate of Columbia University's MFA program in Screenwriting and Creative Producing. Originally from Toronto, Canada – Michael's official foray into the industry came when he was hired as a story editor at MUSE Ent. He then gained invaluable on-set experience assistant-directing the Canadian indie, THE HEXECUTIONERS.

During his MFA, Michael worked as a development intern at Stick Figure Studios in New York, and the Montecito Picture Co. in LA. Michael lead-produced the indie feature THE LAST between jobs during his second year at Columbia. THE LAST stars Tony Award-winning actor Reed Birney and received theatrical distribution across North America with Glass Half Full Media and worldwide through Amazon Prime.

Michael's first project out of the gate at Columbia was CHOSEN, an independent TV pilot for a supernatural drama series that Michael wrote and produced. Chosen premiered at the Catalyst Stories Content Festival in Duluth MN where it was awarded Best Dramatic Actress and Best Cinematography and went on to screen as a finalist at Austin Film Festival and SeriesFest, where it received an honorable mention for Best Drama Actress.

Michael is a member in good standing of the Producers Guild of America and an active community- facing volunteer with a specific focus on self-improvement, psychedelic psychotherapy and mental health. To learn more about Black Creek click here.
---
Let's hear your thoughts in the comments below!
Got an idea for a post? Or have you collaborated with Stage 32 members to create a project? We'd love to hear about it. Email Taylor at taylor@stage32.com and let's get your post published!

Please help support your fellow Stage 32ers by sharing this on social. Check out the social media buttons at the top to share on Instagram @stage32online , Twitter @stage32 , Facebook @stage32 , and LinkedIn @stage-32 .