How To Wake Up on the Right Side of the Writer's Desk: Ideas on how to get re-motivated to work on that script you've been ignoring this entire pandemic.
If your quarantine has been anything like mine, then all the grand plans you had for finishing that script, taking that online class, and working on your yoga game have turned into finishing that pint of ice cream, taking that random personality quiz, and working on your watching everything in your Netflix queue game. It's sucked. You want to do the thing but you can't seem to actually work on it.
Everything happening outside your snuggly little bubble is so overwhelming sometimes it's all you can do to wake up, watch something, and have a snack to keep yourself sane. But it's been months of that now – and the Quarantine 15 has made all of your pants fit wrong and the guilt of not working on anything is just as heavy.
So! How do we get back onto the horse? How do we get back into the zone and wake up ready to do something tomorrow (because we're starting all this tomorrow)? Here are some ideas for how we can feel creative again and finally wake on the right side of the writer's desk, ready to write the next great masterpiece.
Write A Thing – Any Thing
A big hurdle for most writers is the feeling that everything you write needs to feel perfect the first time. Maybe you're stuck on a line or a scene or a title and you just can't work on literally anything else until you solve that puzzle.
To get over this hurdle, just write something – literally anything to get your brain primed to write more. Maybe you physically write out a grocery list or a fun daydream, or an argument you want to have with that one family member on Facebook but won't because then your mom will call you upset and it will be a whole thing.
Whatever it is, just get back into the practice of writing something. Any practice you make time for will make it easier to set that one puzzle down to work on another one in your script.
Carve Out One Episode's Worth of Time
You've probably already heard this before in every article you've read about writing, but seriously dedicate some time every day to it. Even if it's just 10 minutes and even if you don't actually write anything. Tell yourself that you're just going to sit there for 10 minutes and critically think about your script or writing or some other industry thing.
Even if you're not physically productive, putting in the dedicated mental work to be actively engaged with the craft will help nudge you back into the right zone. Plus, the more you practice dedicating time to your writing, the easier it will be to incorporate into your regular schedule.
Treat Yo' Self To Space
This may sound cliché, but creating a dedicated space to be creative really does help. Physically going somewhere with the express intent to create can help get your mind in gear to be creative, especially if you've been blocked lately.
If it's not possible to actually create a dedicated space in your home or to go out somewhere, (thanks, Ms. Rona) then you can do the next best thing and dedicate a new notebook/whiteboard/corkboard/note card stack/sticky note wall collage/whatever to be your creative space. Seriously! Not only will it provide some good retail therapy, but it'll also be the easiest way to create a specific, physical space to being creative and working on your writing.
I call my new notebook my, "Get My Quarantine Sh*t Together," book. It helps when I can't physically get away from stressors (looking at you, unfolded laundry) but want to work on doing something creative.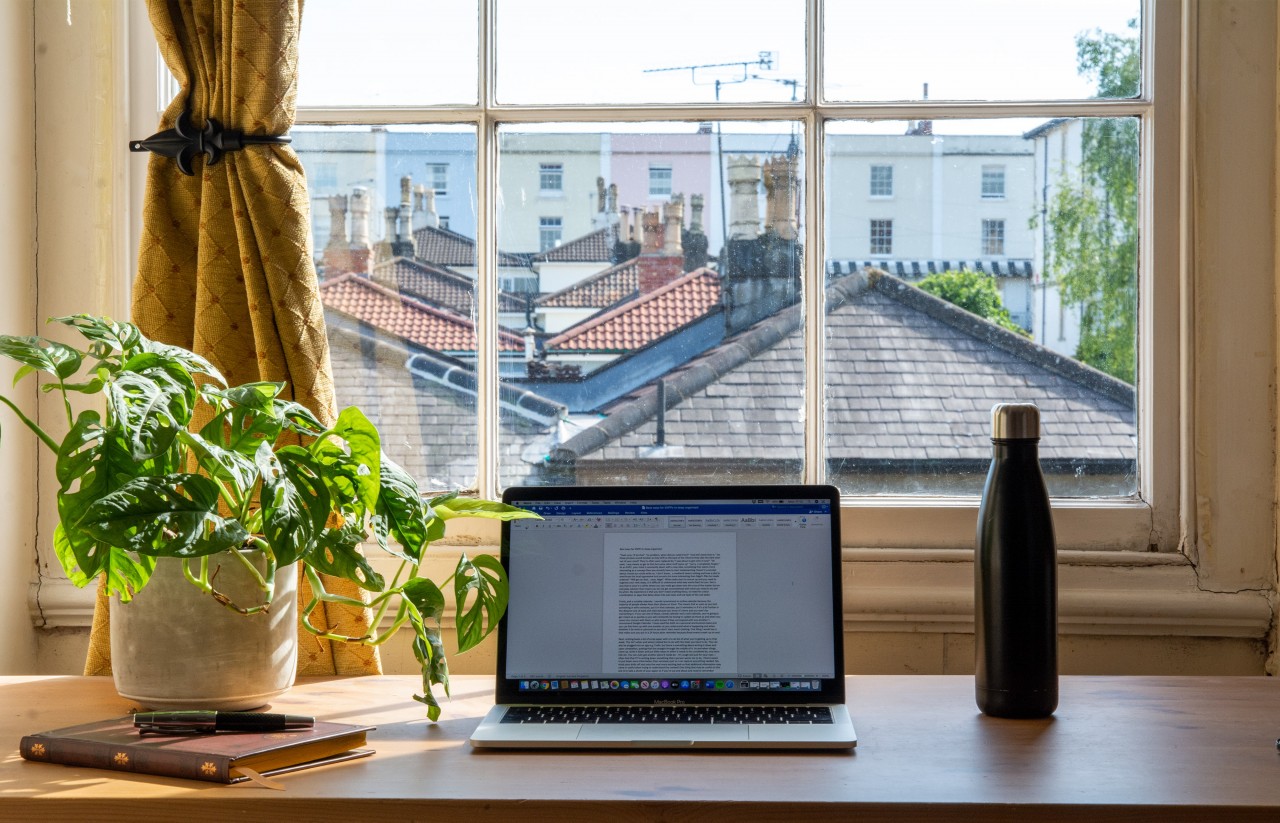 Pretend To Hang-Out With Friends Via a Podcast
If one of the things you've missed most during quarantine has been collaborating with friends, trading rough drafts, and tossing around new ideas, notes, and witty jokes then I'm right there with you. While it might not be able to completely replace real human interaction, a podcast I've recently discovered gets close.
I'm not usually a podcast person, but "Six-Page-Scripts" has changed that for me. Not only are the four hosts fun, funny, and engaging, but they seem to really know their stuff. As much as they play around, they give some great feedback – it can be fun to pretend you're in the writers' room with them and hearing all those creative juices flowing might get yours going again too.
The best part about this podcast is that it accepts listener-submitted scripts and it's FREE to submit! Like, ACTUALLY free! So, whenever you do finally finish something (even if it's just a throwaway 2-10 pages), you'll have a chance to hear it read out loud and workshopped by fellow professionals that you can listen to wherever you get your podcasts. And who knows – maybe someone with money will hear your work, love it, and commission you!
Watch More TV But Make It Active
Last idea – if you're already hunkered down watching or re-watching something, now is the perfect opportunity to see how the greats have done it and how you can learn from them. Search for the script of your favorite show (I've been re-watching Breaking Bad) and read it along with the finished, produced product.
It's amazing what you can learn when you see how what's on the page was translated to what's on the screen. With luck, you can find your script of choice for free online. If not, then I highly recommend the pilot of Breaking Bad. It's one of the best TV dramas out there and the script is online for the absolute best price – FREE.
I hope these ideas help you as much as I hope that they help me. This pandemic and quarantine has been tough for everyone, especially artists. Even though as writers this may seem like the "perfect" time to get something done, ample time doesn't mean ample creativity.
So if you've been in a funk and unable to work at the craft that you love – write down a thought or two, give yourself some time, get a new notebook, listen to a great podcast, and watch one of your favorite guilty pleasures.
About Ella Embry
I am a Mississippi actor and writer based out of the Atlanta, GA area. I enjoy telling stories about complicated morality, impossible choices, and authentic voices stepping up to be heard. In 2018, I graduated from the University of Southern Mississippi with a B.F.A. in Theatre Performance. While there, I wrote my Bachelor's thesis titled, "The Art of the Dress: How Getting into Costume Affects an Actor's Self-Perception," which is a detailed look into how getting into costume and makeup creates a distinct shift of sense of self from actor to character. Most recently, I have written two locally commissioned short films, acted in a variety of online and on-screen roles, and have been working towards getting my first play produced in the Atlanta area. I also write show reviews for BroadwayWorld: Atlanta, am a registered member of the Dramatist's Guild of America, and I'm a vocal human rights activist working to create change. I have worked as an actor, director, costume technician, costume designer, wardrobe supervisor, makeup designer, blood technician, script consultant, playwrighter, screenwriter, and am always hungry for more chances to tell stories and create art.
---
Let's hear your thoughts in the comments below!
Got an idea for a post? Or have you collaborated with Stage 32 members to create a project? We'd love to hear about it. Email Taylor at taylor@stage32.com and let's get your post published!

Please help support your fellow Stage 32ers by sharing this on social. Check out the social media buttons at the top to share on Instagram @stage32online , Twitter @stage32 , Facebook @stage32 , and LinkedIn @stage-32 .