In 1993, nothing inspired me more than Mariah Carey's hit song, "Hero," which was about finding the hero within yourself even if there were no heroes around you. I was 12-years-old and I had started writing screenplays two years earlier at the age of 10. I was a kid and doubted that people took me seriously when I called myself a writer.
I never knew that Mariah Carey would be even more of an inspiration to me than she was through that song. In the latest issue of People magazine (April 23, 2018), Mariah Carey reveals that she lives with Bipolar II Disorder, which is a mental disorder that causes bouts of depression and manic episodes known as hypomania, which are less severe and short-lived than Bipolar I. Mariah and I have more in common than just being artists.
I was first introduced to mental illness when I saw a glimpse of the movie, "Out of Darkness," in 1994 starring Diana Ross as a woman who was a paranoid schizophrenic. What I saw was so disturbing that I didn't finish watching the movie and I then developed an irrational fear of developing a mental illness myself. Soon after, I learned that the illness usually set in around the age of 18. For years, I dreaded my 18th birthday. However, when I turned 18 in January 1999, nothing happened so I moved on with my life and forgot about it. Nevertheless, seven months later I had my first psychotic episode and was hospitalized for five days without getting an official diagnosis; they simply called it psychosis n.o.s.—not otherwise specified.
The incident was traumatizing and I fell into a depression. I didn't feel like myself and didn't know if I would ever be me again, or if I would be able to accomplish my screenwriting and filmmaking dreams. Before my psychotic episode, I had written at least one screenplay per year since I was 10. I didn't write for two years after the episode. It wasn't known why I had the psychotic break, but it was attributed to stress, and it had felt like my mind was on overload, so I was careful with how much I put into it. As a result of the hospitalization, I had to postpone college for a year. I didn't write creatively again until 2001 when I watched the band "O-Town" on a reality show called Making The Band, where they wrote their own songs. I remembered what joy I found in the creative process and penned enough songs to make a collection, which eventually segued back into screenwriting. I then wrote a screenplay that helped me deal with all that I had lost from the psychotic episode, which was a burgeoning romance and friendships I had made while learning to speak Spanish.
At the time of my first hospitalization, there was a study done that showed that 81.9% of patients relapsed five years after initial recovery. Back then, it was standard practice to do at least one year of antipsychotic medication treatment as maintenance for first time patients, which I did, but after that first year, I was no longer medicated. I was fine, though—for six years.
In 2004, I started my last year of film school at Howard University in Washington, DC. To finish my thesis project. I had to take film directing and I wrote several short scripts as possibilities to be turned into my first short film. Out of those scripts, one of them was based on my previous hospitalization for psychosis and was called "Take Your Medicine," which was what eventually led to my release from the hospital. I took the medication long enough to remember that my actions and thoughts earlier in the week were indeed psychotic. This was because the story took place primarily in a hospital and I knew it would be a challenge to find the right location. I was a full-time college student taking 18 credits, as well as working part-time. Instead, I chose to make my first short about a little foster child who wanted a real friend and had to let go of her imaginary friend in the process called "Figment."
My last year of college came and went. It was the week of graduation and my plane ticket was booked to start my life in Los Angeles where I had interned the summer before. I never made that flight. Instead, I was hospitalized for my second psychotic episode and this time received the diagnosis of Schizoaffective Disorder, bipolar type. I was devastated that I would not be moving to Los Angeles. Although my dream was always to make movies in Prince George's County, Maryland, my hometown, I thought that relocating to Los Angeles was part of my journey, and again I became depressed, because it wasn't going to happen now.
Since that diagnosis in 2005, I have been medicated consistently. However, after that second visit to the emergency room, I did not suffer the extreme writer's block that I did the first time. I have either written or re-written a feature-length screenplay every year since 2002. I have six production-ready feature-length screenplays that I will produce with my production company Third Person Omniscient Productions that I started in 2012 in my home town and a year after I stopped teaching high school English. While I was a teacher, I produced my second short film called "One Chance," which was based on an essay that was written by one of my students for a class assignment.
The year that I founded my production company, I found a copy of "Take Your Medicine." At this point, I had new insights into what had stressed me enough to have a psychotic break, so I went back and added 10 pages to the script, making it 20 minutes long instead of 10, and I renamed it "N.O.S.," which I was finally able to shoot in 2017. It has taken five years to produce it and is currently in post-production and will start the festival circuit this year.
While producing the film, I realized just how many people have a connection to mental illness. Most of my production team and cast joined the project because they felt passionately about mental health awareness and were affected by it in their own personal lives. This helped them to stay committed to the film during the five years it took to get done. I wanted to make this film so that young people, or anyone who is diagnosed with a mental illness can know that they can be themselves again and accomplish their dreams and fulfill their life purpose.
I am able to fulfill my screenwriting and filmmaking dreams because I have a stellar team of my health care coordinator, psychiatrist, and psychologist who make sure that I maintain balance in my life and the right mixture of medication. I am also very upfront about my illness and all of my friends, family, employees, and colleagues are aware that I have it and know what symptoms to look for, and they all gently remind me if they sense that I am overworking myself and easing into a manic stage. I am proof that it is possible to fulfill your screenwriting and filmmaking dreams with a mental illness if it is managed properly.
About Joy Cheriel Brown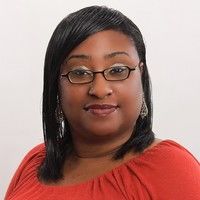 Joy is an accomplished screenwriter, with an MFA in creative writing from National University and a bachelor's degree from Howard University, where she studied film and English and graduated summa cum laude. She has written six feature-length screenplays and received numerous accolades.
Joy is the founder of Third Person Omniscient Productions, a production company whose mission it is to produce quality movies, plays, and television shows that enlighten audiences about the human condition and shed light on the meaning of life. Her first feature film, Love's Duty, is currently in development by her production company.
Beyond writing and producing original works, Joy also coaches screenwriters who want to write meaningful, production-ready screenplays. She has served as a screenwriting mentor for the DC Shorts Filmmaking Mentor Series and a panelist for the screenwriting panel at the Prince George's Arts and Humanities Council's Festival of Literary Arts. She recently launched a YouTube channel where she presents script analyses of studio and independent films.
---
Like this blog post? Please share it on social media (Facebook, Twitter, LinkedIn, email etc) by using social media buttons at the top of the blog. Or post to your personal blog and anywhere else you feel appropriate. Thank you.
As always, we welcome thoughts and remarks on ANY of the content above in the Comments section below...