A NOVEL IDEA
It was back in 2010 when I was first approached about publishing a novel. I was a lighter shade of Latina actress who had met the frustration of waiting for casting directors and agents to notice me, and see me as Latina enough...so I decided to write my own stage play. It was my autobiographical, coming of age story, that would show people once and for all who I was, instead of waiting for them to see and find a place for me. My one-woman stage play (Brownsville Bred) took the festival circuit by storm and within one year I was performing it Off-Broadway and to critical acclaim.
The book packager, who shall remain nameless, was absolutely wonderful, experienced and best of all she loved my story and believed in me as a writer.
HOW BOOK PACKAGERS/PUBLISHERS WORK - GETTING GHOSTED
My book packager sat me down and told me how it "Usually" worked. It seemed that "usually" they (the packager or publisher) hire a GHOST WRITER--someone who comes in, listens to your story, and reads your work, before diving in to write their version of your story. The ghostwriter never gets credited as the Author, but they are still the person who is actually writing the book.
"Hold up...wait a minute," I said. "I am a writer!" But it wasn't that easy. I had to prove that I could write in prose and that I did. One sample chapter later and I proved to her (and to myself) that I was able to write prose just as well as I wrote for the stage. I was handed the STANDARD publishing contract--which is...to put it delicately...HORRIBLE. For the most part, it says you get about twenty-five cents per book, and you give up your rights to the book, TV, and Film.
As a writer/filmmaker, the cents didn't matter to me nearly as much as the TV and film rights did, and luckily for me, she quickly took it out of our contract. So we had the deal and now it was time to write the book, right? Kind of. I learned the lesson that most book publishers only want a package that would include an intro, an About The Author page, and about three or four sample chapters--this because anyone who picks it up will want a hand on the direction they want it to take.
Long story short, within three months we had a great package, sample chapters, and people willing to bring it into their publishing house pitch meetings. I was never in on those meetings so I can't tell you exactly how those went. But I can tell you that my packager described these folks as "LOVING" the materials. I even got the words, "No one could love it more than her"...but still, it was rejected by the ultimate decision-makers. That process repeated a few times and before long, my one-year agreement with my packager was up.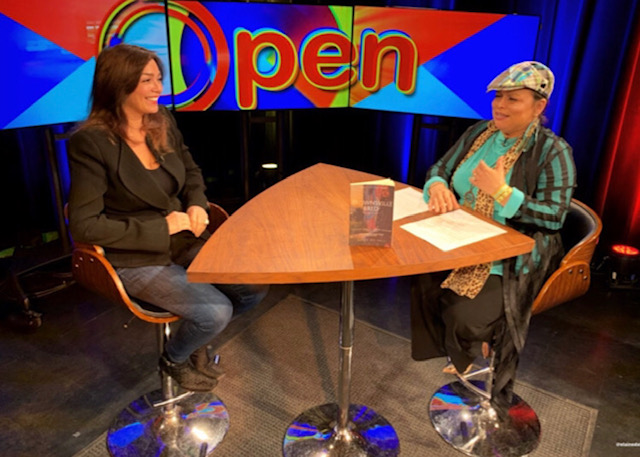 BronxNet TV Interview for "Brownsville Bred"
THE NEW NORMAL
It was also around the same time that the publishing world was changing. Kindle was managing to do to the book publishing world what Napster had done to the record industry. The world was changing and my story, about a Puerto Rican girl growing up in the welfare projects of Brownsville Brooklyn, proved "too dark" for the YA readers they had in mind for it.
With that, I took the experience and told myself that it had veered my journey away from the on-screen journey that I had hoped for the story. But I am a firm believer in "everything happens for a reason...moreover a GOOD reason and it's up to us to find that reason."
Fast forward a few years later, I was in the thick of filmmaking. I had a few episodes of a web series that I'd written, produced, and directed and found filmmaking to be my greatest passion. I knew I wanted to make my stage play into a feature film. It was then that I sought the advice of a great feature film director, Rashaad Ernesto Green, who told me that if I wanted to direct a film I should, "Make short films".
THE STORIES THAT TRANSLATE ACROSS PLATFORMS
And so I began that journey. With my first short, Final Decision (now on Amazon Prime) I managed to win three festival awards including one for Best Director. Indie filmmaking was hard, but I was born for it. My biggest problem was finding the stories that I wanted to tell in short films. The stories had to be worthy of the time, money, effort, and dedication it takes to actually realize a film for the screen. I read, and read and read and nada. It was then that I went back to my sample chapters, where I found story GOLD! My second short film, ME 3.769, was a story extracted from one of my sample chapters (a scene from my play) and went onto to win numerous Best Director, Best Short Film, Best Performance awards on the festival circuit. It even got a Sundance grant and can now be seen on HBO.
The journey fortified my confidence in the stage play's story and my dream to make it as a feature film. The story is proven and I am ready to direct a feature film. What more can I do?
Chatting "Brownsville Bred" with Victor Cruz of Victor Cruz Acting Studios in NYC
I.P. CREDIBILITY
It was while at the Official Latino Film Festival in late 2019 that I received the next big great piece of advice. During a panel of professional writers--people who had all of the experience of being in a pitch room, I asked, "what is the number one thing that gets projects sold?" The answer sent bursts of colors through my brain-- "I.P."--Intellectual Property. Intellectual Property like a book lends any story credibility.
The writer went on to say that he had an idea for an alien series, and so he wrote and self- published a graphic novel to support the idea. When asked where the story came from, he simply took out the book and said, "this graphic novel".
SAY YES TO YOU
And with that my friends I knew. Like in acting and in indie filmmaking, I did not have to wait for anyone to support me, choose me, believe in me, say YES to advance me. I just had to be willing to say yes to myself. And so I did.
MINING
I dug up all of the chapters I'd written and spent the next two days immersed in what I had and figuring out what was missing. I looked to my stage play and then to my new screenplay's beat sheet. I added some parts that would reinforce the decisions I had made for the screenplay version. Within a week I had my first manuscript.
TECHNOLOGY
My eyes were strained from reading, and so I uploaded my manuscript into Speechify and listened to it read back to me over and over again as I noted the errors to correct.
I googled everything I could about self-publishing...and it wasn't the first time I'd done that but 2019 proved to be the year when technology would finally catch up to me, without the demand of financial investment. It took me a few weeks to consume the self-help videos and seminars made available through KDP Amazon. Yes, people, we have to thank Jeff Bezos on this one.
Excerpt from my Ebby Magazine Profile
SELF-PUBLISHING
Self-publishing has never been so easy. Everything you need to know is readily available to you online. I learned about ISBN numbers and the various options on self-publishing through the KDP Amazon platform. You can make your book available exclusively on Amazon or for mass publication. While an exclusive on Amazon deal pays more, I went with the mass publication because I wanted the panache of seeing my book on Barnes & Noble, etc.
If you choose to sell strictly through Amazon then Amazon makes an ISBN available to you. In my case, I chose to purchase ISBNs from Bowker. I bought ten at a time and have already used three of them. One for paperback on Amazon, another for a Hard Copy version which I made available on another platform for an easy sale to libraries and schools. (That's another story), and a third ISBN I used to publish the stage play.
RISING TO THE TOP
While anyone can publish a book, there are many things that you can do to help your book rise to the top. Amongst the things a professional author has that most self-published authors do not is a professional editor. One of the best things an author can do is hire a professional editor to be sure that your book doesn't land in the junk pile of any self-respecting critic.
Editors do cost money, so I recommend that you only do this only after you feel you love your book. My editor was recommended by a friend, but before I'd secured her I had also found others available online, including on the Fiverr app. My editor made minor adjustments to grammar and syntax, but also made me understand that what I had as three chapters was really only one. She corrected simple things like the two spaces after the period that I was taught in school, was frowned upon in the now paper- conserving publishing world.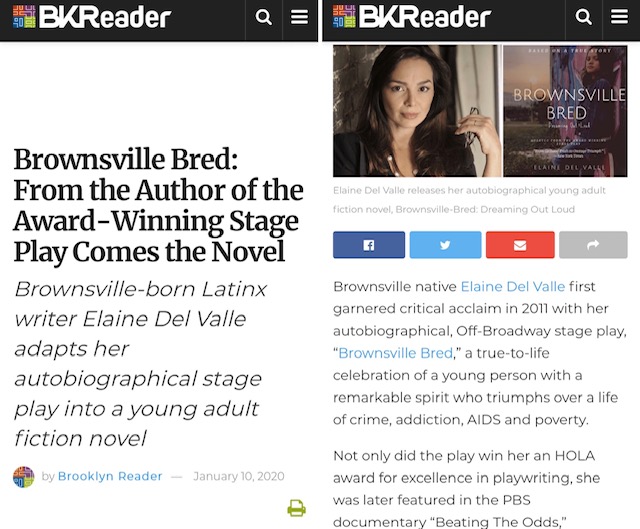 Excerpt From Brooklyn Reader Article
BETA READERS
After you've gotten through the editor's changes you should get BETA Readers. These can be hired or just ask people who you know are avid readers if they'd give you feedback on the manuscript. I recommend creating a questionnaire specific to your book.
It should have questions like:
"What was your favorite part?

What confused you?

What would you tell someone about this book?

Who would you want to read this book?

Did you feel that anything was missing?
In my case, I had added a whole end chapter to my book, after a friend who had seen the play, told me that she very much missed the end of the play where I gave a recap of the real people the book was based on and shared where they are today. Now in retrospect, I can report that, at my book-club readings, I am often asked to read that very chapter aloud.
PREPPING TO UPLOAD YOUR COMPLETED MANUSCRIPT FOR PAPERBACK
I was ready for my upload--which is when I learned of the many sizes I would have to choose from and the formatting that I'd need to make happen.
Luckily KDP Amazon also has templates for your manuscript as well as for your book cover. You will have many sizes of books to choose from. I recommend finding a book in publication whose size you think your book is right for. The templates are relatively easy to follow and you can cut and paste chapter by chapter. I did change my font to Garamond 11 instead of the Garamond 10 font that was recommended.
Excerpt from The New York Times coverage of my One-Woman Stage Play that Inspired my Novel
MAKING YOUR BOOK COVER
KDP also makes easy to follow templates for the book cover as well. I had an idea of what I wanted. In my case, I was telling a coming-of-age story and so I wanted to represent a young Latina on my cover. I thought of using an old photo but in the end the quality would have suffered with that choice and so I asked a friend if I could use their daughter as a representation of myself as a child. I took the cover photo with my iPhone.
I recommend being sure to keep your subject on the extreme right of the frame and taking the photo horizontally. Now I needed to format. I highly recommend Canva.com and the corresponding Canva app. For a small monthly fee (which you can cancel at any time) you can edit photos and create book covers and other things like a photoshop pro. Note that I do not know photoshop, but I am a bit of a techie and work on keynote regularly. Learning the Canva's program is very easy and fun to use. Canva also provides you with free photos to choose from, but I recommend you use something that only you have the copyright to.
I uploaded my photo option onto Canva and looked through some of their book cover templates as a start. KDP Amazon also recommends that you research current best selling books in your genre so that you can make good choices with the benefit of seeing what is currently working. After all, publishing houses spend much time and deliberation on book covers, you should do the same.
One big tip I can share with you is once you think you've gotten to what you want, you should start a new project using the custom dimensions on your chosen template. Open the custom book cover template you've downloaded as a regular pdf (or png) on your computer and click command button and the letter i to see the exact dimensions of the file KDP has provided you. Use these width and height dimensions in your Canva create a custom design. I was snagged numerous times before I realized that even uploading the template was not giving me the correct dimensions. Be sure to drag and drop the template into the custom size and then click on that to be sure that the entire image appears within the custom space. I had to drag the edges to make sure it fit every time. Once you see the entire template in your space you will just click on your photos to add them as a layer on top of the template. This will allow you to go back between images to be sure that all of your words fall into the correct spacing. Isn't technology awesome!
THREE MONTHS TO BECOMING A PUBLISHED AUTHOR
It was in late September when I heard those magical words, "Develop IP to support your screen work" and by December 31, 2019 I had uploaded my work to KDP Amazon, and on January 1st ordered my first Author copies. I chose to sell my books for $9.99. Your profit margin on each book will depend on your page count, but I am happy to say that I make about a third of the sale price versus the measly twenty-five cents I would have made with the publisher. The books are printed on demand with no setup fees. KDPAmazon and other self-publishing houses only have to produce one print copy at a time. Way back when, even if you went the self-publishing route you would have had to make a few thousand books as a first-run minimum and hope they'd sell. Be grateful for the print-on-demand world.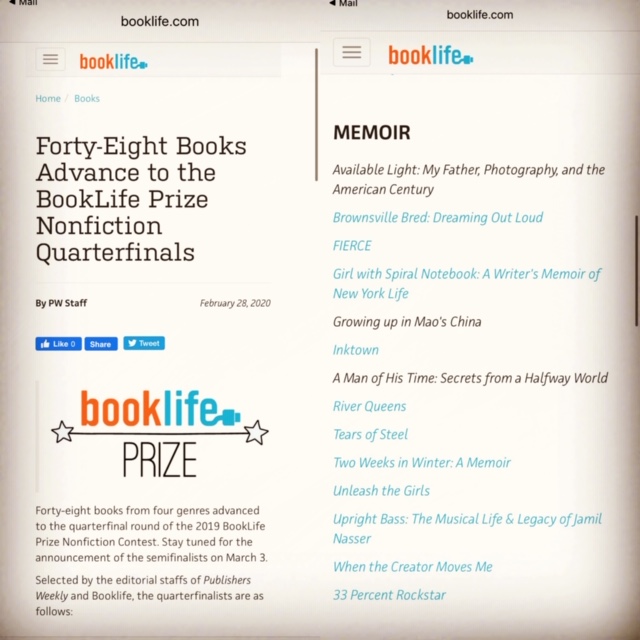 DO IT YOURSELF
There are many things to consider, but they are all your decisions. There is much work to be done, but you can say YES to yourself and be a published author. In my first quarter as a published author, my novel, "Brownsville Bred: Dreaming Out Loud", became a quarter-finalist in Publisher's Weekly BookLife Prize. BookLife Prize reviewed my book as a 10 out of 10 in every category.
I have followed the steps to now have my book on Kindle, Amazon, Barnes and Noble and available through other resources to schools and libraries. One teacher, touched by the novel, decided to share with her colleagues and school and decided that "Brownsville Bred: Dreaming Out Loud" would be a part of their required reading.
I speak publicly at book clubs and even have gotten multiple articles in the press. I consider every person that engages the book as my future film audience.
There are many components that I have not included here. Like Good Reads, claiming your author page, contests, book clubs, do it yourself press releases, making it available on Barnes and Noble, Target and schools, and on Audible (which I narrated myself entirely from my home) etc-- but I can assure you, it is all there for you to learn and it doesn't cost you much if anything at all.
While my original intent on self-publishing was to create the IP that would support my film, I came to an unexpected gift--the great pride that comes from being a published AUTHOR, and sharing a voice and experience of my authentic Latina self.
More about Elaine Del Valle
Elaine is a 2016 Telly Award Winning Producer, Award-Winning Playwright, Director, Casting Director.
Elaine's book, Brownsville Bred, is available in paperback, hardcover, Ebook on Kindle, and on Audible.
Follow Elaine Del Valle on Instagram @elainedelvalledirector, on Twitter @BrownsvilleBred, and Facebook.
Related Press Articles about Brownsville Bred:
---
Let's hear your thoughts in the comments below!
Got an idea for a post? Or have you collaborated with Stage 32 members to create a project? We'd love to hear about it. Email Taylor at taylor@stage32.com and let's get your post published!

Please help support your fellow Stage 32ers by sharing this on social. Check out the social media buttons at the top to share on Instagram @stage32online , Twitter @stage32 , Facebook @stage32 , and LinkedIn @stage-32 .