You can locate Stage 32 Meetups on your menu bar:


The Stage 32 Meetups page will welcome you with a search bar allowing you to search for any meetups near you. Keep in mind that this is a brand new feature, which means that your hometown may not have a scheduled meetup yet. Feel free to add one and invite all of your creative friends to it.


On the left side you will notice a calendar of events. This will list only the next 20 upcoming Stage 32 meetups anywhere in the world. Calendar will show you the date and time of the meetup along with the title and location where the meetup takes place. If you are attending a meetup, the date will show up on the black background. If you are not attending, the date will show up on the maroon background.

On the right, you will see the list of upcoming meetups, sorted to show upcoming meetups first. If you are the organizer of a meetup, you will see a green icon with a pen, allowing you to edit the meetup. If not, you will see either a calendar icon or a checkmark icon indicating that you have RSVP'd for said meetup. Here is a detailed explanation of this section: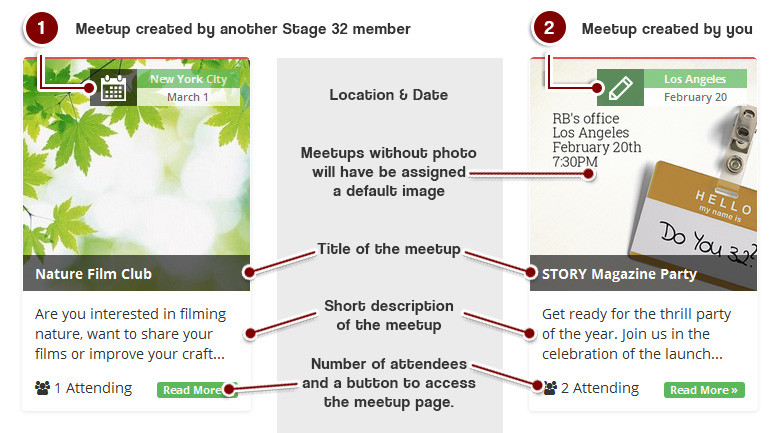 That's it for the meetup list page. Let's now take a look at the meetup page itself. Here is what you might find in the left sidebar of a meetup page: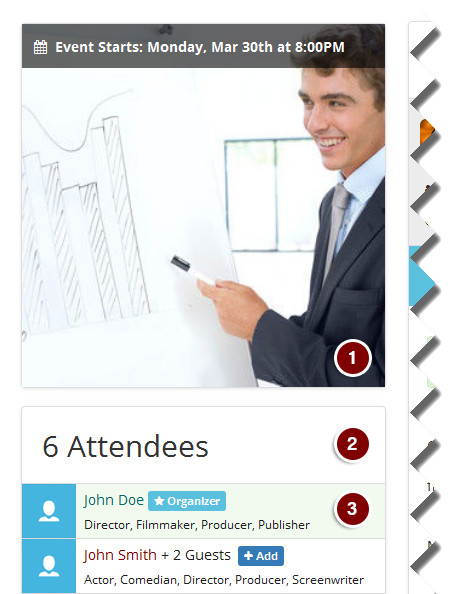 Main image for the meetup with event's start time and date.
Number of attendees who already RSVP'd to this meetup.
Organizer of the event will be highlighted as shown.
Right hand side of this section will have additional information about the meetup, from the top you have:
Information about the group or organizer of the meetup.
Important information about the meetup including location, date, time of the event and an option to add the event to your social calendar.
An option to invite your friends to the meetup. You can invite creative in your Stage 32 network, but if you wish, you can also send invitations outside of Stage 32.
An option to join the meetup.
Right below that you will see the description of the meetup (and group if one exists) along with some additional information and functionality: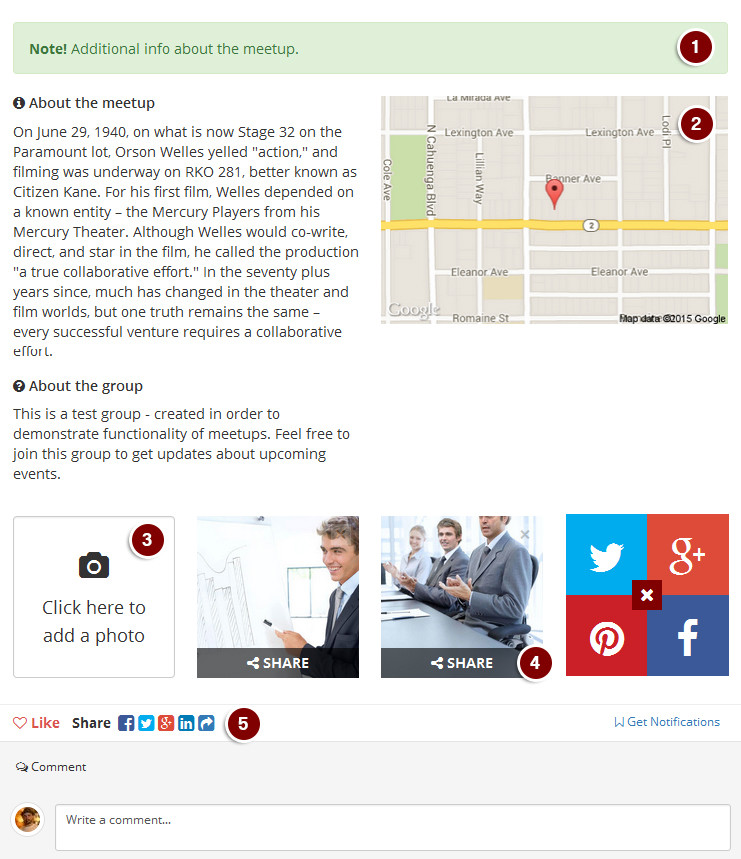 Note can store pertinent information about the meetup (i.e. where to park or the name of the person who will be running the meetup)
Map will be provided given that the address information of the meetup is properly filled out. You can click on the map to be taken directly to Google for navigational purposes.
By default adding a photo is disabled – this functionality becomes enabled once the meetup begins – make sure to take some photos and share them right on the meetup page.
Once you've taken the photo, you can also share it on your social media – tweet it, pin it or share it on Google Plus and Facebook with ease.
Do not confuse step #4 with sharing the meetup itself. To share the meetup to other social networks click one of the share icons right above the comments.
Once the meetup begins, "Click here to add a photo" button will turn blue and all attendees will be able to add a photo right to the meetup page. You can easily add a photo right from your phone – go ahead and give it a shot. Organizers, if you feel that a photo is inappropriate, you will be able to remove it with a single click: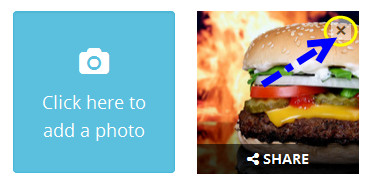 JOINING A MEETUP:
Joining a meetup is quite simple, you just need to click "Join this meetup" button:


And decide whether you are coming by yourself or if you are bringing guests:

You can RSVP with up to 3 guests. Once done simply click "Confirm" and you will be automatically added to the list of attendees.

SHARING A MEETUP:
There are many ways to share a meetup – the one you might already be familiar with is by sending it to facebook, twitter, google or linked-in right from the bar above the comments:


To invite your friends to the meetup click the "Invite your friends" button:

You will then see a window asking you whether you want to invite somebody who is already a member of Stage 32 or if you want to invite some creative friends who are not yet on Stage 32:

If you choose former, you will be able to search for a member by name, or invoke a single click invitation to any Stage 32 members who are in your network and reside within 50 miles of the meetup location. After an invite has been sent, a message will show up in the footer of the window letting you know that the person has been successfully invited:
If you choose the latter option, you will be able to invite your friends by inputting their email addresses and optionally a personalized message to go along with the invitation. Once done, click the "Send" button.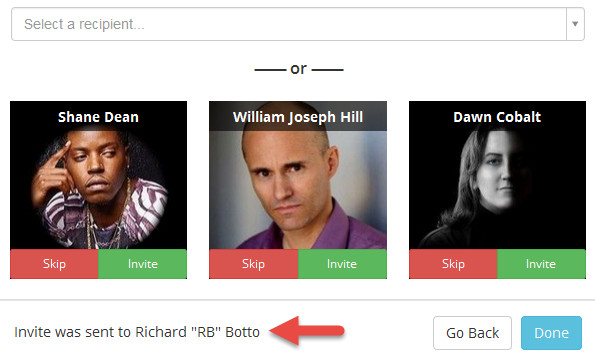 If you choose the latter option, you will be able to invite your friends by inputting their email addresses and optionally a personalized message to go along with the invitation. Once done, click the "Send" button.
---
Like this blog post? Please share it on social media (Facebook, Twitter, LinkedIn, email etc) by using our shiny new social media buttons at the top of the blog. Or post to your personal blog and anywhere else you feel appropriate. Thank you.
As always, we welcome thoughts and remarks on the content above in the Comments section below...