Networking. Opportunity. Access. Education.
These four words are written on the walls of the Stage 32 offices. They serve as the framework for every new site design feature and product we bring to the community. Today, it's all about opportunity.
I'm extremely proud to introduce our new Jobs section, a comprehensive and dynamic destination designed for Stage 32 members to post and look for work.
As a project runner, you can now post all your cast and crew needs - with full descriptions for all available positions.
If you're looking for work, you now have access to a very powerful job search engine right on Stage 32. You can apply for jobs directly on the Job posting, and even get notified when you're selected (or if the position has been filled).
Of course, there are many more features to tell you about, so let's get right to it. Before we do, however, a big shout out to Senior Web Developer, Tomasz Mieczkowski, for all his hard work in making this new section possible and our CTO, Derrick Ontiveros, for assisting along the way. Fantastic job, guys!
RB
Please watch this instructional video of how the new Jobs section works:

Overview of the new Jobs section menu bar:

Overview of the Job panels for both job seekers and job owners: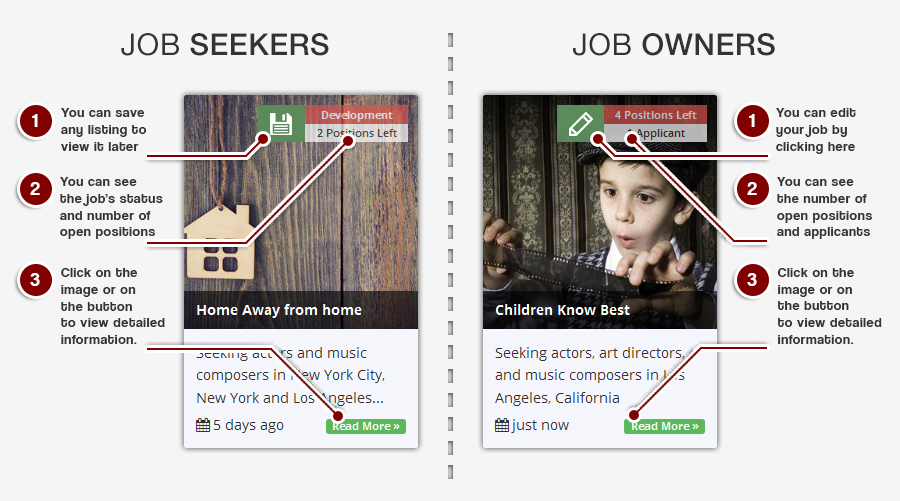 So, what are you waiting for? Get to Jobs now!
P.S. - As with any new feature we take live, the new Jobs section has been tested vigorously. However, with so many moving parts, perhaps we missed a thing or two. If you find any glitches or have any issues, I ask that you post them in the Comments section below.
Of course, we'd love ALL feedback on the new section
(not just bug reports)
. Again, feel free to post your remarks under Comments.
P.S.S. - As always, I ask that you pay it forward and share this blog and word of our new Jobs section on social media and anywhere else you feel appropriate. We want to create opportunity for
all
film, television and theater creatives around the world and can do so with your help. Thank you.