My first experience of walking a labyrinth was in the late fall. I was living in Hollywood and I was a member of a women's therapy group. When a church in the valley acquired a labyrinth printed on canvas for use over the holiday season, all of us went to walk it, because the Chartres labyrinth (the design often acquired by churches and other organizations that want to provide a meditative experience to their members) is associated with Goddess energy/the Divine Feminine (which exists in people of any gender).
Chartres, like many medieval cathedrals named for the Virgin Mary, was sited upon ground recognized by locals as having a link to the Divine Feminine. The three-leaf clover design found at the center was used by Christians to describe the Holy Trinity; it was also used by pagan cultures to describe the tripartite Goddess (maiden, mother, and crone). Both of these trinities point to how we are transformed over time, and how that transformation includes an opening to our spiritual side as well as to our connection with life and death.
As I walked the labyrinth for the first time – and I had been practicing tai chi for a number of years – I was surprised that my consciousness and awareness of the space around me altered. I became aware of an inner reality as I followed the winding path. When I finished, I felt not only lighter but cleansed – from what I couldn't tell you. I'm not sure it even needs to be named or can be named.
The essential part of the meditative walk was that when I emerged, I was not the same person who had entered the labyrinth. I was more. Years later, when churches in Ashland, Oregon began hosting an indoor labyrinth for the winter holiday season, I walked them every year that I could. Every time, when I emerged, I was different than when I had entered.
Remapping the Creative Brain: Movement Reintegrates Thought
Part of tai chi practice is learning how to do a tai chi walk in a circle. The exercise is practical on a physical level because it helps a student learn how to shift weight from one foot to another slowly with strength, to coordinate the steps with breathing, to develop the ability to balance on one foot easily, and to be aware of what surrounds the student – including what may be behind the student – while maintaining a focus on the breath and the internal feeling of relaxation. Creativity flourishes when relaxation – rather than tension borne of anxiety about daily life – is allowed a space in daily life.
Relaxation leads to the next step: using slow, rhythmic movement of the body to produce a meditative state – an altered state of consciousness – where the present moment in time and space becomes the only focus, and what preoccupied the mind before the practice slips away. This change in mindset gives creativity a wider space in which to manifest itself through whatever medium a person uses to express their ideas.
The Chartres labyrinth – and other, simpler, labyrinths – have embedded within their design a winding path within a circle which serves as an analog for the structure of the human brain. By walking the labyrinth and altering the state of consciousness, becoming focused on the body's sensations as one walks along the curved paths and turns of the design, a deeper communication between the various regions of the brain results. Consequently, our creative side becomes more closely allied with our daily, physical existence. Our creative ideas become easier to grasp and express, and can even become integrated into the mundane physical aspects of our lives.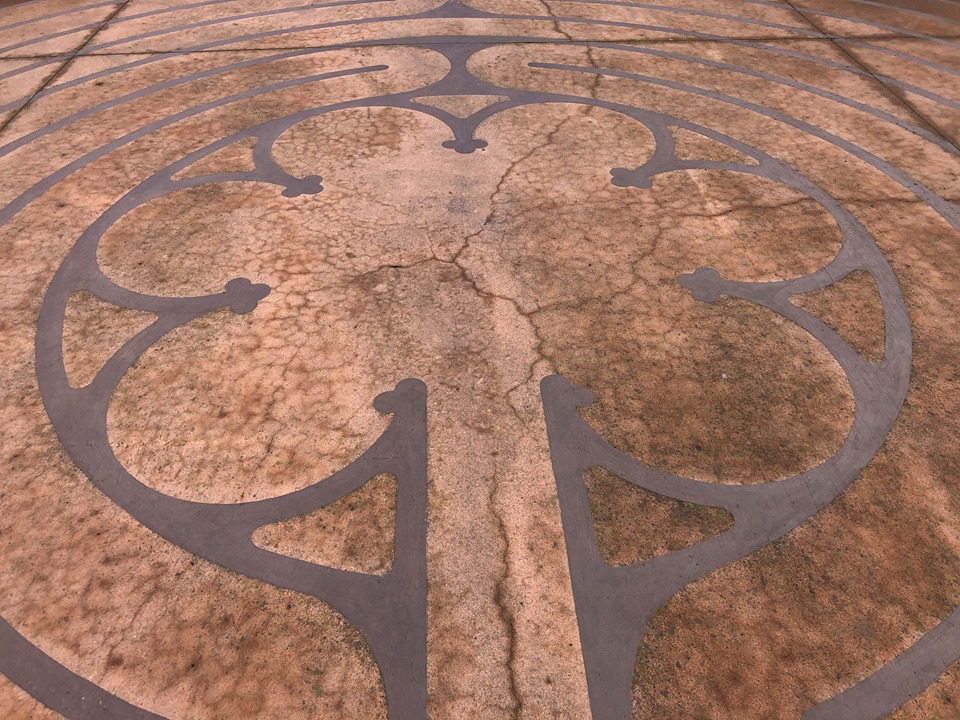 Center of the Labyrinth at Trinity Episcopal Church, Ashland, Oregon
This reintegration of the brain through physical movement is why no previous skill in meditation is needed in order to benefit from the exercise. The geometry of the labyrinth itself does the work. It is the creation of intuitive mathematics found in nature. It leads. You follow. When stepping out of the labyrinth, you will feel more grounded, centered, and yet more connected to something expansive, ineffable that many traditions call by many different names. The pilgrim – you – by walking the labyrinth communes with the reality of your spirit as it exists in the material world.
Using the physical body through movement in order to create an altered state of consciousness – which in Chinese Medicine is closely linked to creativity – allows the rational mind to slip into the background and intuitive, creative insights to come forth. What we call our ordinary life splits up our present moment into slivers of task-oriented time. When we enter non-ordinary reality, the present moment becomes wider, deeper, longer, and embraces our intuitive selves.
The result is that our creative expressions regain their vigor. So when we go to our keyboard or typewriter, our easel and palette, our rehearsal of a script, we are more present because more of us is there. We have recaptured pieces of our psyche through walking the labyrinth so that when we exit after meandering its curving paths, we are more centered, more whole, and more at peace. These three qualities make coming to our creative tasks more natural, more free, and more effortless. The dust of fragmented time that daily life leaves upon our hearts and souls is swept away.
A Labyrinth Is Not a Maze: It Is a Microcosmic Pilgrimage
Unlike a maze, a labyrinth has just one path, so there are no tricks and no dead ends. It is a two-way path, so you may meet others coming or going on the path. It is also a circular path, and while it is created in a two-dimensional reality, it is an analog for a three-dimensional reality – of ascending a mountain, then descending it to return to the beginning of the path.
Over the years that I have walked the labyrinth, I have been astonished by my body giving me the feeling that I am actually walking uphill as I approach the center, and then walking downhill as I leave it. The physical space is level. I can only attribute my feeling to the influence of the design itself. Sometimes, I have walked it in about thirty minutes; sometimes, I have done the tai chi walk on the labyrinth, taking about an hour and a half to complete my way through the labyrinth.
If my previous experience as a tai chi and qi gong practitioner gives you pause as to whether this would be a meditative experience for you – because you don't have a similar experience, maybe you've even tried and failed at sitting meditation, or because you don't already have a spiritual practice that informs your life, allow me to disabuse you of that notion. All the labyrinth requires is for you to show up at its opening, take a breath, focus on your feet as you take each step, and let all other distractions slip away. The most difficult skill might be ignoring distractions. Hint: turn off your cell phone – let voicemail do its work. Just walk, slowly and deliberately.
Many spiritual and philosophic traditions refer to making a pilgrimage, or to climb a mountain, as part of expanding spiritual awareness and relieving oneself of the burdens, difficulties, and worries that everyday life brings. In the Medieval Christian tradition, the creation of labyrinth designs on the floor of Chartres and other cathedrals was used as a substitute for the ultimate pilgrimage: walking from Europe to Jerusalem, then home again.
For those unable to make such a long and arduous journey, the labyrinth became a substitute. As a meditative metaphor for walking a difficult path, often alone, occasionally meeting another pilgrim returning from their journey, the labyrinth serves as a uniquely powerful tool for entering into a transcendent consciousness that ordinary life usually keeps out of reach.
Walking the Labyrinth in Chartres Cathedral, France
How to Walk the Labyrinth
Grace Cathedral in San Francisco, California, spearheaded the Labyrinth Project over three decades ago, using the design from Chartres Cathedral in France. Their description of walking the labyrinth is as follows:
The walk contains within its pilgrimage three stages:
Purgation (Releasing) ~ A releasing, a letting go of the details of your life. This is the act of shedding thoughts and distractions. A time to open the heart and quiet the mind. Again, be sure your cell phone is off.

Illumination (Receiving) ~ When you reach the center, stay there as long as you like. It is a place of meditation and prayer. Receive what is there for you to receive.

Union (Returning) ~ As you leave, following the same path out of the center as you came in, you enter the third stage, which is joining God, your Higher Power, or the healing forces at work in the world. Each time you walk the labyrinth you become more empowered to find and do the work for which you feel your soul is reaching.
Guidelines for the walk are simple to share, yet it may be difficult to do the first time. Give it your best anyway. Quiet your mind and become aware of your breath. Allow yourself to find the pace your body wants to go. Since the path is two-way, those going in will meet those coming out. You may "pass" people or let others step around you. Do what feels natural. Walk the labyrinth with an open mind and an open heart.
For more information visit:
http://www.labyrinthjourneysfilm.com
About Isabeau Vollhardt
Isabeau is an actor, author, content creator, narrator, and scriptwriter for "2gether 4ever in the Hinterland", a dystopian romance screenplay currently available for viewing on The Blacklist website. She is the author of the science fiction/detective/speculative fiction e-book series The Casebook Of Elisha Grey, set in Atlantis during the Second Era, and author of the poetry collection Songs For The Water Dragon/Poems For Plants & Planets/And Others. Isabeau has over 20 years of experience in holistic health care as a licensed acupuncturist/Chinese medicine practitioner/holistic health counselor/reiki practitioner.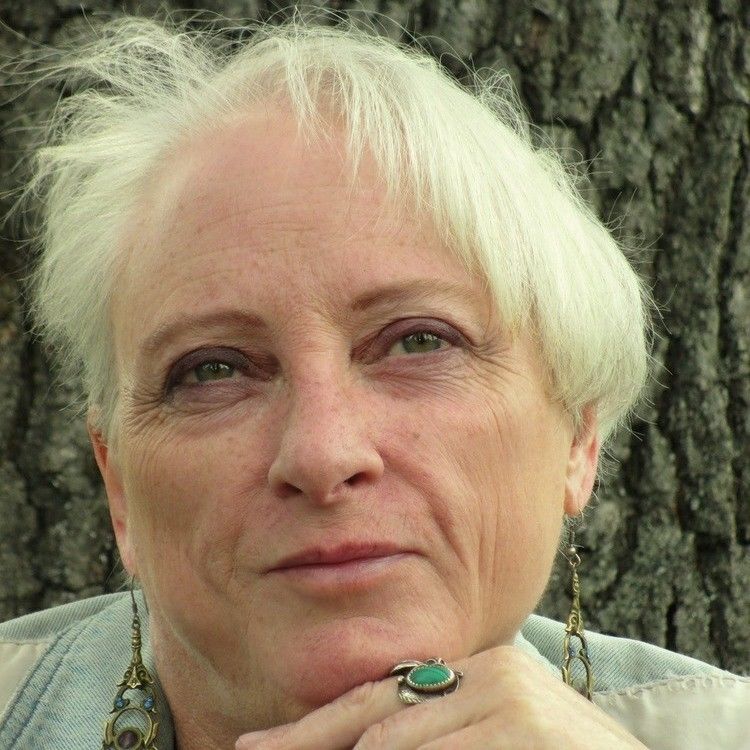 ---
Let's hear your thoughts in the comments below!
Got an idea for a post? Or have you collaborated with Stage 32 members to create a project? We'd love to hear about it. Email Taylor at taylor@stage32.com and let's get your post published!

Please help support your fellow Stage 32ers by sharing this on social. Check out the social media buttons at the top to share on Instagram @stage32online , Twitter @stage32 , Facebook @stage32 , and LinkedIn @stage32 .