UPDATE: The Stage 32 November Write Club First Week Check In!
Hey Club! I hope you have all had a creative and productive week! I am seeing a TON of great posts talking about goals and offering support to others. Let's keep that momentum going into the weekend and through to next week and beyond!
Next week is going to be a busy one! If you haven't yet registered for the FREE Online Writer Hangout on Tuesday, November 12 at 1pm you can register here. I will be talking about the craft, the business, and I want to hear about your successes and setbacks so that we can push through as a team! Bring those questions, comments, concerns, hopes, dreams, and fears and we will tackle them all!
In the meantime, keep up the solid momentum! I am so proud of everyone's efforts thus far and remember that I'm hear to guide and offer any assistance I can. You can always reach out to me at j.mirch@stage32.com
And remember share this blog and your progress on Instagram @stage32online , Twitter @stage32 , Facebook @stage32 , and LinkedIn @stage32 . Use #Stage32WriteClub on social! We'll give you shoutouts there too!
Keep writing!
Jason Mirch
Director of Script Services
Stage 32
The Stage 32 November Write Club
Welcome to November fellow screenwriters and creatives! Summer is in the rearview mirror and while the weather may be cooling for most of us, in the month of November our keyboards are about to heat up. That's right, scribes, the Stage 32 November Write Club is back and better than ever!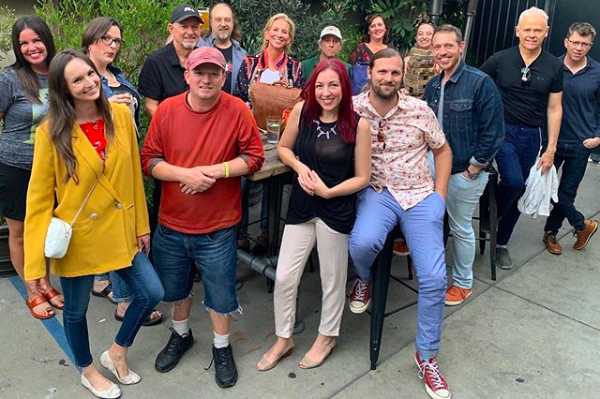 What's The Stage 32 November Write Club?
The Stage 32 November Write Club is a challenge for you to reach your writing goals this month. It's a community of screenwriters and creatives who come together on Stage 32 to support one another and encourage each other to stay committed to your writing this month. Because writing can be an isolated and lonely endeavor, it's our job to change that with November Write Club and challenge you to stay committed.
Bookmark this blog post because the comments section below is a forum dedicated to the challenge and its participants. This blog is where our daily dose of inspiration will live.
What's My Writing Challenge?
As you know, my personal mantra is "do the work," and for the last 4 years, we have been using the 30 days of November as a time to tackle the Write Club Challenge for you to set a writing goal and see it through.
That first draft you need to finish? Get on it. That idea you've been kicking around in your head? Knock it out. That TV pitch bible that is missing its Season Two arc? Let's hear it! The goal should be challenging (this isn't called the Write Club Easy) but attainable. And while no two goals are the same, we'll support, inspire, and cheer each other on throughout our 30-day endeavors.
How Do I Stay On Track?
On Tuesday, November 12 at 1pm let's hang out online together! I will be hosting a FREE Writer Hangout webcast which you can register for here. This is an online webcast where screenwriters and creatives gather to share what you're working on, things that are inspiring you and give you a forum to ask questions you have about your craft, the business or the industry. If you're stuck, we'll help unstick you. If you're in the zone, we'll cheer you on.
So, Are You In?
Then head down to the comments section below and post your goal. Be sure to follow up daily and weekly to share progress and setbacks, highs and lows, ask for thoughts, and offer advice. Remember that the best collaborators are givers, so offer encouragement to your fellow screenwriters by liking and commenting on their posts as well!
All notices and weekly reminders will be posted on this blog, so make sure you're checking back frequently. And while this is not a competition, those who are active and participating each week of November, will earn gifts from Stage 32 - and trust us, you don't want to miss out on the gifts :)
Your next stop should be down in the comments section. Clock starts…..NOW!
Let's be Social - #Stage32WriteClub
Use #Stage32WriteClub on social!
Share this blog and your progress on Instagram @stage32online , Twitter @stage32 , Facebook @stage32 , and LinkedIn @stage32 .
---
I wanted to take a minute and give a very special shout out to our beloved Beth Fox Heisinger who has served as our leader in all of our past November Write Club challenges. Beth, herself, is tending to a huge artistic project that is requiring almost all her attention this month and we couldn't be happier for her! (Make sure to show her some love in the comments section) So, in the meantime, we wanted to share a note from Beth:
Here we go! It's that time of year, scribes. For the fifth year running, November Write Club is back. I'm so excited for what changes are in store. Unfortunately for me, I am not able to participate this time around due to family obligations and an impending deadline—scheduling just isn't in my favor this coming month—but, regardless, I will cheer on and support you all the best I can. This 30-day exercise is never about any one person, but rather about encouraging each other to reach our individual goals. And. Get. It. Done. Whatever "it" is for you. We rally together, share a collective mission, and support each other in our efforts and our creative endeavors. Together there's nothing we can't do. Let's get started.