Show business has always been in my blood. When I was 5, I stood on a stage and sang with a live band at my grandfather's infamous restaurant in New York, Moskowitz and Lupowitz. Based in the lower east side, the restaurant was a celebrity hangout for the likes of Henry Fonda, Zsa Zsa Gabor, Laurence Olivier and Paul Neman. The world's biggest stars walked through that door every day. Some of the effects rubbed off on me.
My uncle Hy Anzel was an accomplished character actor who worked in television, film, and on the Broadway stage. I would see him in his films, and he had those tiny moments that were all his own. That's what I wanted to do. He was the one that got me an audition for a Broadway show. It was a musical, and it went horribly wrong. I was supposed to prepare a song to sing, and I chose If I had a Hammer by Peter, Paul, and Mary. Bad choice. I entered the theatre, gave the pianist the sheet music, and tried to sing the song. I couldn't find the right key! Three or four attempts later, all I heard was a disembodied voice from the back of the house... "Thank you." I slinked offstage and that was it. That one bad experience steered me away from acting, and into a career in broadcasting.
In radio I wrote bits, created characters, and ad-libbed on the fly, so it was very much like acting. Still there was that nagging feeling to pursue what I really wanted to do. Throughout my radio career along the way, I managed to get onto some soap operas, comedy shows, and even co-starred on an episode of Baywatch. But the gigs were few and far between and I still knew in my heart what I wanted to do.
About 4 years ago, I said to myself, "Look, either shit or get off the pot." I re-focused myself and went after acting with a vengeance. I had no agent. I only knew a few actors and they guided me. I joined casting sites like Actors Access, Casting Networks and Boston Casting. These sites send notices and auditions right to your email, how can it get better than that? Even with that I learned that you have to be focused. I spent a couple of hours a day submitting myself for roles, and to this day I still do. Nobody is going to knock on your door. You're out here alone, and for every role, there are thousands of people working harder than you waiting to snatch it up.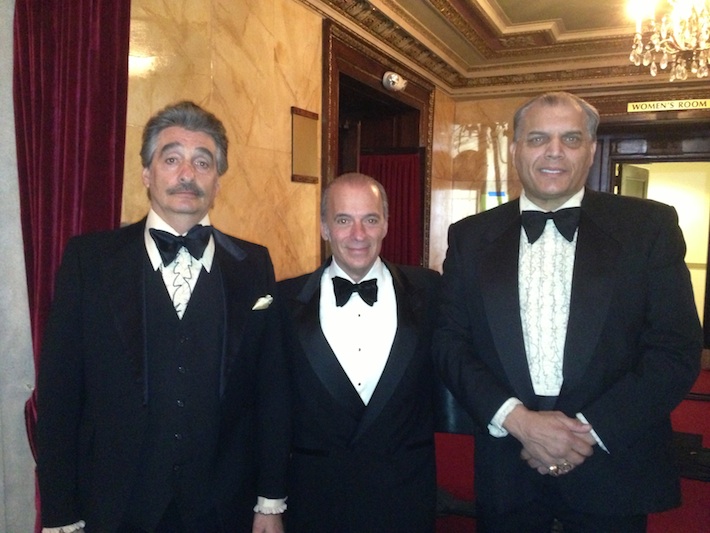 Gary with "da tree wise guys" of American Hustle (Sal DiMino on the left and Armen Garo on the right)
When you think about my situation, it's rather insane because I live in Connecticut, and I'm going into New York and trying to compete with actors who live there and make the rounds every day. I get into projects, I think, by my sheer persistence. We all have a dream, otherwise we wouldn't have signed up to Stage 32. For many, that's where it stops because they're not committed to what they have to do to make it, and trust me, I don't consider myself who has made it YET.
If you're serious about your craft, you will take every opportunity to gain experience. I always told myself, when a door opens, walk through it no matter what. You never know what's waiting for you on the other side. Don't worry about how much you're going to get paid. Do what you love, and the money will come. A lot of people just starting out already have it in their mind not to do student films, or other projects for no pay. I tell them, "If you were going to acting school, you would be paying THEM to learn." My advice is to do everything, accept everything and get on every set you can. Learn how to conduct yourself on a professional project, and ACT like a professional. Listen to what the pros are telling you, and immediately respond.
Since my initial attack 4 years ago, and with unabashed persistence, I have worked in films such as Everybody's Fine, The Fighter, Wallstreet 2: Money Never Sleeps, and television shows Brotherhood, The Good Wife, Boardwalk Empire, Bar Karma, 30 Rock, and Curb Your Enthusiasm.
When I got the call from casting on Curb your Enthusiasm, I was hired as sort of a featured extra. Based on what I've learned, here are the levels:
There's an EXTRA - you're walking past the camera, or you're sitting in a bar in the background. Usually there are no lines, and you might see yourself on the screen for a few seconds.
Then there's a FEATURED EXTRA - you get face time, maybe it's a small scene, and you ARE seen.
After that, you're a PRINCIPAL - this is a speaking role. You could have one line or numerous lines.
When you get cast as an extra or a featured extra, they're casting you primarily off your headshot. They're searching for a look, and when you get hired, it's because you fit the bill. They don't know a thing about you, and don't care. They're saying "Yeah, this guy looks perfect for what we want, get him (or her)."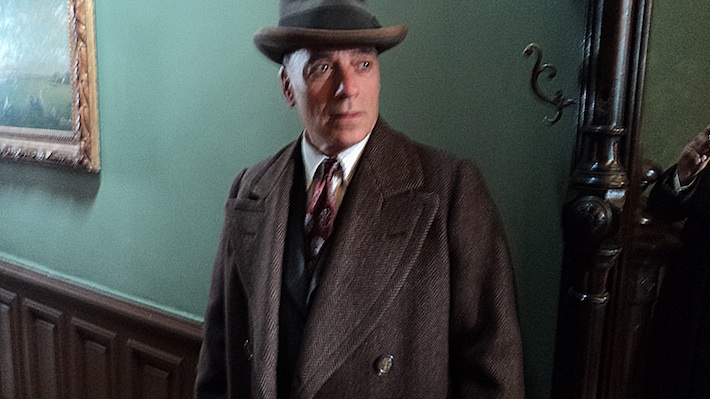 Getting ready to shoot a scene on the set of Boardwalk Empire
I get the call for Curb Your Enthusiasm. It's a time piece showing a time back in the 60's when Larry David was a child, and he's caught playing strip poker in a Mister Softee truck with the a girl who's father happens to be the driver. The dad comes back, catches little Larry David in the truck, and kicks him outside to the curb nude! I'm one of the neighborhood wise guys sitting on the stoop of the apartment building when the kid lands. We're shooting this on location up in the Bronx. I know about Larry David, and I know how this show works. There's a lot of ad-libbing. I decided to ad-lib a couple of lines. (I wouldn't suggest this) I look at the kid and say, "What the fuck you doing kid...will you look at this fuckin' kid?" All of a sudden from inside the director's tent in the middle of the street I hear "CUT!" and see the director storming toward us. I'm thinking, "Shit! I'm going to get thrown off this project." He walks up and says, "That was GREAT! Do it the same way each time!" I breathed a sigh of relief that I went with my gut. At the end of the day, the assistant director (the AD) says, "we're ripping up your day papers and bumping you up to principal. Go sign your new contract." And THAT'S why you take every project that comes your way because you just never know where it's going to lead.
My biggest project to date is the one I just finished for director David O. Russell. It's a huge feature film now shooting in Boston based on the ABSCAM controversy in the 1970's. I get the call from Boston Casting that they want me to come in and read for a role. It's not the first time I've read for a part. I've been to many, many auditions, some pan out and some don't. You have to learn to do the audition, then walk away and forget about it. If you sit around and say to yourself, "God when are they going to call me? Am I going to get the part? What's going on?" You will drive yourself crazy. My advice is to do the audition, give it your all, and walk away.
Gary with Larry David
I knew they were casting me as a mobster, but they didn't send me any sides (these are the lines that JUST pertain to your character). I get up there, and every mobbed up actor is sitting there waiting to get in. We learn quickly that the audition is all improv - no lines to memorize. Thank goodness I had experience in radio and on Curb your Enthusiasm. One of the casting directors comes out of the room and is walking up and down the long bench where the actors are sitting asking "Now, you know what the scene is about? Here's what you're going to ad-lib on." She gets to me, and I hold my hand up and says, "Stop...I don't want to know anything...I don't want any pre-conceived notions of what the scene is, I'll make it up on the spot." I wanted to react in the moment. If you think about this stuff too long it can take the spontaneity out of it. Soon, it was my turn to go in. They tell me, "here's the scene: you're a mobster, a guy wants you to help him build a casino, you have to have the money up front, then you insult his wife." I said, "Got it...roll!" They started the camera and I ad-libbed an entire scene. They loved it, and had me do it a second time. The casting director said, "Great job today!" "Yeah thanks," I said and left, and forgot about it.
Two weeks later I'm at a callback. "Ok, you're going to do the same thing as you did last time," and I thought, NO, I am NOT going to do the same thing as I did last time. I created a different scene. Then I heard CUT. My heart dropped. I looked up, and sitting at the table behind a computer was David O Russell. I didn't even know he was sitting there. He looked up and said, "Now there's a Gold Star face." Three weeks later I found myself on the set of this great film. The first day we're shooting a nightclub scene and they call me to the set. Sitting to my right is Jennifer Lawrence and Amy Adams. To my left is Bradley Cooper. Up on stage getting ready for the scene was Jeremy Renner, and in the corner looking almost unrecognizable was Christian Bale. I'm the mob guy that shadows Jennifer Lawrence's character. I took a chance, followed my instincts and I got here. Surreal.
The next two days, we shot a terrific scene in a ritzy bar. Me and tree udder wise guys are holding court, when we're joined by Jennifer, Bradley, Jeremy, Amy, Christian, and Michael Pena who plays an Arab Sheik. I'll be seen and heard in this scene. What a pleasure it was to work with such greats. David O Russell is a visionary, who's directing style is so relaxed, yet on the fly. He gives his actors generous leeway to be creative. I looked around and was glad I told myself to "shit or get off the pot" 4 years ago - look at where it got me.
I have accomplished all of this without an agent. Like I said, you can get pretty far without one if you're just diligent and competitive, and stay on it. But there is a point in your career when having one will open more doors. I'm at that point now where I do need an agent, which is the next chapter for me. I just think having one will expose me to projects that I ordinarily wouldn't be privy to, and it doesn't hurt to have someone in your corner slugging it out for you.
My advice: Work on your craft every day. Have a great professional head shot. Never say no.
---
Gary is available for questions and remarks in the Comments section below.