Hello Creative Army!
We really need your help in spreading the word!
As you have likely heard by now, the 2020 SXSW festival was canceled due to concerns about the health and safety of attendees and the Coronavirus. As filmmakers, producers, screenwriters, and actors ourselves, all of us at Stage 32 are devastated for everyone impacted by the cancellation of SXSW.
Over the last few days, we have heard from hundreds of Stage 32 members who played a part in the films impacted by the cancellation as well as dozens of the executives and industry professionals we work with asking if there is something we could do to help showcase the filmmakers and talent who worked so hard on, and put so much time and passion into these films.
We Want to Help
Stage 32 will give officially selected SXSW filmmakers the opportunity to screen and showcase their projects on the Stage 32 platform beginning in April. Stage 32 will provide access to the films to its global community of over 600,000 members, which includes distributors, buyers and sales agents, as well as hundreds of executives and educators who work with Stage 32 including managers, agents, financiers, development execs, and producers. All filmmakers accepted into SXSW 2020 are welcome to submit their films for screening. Filmmakers will have a choice whether to screen privately to distributors, buyers, sales agents and Stage 32's executive roster or to screen publicly to everyone including Stage 32's global member base. There is no fee to participate.
We're All in This Together - Let's Unite and Support
Given the sad reality that the Coronavirus will likely cause more festival cancellations, we want to assure that these filmmakers and their connections get the exposure their work and efforts so richly deserve. Our goal is to not only shine a light on their incredible talent, but also to facilitate connections to sales agents, distributors, buyers, managers, agents, and other professionals who have the power to showcase their work to the largest audience possible and also make a significant and positive impact on the path of their careers.
The Details
Interested filmmakers can visit Stage 32's screening registration portal at www.stage32.com/screenings. Filmmakers and/or producers can submit their request to screen their project up until March 23, 2020. Stage 32 will begin screening the films for their exclusive audience in early April.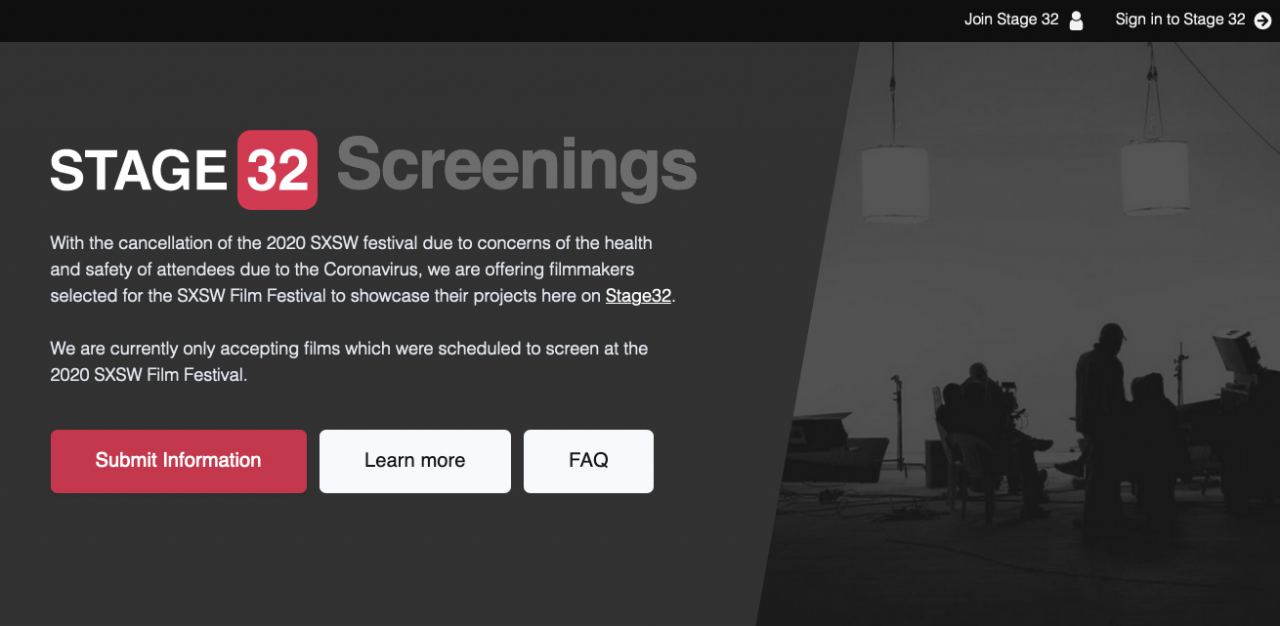 Our Ask - Support Your Fellow Creatives and Artists Impacted
We are asking our over 600,000 members here on Stage 32 to embrace their collaborative spirit and support your fellow filmmakers, producers, screenwriters, actors, and the casts and crews impacted by the cancelling of SXSW. Please mobilize and spread the word on your Twitter, Instagram, Facebook, LinkedIn and other social accounts or by any other means you deem fit. As creatives, we're nothing without support. Thank you in advance!
>>>>> Please Help - Share & Spread the Word <<<<<
It's as simple as copying and pasting this message (or your own variation) and sharing it on your social media and using #Stage32
Calling all creatives! Stage32.com is helping filmmakers impacted by the cancelling of #SXSW the chance to screen their films & content to executives, distributors, sales agents & more. Please spread the word by sharing & reposting! http://stage32.com/screenings #stage32