As many of you know, since day one, the Stage 32 community has been completely crowdsourced. When we were about to go into beta with the site, I asked 100 people to join, look around, contribute and if they liked what they saw to please invite 5 fellow creative peers to the community. We then asked the same of the people those initial users invited. Within a month or so, we had over 5,000 members in the community resulting in meaningful business relationships and projects being launched. We were on our way.

We're all in this together!

Today, our "ask" is no different. Stage 32 remains a crowdsourced site. Every member who joins is still asked to invite 5 fellow creatives. In our opinion, this gives every member a chance to help mold the community by inviting creatives they feel would benefit or add value to the network.

Many of you have taken our request to heart by inviting hundreds and sometimes thousands of your contacts to join Stage 32. But would it surprise you to know that of active users over the last 3 months 93.8% haven't sent those 5 invites?

Every person who joins Stage 32 helps strengthen the community by inspiring more communication, more opportunity, more jobs, and more support.

This month, we are holding our 1st Spring member drive. We're asking all of our members to take a look at their contact lists, their social media followers and friends, their acting, writing or other creative groups or the cast and crew they're working with at the moment and send them an invite to Stage 32.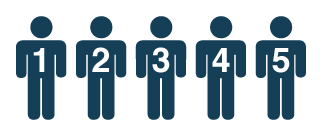 You Can Make a Difference

As if helping strengthen the community wasn't enough incentive, for every 1000 new members referred to Stage 32 during the month of March, we will give back by donating $250 to U+ Entertainment, which benefits filmmakers and other film creatives under the age of 18 by assisting them in getting their work produced and seen. U+ is a non-profit organization run by Elizabeth Blake Thomas, one of the most giving and caring human beings you will ever meet. Elizabeth puts her heart and soul into helping children and teenagers realize their creative dreams. We're honored to be working with her.


A night to remember - Elizabeth and I present the winners of the U+ Trailer Film Festival.
Edited by Ryan Lee, an aspiring filmmaker under the age of 18.

So, I ask you to do your part and pay it forward by sending those invites. If you want to invite 5 creative peers, that's terrific. If you want to invite 5,000, we'd love you even more... and the kids that will benefit from the money we'll donate to U+ as a result of your selflessness will love you too.

Thank you for the support. My love to you all.

RB


How to Invite

Invites can be sent through our invite system (information below), but we would also be much appreciative if you would spread the word of Stage 32 by posting on Facebook, Twitter, Google Plus, LinkedIn, Instragram, Pintrest or your social media platform of choice.

Since we're sure you're followers appreciate content, here are some recent articles about Stage 32 you can post and share:

And some other items worth posting and sharing:
And here is how you use our Invite System right here on the site: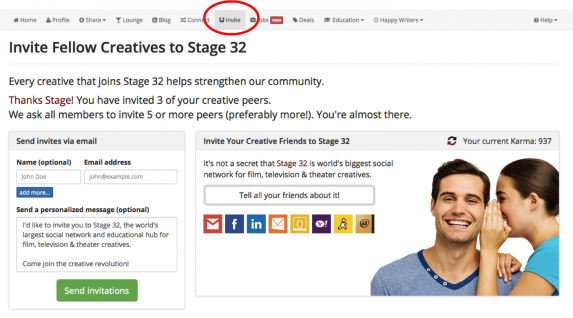 ---
Like this blog post? Please share it on social media (Facebook, Twitter, LinkedIn, email etc) by using our shiny new social media buttons at the top of the blog. Or post to your personal blog and anywhere else you feel appropriate. Thank you.
As always, we welcome thoughts and remarks on the content above in the Comments section below...