Stage 32 Joins Forces with Fintage House on Stage 32 Screenings
As you know, last month, we launched Stage 32 Screenings. This new platform was designed to help displaced filmmakers impacted by cancelled and postponed film festivals around the world screen privately to our network of industry executives and professionals. The goal, to get these films and their filmmakers the attention and success they deserve.
Today, we are proud to announce that Stage 32 has joined forces with Fintage House, the global industry leader in collection account management (CAM) and audio-visual services.
Fintage has invited their top tier roster of clients including thousands of sales agents, distributors, producers, financiers, talent agencies, entertainment attorneys and other industry professionals to join the Stage 32 Screenings platform.
Our relationship with Fintage goes back many years. We have been honored to be colleagues and friends with many in the Fintage family including Robbert Aarts, the Co-Owner and Co-CEO, who we've been working with for years to figure out the right initiative to partner on. That day has finally come! Additionally, we have welcomed many of their executives on Stage 32 as educators, mentors and contributors, including my dear friend, David Zannoni.
We are also happy to announce that Fintage is now an Education Partner as well. We'll be bringing many more free and premium webinars and other content taught by the Fintage team to the community soon.
With Fintage's assistance, we now have nearly 4,000 professionals who have been invited to join Stage 32 Screenings, watch the films and, if they desire, to connect with these talented filmmakers.
Please help us welcome the incredible team at Fintage to the Stage 32 family!

---
Stage 32 Screenings Launches
Today, Stage 32 Screenings launched with over 100 films, shorts and TV pilots registered. Executives and professionals are already in the platform making requests to meet the filmmakers.
At the moment, Stage 32 Screenings is accepting films that were official selections of the following festivals: SXSW, Tribeca, Telluride MountainFilm, Vail and the BFI Flare: London LGBTIQ+ Film Festival. If you know of anyone who had a film selected to these festivals and were impacted by the cancellation or postponement of their live screening, please have them submit their film at www.stage32.com/screenings
Filmmakers had the choice of choosing a public screening available to all who would like to view, or a private screening to only our roster of executives and professionals. If you would like to watch the public screenings and show your support, click here
If you are a film festival director and would like to know how you can get involved with Stage 32 Screenings, just drop us a line at screenings@stage32.com
Of course, we're calling on the entire community to help spread the word so we can help filmmakers all over the world who have put so much work into these films get screened to an audience that can make an instant difference in their lives and in the lives of their films.
Please do share through your social channels and wherever else you feel would help the cause. Thank you!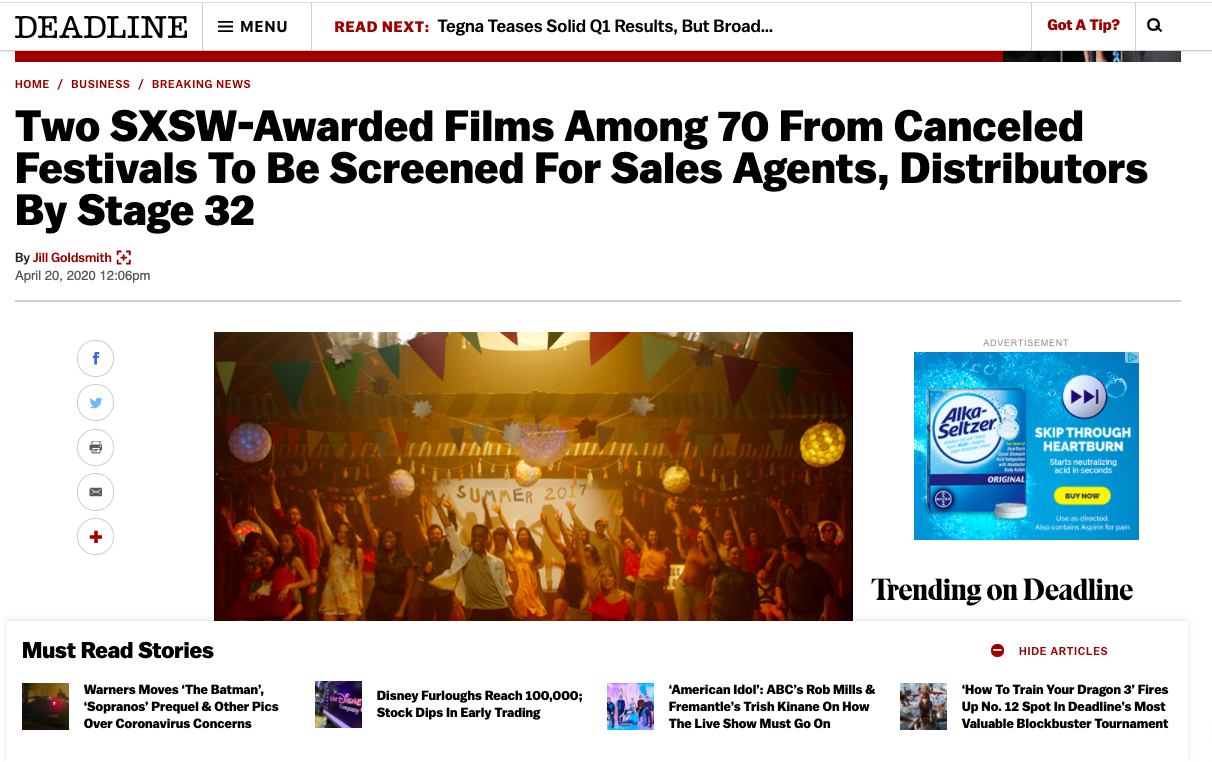 ---
Let's hear your thoughts in the comments below!
Got an idea for a post? Or have you collaborated with Stage 32 members to create a project? We'd love to hear about it. Email Taylor at taylor@stage32.com and let's get your post published!

Please help support your fellow Stage 32ers by sharing this on social. Check out the social media buttons at the top to share on Instagram @stage32online , Twitter @stage32 , Facebook @stage32 , and LinkedIn @stage-32 .