Happy Saturday Stage 32!
Last Friday night, we had the pleasure of hosting a live virtual table read and happy hour. It was a smash-success and brought hundreds of you much needed laughter and community in the time of #SelfQuarantine. Stage 32 is committed to bringing you entertainment, education, and community from the comfort and safety of your own home.
For those of you who missed this online good-time, worry not! We are thrilled to announce you can now download the full table read and cast Q&A on-demand! Our Script Services Coordinator, Nick Assunto, procured an amazing slate of talented and funny actors and Stage 32 members to read his pilot The Conspiracists, a half-hour sci-fi comedy. Download and watch here!
During this exciting virtual event, you get an exclusive look behind the scenes of a professional television table read. Watch as the actors make the script come alive for the very first time. This is a rare opportunity to peel back the curtain go behind the scenes to watch and see a script workshopped directly with professionals.
Click Here to Watch this Hilarious Virtual Table Read
After the table read you can enjoy a Q&A with the actors, writer Nick Assunto, our fearless leader Richard Botto and our Director of Script Services, Jason Mirch moderated by our Managing Director Amanda Toney! Our panel and cast answer the following questions:
Where did you get your inspiration for the script "The Conspiracists"?

How do you switch quickly between characters when playing multiple roles in a show?

What advice do you have for someone that is disabled that is trying to get into the entertainment industry?

How can I work in the entertainment industry if I don't live in Los Angeles?

What is your first step into the industry if you want to be an actor/writer/director and don't already know anyone on the inside?

...and more!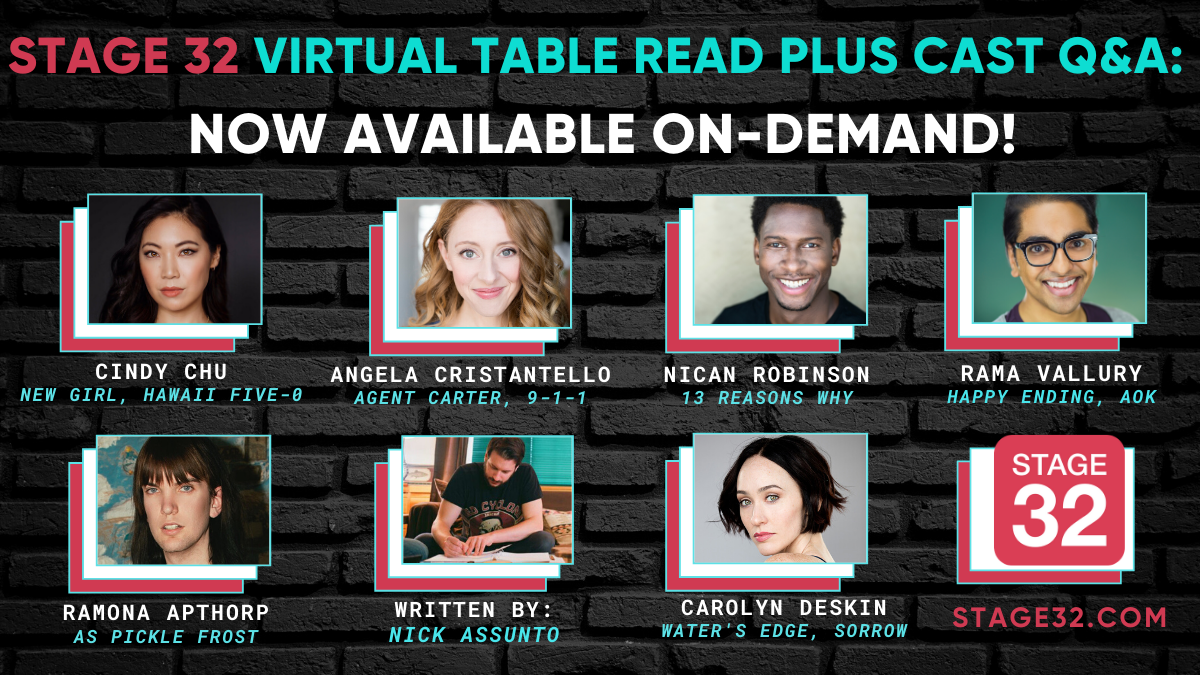 Laugh along with some Stage 32 members who are incredible actors from your favorite tv shows and improv troops including Upright Citizens Brigade, Second City and CBS Diversity Showcase:
This exclusive, hilarious, and inspirational webinar is free to download on-demand to watch when and as often as you'd like!
All we ask is that you share this webinar either directly or through social media with your fellow film, tv, and digital creatives and professionals that could use some community and a good belly laugh!
Check out more exciting virtual events from Stage 32!
Stay tuned for the on-demand version of our endlessly inspirational and educational COVID-19 State of the Entertainment Industry Conversation with Industry Professionals featuring a Producer from Boardwalk Pictures (CHEER & CHEF'S TABLE on Netflix), a film financier from 3 Point Capital, an entertainment attorney from Ramo Law, and more!
Get inspired! Our CEO and fearless leader Richard "RB" Botto answered more than 20 of your entertainment industry questions in his two and a half-hour "Ask Me Anything: Quarantine Edition".
Join us Monday, April 6th at 1 pm for an exclusive Global Edition of the Stage 32 Script Services Writer's Room Pitch Tank! This will be an exciting hour in which 5 writers from around the world will have an opportunity to pitch their feature or television project LIVE before an all-star panel of industry agents and managers from Zero Gravity Management, Circle of Confusion, The Cartel, and Art/Work Entertainment!
---
Let's hear your thoughts in the comments below!
Got an idea for a post? Or have you collaborated with Stage 32 members to create a project? We'd love to hear about it. Email Taylor at taylor@stage32.com and let's get your post published!

Please help support your fellow Stage 32ers by sharing this on social. Check out the social media buttons at the top to share on Instagram @stage32online , Twitter @stage32 , Facebook @stage32 , and LinkedIn @stage-32 .