Well, we are really, really excited to announce a new relationship with Fest Forums in Santa Barbara. If you are not familiar with FestForums it is a festival conference for food, beverage, music and film festival industry leaders that takes place biannually in Santa Barbara, CA and New York City. FestForums brings together festivals and events of all sizes including representatives from such great organizations as Toronto International Film Festival, Seattle International Film Festival, San Luis Obispo Film Festival, the Academy of Motion Picture Art and Sciences and more. (Learn more here)
Stage 32 is proud to be the co-curator of the festivals film screenings and we will be featuring an incredible film lineup in the Cinetransfomer theater including:
WORLD PREMIERE OF JEFF BRIDGE'S NEW FILM TRAILER - Living in the Future's Past by Jeff Bridges & Susan Kucera
American Epic by AllisonMcGourty (featuring T Bone Burnett, music for Coen Brothers)
Six Letter Word (our Stage 32 Short Film Contest Winner) by Lisanne Sartor
A Fine Line by Joanna James
LifeLine by Taki
Life is a Movie by Michael Nash
Jeff Bridges, Susan Kucera
Our one and only fearless leader, RB, will be on site all weekend doing Q&As with the filmmakers after their screenings. We always strive to put our filmmakers in the best possible positions for success and being able to screen Lisanne's film to this festival filled with festival directors and do a Q&A is really exciting.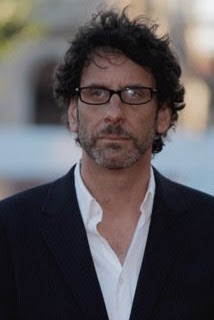 Joel Coen, Ethan Coen, T Bone Burnett
On Saturday, November 18, after our lineup of films, Joel and Ethan Coen will be interviewing Oscar-winner T Bone Burnett on stage to talk about their decades long filmmaker / composer relationship on films such as O Brother Where Art Thou and Inside Llewyln Davis.
If you are in or around the LA area, we highly encourage you to attend FestForums for networking.
Fest Forums - November 16 - 18, 2017 in Santa Barbara
(Day passes are available)
Use code STAGE32 to get 32% OFF!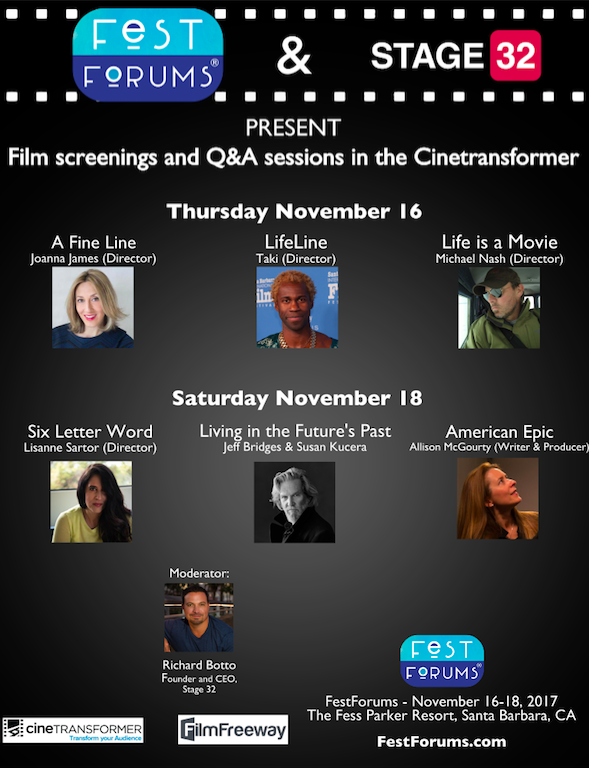 ---
Like this blog post? Please share it on social media (Facebook, Twitter, LinkedIn, email etc) by using social media buttons at the top of the blog. Or post to your personal blog and anywhere else you feel appropriate. Thank you.
As always, we welcome thoughts and remarks on ANY of the content above in the Comments section below...