Read PART ONE HERE: The Come Down: Navigating Normalcy After Festival Wins & Losses Part 1
Read PART TWO HERE: The Come Down: Navigating Normalcy After Festival Wins & Losses Part 2
On the festival run, people want to talk to the actors, the director, the writer. As a producer, you're usually a distant, distant third. Still, you get to chime in from time to time on the Q and A's, and those Q and A sessions you did on the fest circuit give you a sense of the best stories to use as sound-bites… so on the red carpet, you just muddle your way through. It's slightly nerve-wracking but also really, really fun. The Gotham's were live-streamed online that year and I remember my phone blowing up with texts as family, friends, and supporters saw me being interviewed...

PART THREE
To give you an idea of who was there in our year, among the nominated films were BEGINNERS, THE TREE OF LIFE, THE DESCENDANTS, MEEK'S CUTOFF, TAKE SHELTER, MARGIN CALL, MARTHA MARCY MAY MARLENE, and THE FIRST GRADER. The Tribute Awards that year were given to David Cronenberg, Gary Oldman, Tom Rothman, and Charlize Theron. So you get the cast and filmmakers of those films mixed in with the other famous faces invited as presenters or just guests.
As Pete's guest I was at a different table than my director, actor Evan Sneider, and one of the other producers on the project, but I was thrilled just to be in the room. A room that, several weeks before, I never expected to be in.
Our category was up first which was a total relief. Can't imagine what it must be like to sit there for three hours wondering what's going to happen.
The fabulous Sarah Paulson and always excellent Zachary Quinto were presenting… they played clips of the nominated films (we thought that either the documentary BEING ELMO or THE FIRST GRADER, two of our fellow nominees, would win)…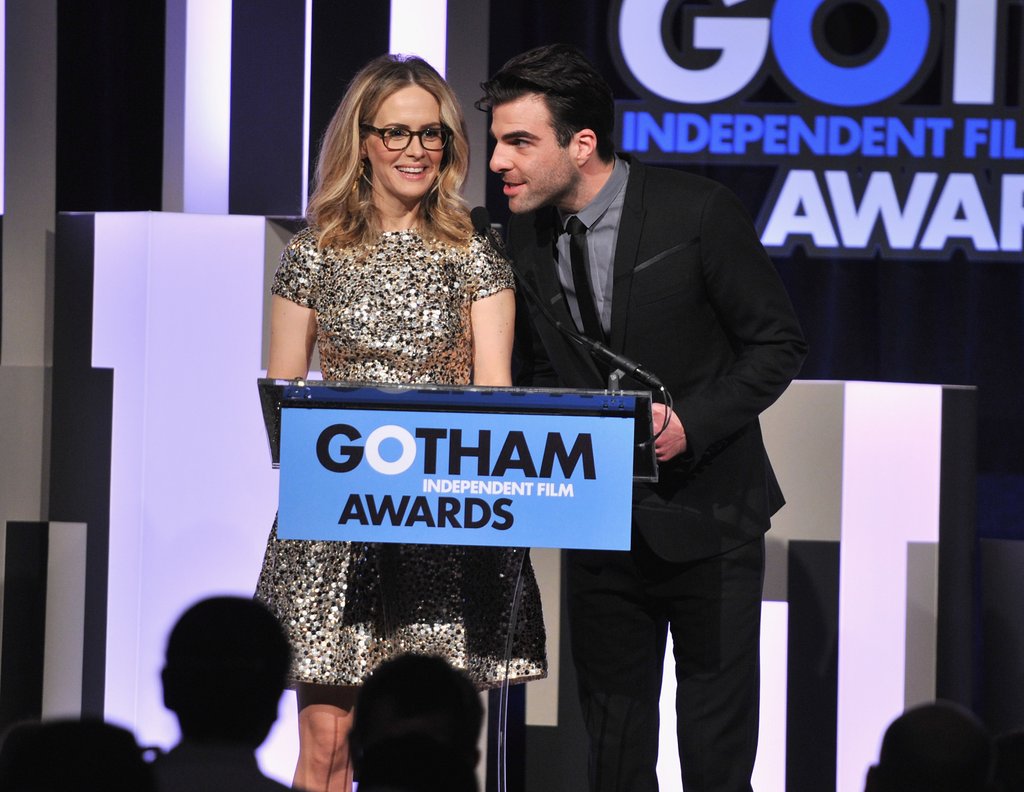 Sarah Paulson and Zachary Quinto


And then… Quinto called out the name of our film - and even pronounced my last name correctly(!)
Peter and everyone at our table (who he'd told I was nominated) let out a huge cheer as I made my way to the stage… which, if you watch the moment on YouTube takes a while because we were seated in the back of the room. At the podium, we found ourselves looking at Charlize Theron in the front row… I mean, I know other people were sitting there, but when you're standing in front of Charlize Theron do you notice anyone else?


Throwing gang signs. Or maybe I'm just clapping at the mention of our cast.

The writer-director made a speech, somehow managing to maintain his composure in front of that crowd, and our actor Evan even got to say a little something before we got hustled backstage to the waiting press.
Eventually Pete left and I made my way over to our table to sit with our group and meet a few of the other nominees in our category including Sam Feuer, who produced THE FIRST GRADER, and who I'm still friends with today.
Later that night I got to talk for a while with guys like Corey Stoll (a personal fave who I hope to work with one day) and Josh Radnor among others… while our director talked with Alexander Payne and Evan chatted with Christopher Plummer and Stanley Tucci.
Evan Sneider of 'Girlfriend' with Christopher Plummer


After a long and wild night, I got a cab back to Peter's house where, once inside, I realized that his sons (one of whom is now an Oscar nominee himself for MANCHESTER BY THE SEA) had made me an "award" just in case things hadn't worked out - a Tropicana orange juice bottle turned into a little statue with a hand-drawn "Best Producer" on it.
And then it was all over. Again. Back to normal life. Back to assisting or working in production.
That's not to say that I haven't continued to produce and develop projects; Our next film (THE AUTOMATIC HATE streaming on Netflix) sold to Film Movement and came out theatrically in late 2015/early 2016, and my partner and I have a diverse slate that we continue to develop even as I write this - including a project we're producing alongside another Oscar-winner… but development is a vacuum. It's hours, days, weeks, months… years… spent with no certainty of a project ever coming to fruition. It's quiet, punctuated by ridiculously high peaks where you suddenly feel like things are moving and you may be close to a green light, followed often immediately by sudden deep valleys where you think, "the project is dead in the water," and all the while it adds literally nothing to your bank account… for that reason, it's often scary.
And here's where I circle back to my friend who kicked off this whole long thing you're reading…
My friend is in the come down. In withdrawal. This is a person who surpassed my brief success in that this person likely believed that this film was the one that would change everything… I believed it, too… after all, as I mentioned before, there was a strong potential for this friend of mine to actually become an Oscar nominee... and nothing would've made me happier. The film was on loads of year-end Top 10 lists in a variety of categories…
My friend got to travel around the world on someone else's dime, get interviewed by respected critics, speak on panels, and watch the movie in the stunning Piazza Grande filled with, literally, nearly 8000 thousand people(!)... This is a level even I never experienced... it must be 100x worse than what I know once it's done. And what I know is that... after Toronto and the Gotham's... it was very, very hard to go from "Producer" back to... reality.
If you're a filmmaker, you may find yourself in this position one day. Maybe you're in it now… Enjoy every single moment for what it is. Soak it in. Shake your head and marvel at where you are… but try and temper your expectations. Try to keep some perspective and realize that, win or not, the season will end and, unless your next project is already prepping, you're going to have to go back to reality.
You may go back to assisting… or… driving for Uber… if you're lucky you'll go back to prepping your next film which is, of course, the best case scenario… whatever your pre-fest existence is, if it's not going right back to being a filmmaker, know that this re-adjustment will be hard. You too will be likely be in withdrawal. But you have to fight it. You can fight it.
Dive into your next creative endeavour - no matter what it is - and try not to gauge success on the outcome, but on the journey. I know that sounds ridiculous… like some shitty motivational poster, but that's what you have to hang onto.


I created this shitty motivational poster just for you. You're welcome.
If you're a producer, the journey is everything.
Try to remember this: If you have somehow made a film, or even a short, you are already privileged. Someone, somewhere, believed in you. Believed in your words, your vision, your ability to create a team, build a family, and create something that never existed before. Someone invested in you. You are privileged to be a filmmaker. A storyteller. And this experience is not an ending, but a beginning.
If you find yourself standing at a festival with your cast and fellow filmmakers, you have already won. Never forget that. And when it all winds down, regardless of the outcome, look at that poster on your wall… or that Blu-ray or DVD on your shelf… pull your movie up on Netflix, iTunes, or Hulu… and let that carry you through to the next. Be grateful. Appreciate every piece of the experience. And then let it go. Focus on what's next. Because, if you fight, if you believe, there will be a next… it just might take a while.
If you have more time on your hands after reading this and you want to see what I thought about the experience of the Toronto premiere as it was happening (including a run-in with now disgraced producer Harvey Weinstein), check out my personal blog with two posts about the journey here: http://indiefilmproducer.blogspot.com/2010/10/ and you can find my day-after post from the Gotham's, appropriately subtitled, "Holy shit, we won!" here: http://indiefilmproducer.blogspot.com/2011/12/adventures-in-gotham-aka-holy-sht-we.html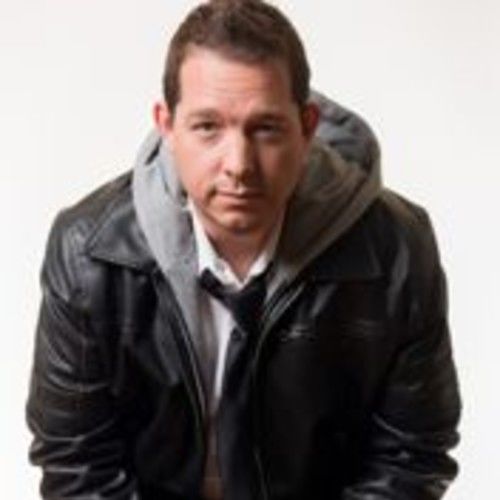 Shaun O'Banion was drawn to the film business from an early age and got his first film industry job as a set P.A. on the Steven Spielberg series "SeaQuest DSV" during the series' first season after sneaking onto the Universal lot for three months and asking for jobs.
From there, he segued to features (again after sneaking onto a set - this time a James Cameron production) and began to work his way up – first as a Production Assistant, Assistant Director and later, as an assistant to actors such as Academy Award-winner Christopher Walken, Ben Stiller, Courteney Cox and David Arquette and acclaimed filmmakers Joe Wright and Academy Award Nominee Peter Hedges.

Outside of dozens of other credits, his latest film, THE AUTOMATIC HATE, stars Joseph Cross (LINCOLN, MILK), Adelaide Clemens (GATSBY, Sundance Channel series Rectify), Richard Schiff (MAN OF STEEL, The West Wing), Deborah Ann Woll (Netlfix Original's Daredevil, HBO's True Blood) and Ricky Jay (HEIST, BOOGIE NIGHTS). The film recently made it's World Premiere at the 2015 SXSW Film Festival. It will next head to the Seattle International Film Festival before being released in N. America by Film Movement this fall.
Shaun is also an accomplished public speaker and teacher, having taught filmmaking courses at the Ruth Asawa School of the Arts in San Francisco, California, SUNY Oneonta, New York, Metro-Arts High School in Phoenix, Arizona, and South Bay Adult School in Los Angeles, California.

With several projects in various stages solely under the Ravenwood Films banner and others he'll produce with new partners like Broad Reach Films, he expects the next few years to be extremely busy.
---
Like this blog post? Please share it on social media (Facebook, Twitter, LinkedIn, email etc) by using social media buttons at the top of the blog. Or post to your personal blog and anywhere else you feel appropriate. Thank you.
As always, we welcome thoughts and remarks on ANY of the content above in the Comments section below...