As many of you know, the journey of an actor is not without its twists and turns.
Fresh out of acting school, one doesn't picture a day when the compass is lost and the all-consuming career is set aside, sometimes without conscious thought.
This happened to me. One day I woke up and realized that, without having made any decision to do so, I'd been out of the industry for years, many of which were focused on creating my own web series.
My web series came about by accident. I'd been challenged to create the project, which was tailor made to my skills and interests and I jumped in, having no idea what I was doing.
I'd been fascinated by, and collected, vintage cookbooks for years and creating new cocktail recipes is my superpower and I can whip up a delicious, well-balanced cocktail in my sleep.
Years before. I'd written a play set in the 1930s, loosely based on the long-running Betty Crocker radio shows, in which a woman who was happily employed as a radio host is expected to leave the job she loves when she gets married. I'd been itching to create a project in which I could perform. Enter some friends, who suggested I create a "1950s cooking show."




The Adventure Begins
The "Velveteen Lounge Kitsch-en" started out with me as a Stepford Wives-esque housewife who would get plastered as she created her vintage culinary delicacies. My husband and I borrowed a video camera and shot the first episode, never thinking there would be a second.
The lighting was dim, the refrigerator growled loudly in the background and the pacing was slow, but it was well received and we learned. Our original schedule, which was "every now and then", slowly became once a month, then every two weeks, then once a week. Now we drop our content three times a week.
Over time it has evolved tremendously. The pace got snappier, we bought real equipment, my character got a lot perkier, my husband, Paul Spencer, joined me for our popular live broadcasts every Thursday evening, I introduced my "Cousin Glendora" (also me), a box wine-loving malcontent who can't seem to find love. We've added original music videos to the mix, and the cooking-with-cocktails has slowly become pretty much all cocktails.
It quickly became my obsession. I write two new episodes a week, which go hand in hand with our live broadcasts, and I think it's safe to say our lives revolve around the show. It's fun, we make people laugh and have gained a small following. I've been acting, writing and producing for several years now, yet somehow never connected what I was doing to working in the industry, until very recently. I was having a blast, but I never thought, "I'm a producer." I was just a person following my bliss.
It wasn't until a number of people told me I had a saleable product and a very extensive reel, that I realized I'd been creating a body of work as an actor all along. It was time to get back out there as an actor.


The Next Step
The business I unconsciously transitioned out of, around the turn of the century, bore little resemblance to the business I found waiting for me upon my return. The shifts were many and profound. From the technical advances to the way actors are treated, I felt myself looking at a landscape I barely recognized.
Back in the day, I remember it being crucial that my phone number have a Manhattan area code, lest anyone realize I lived outside the city. Even living in Brooklyn, which I did as a young actor, was considered slightly suspect. Could you be serious about your career if you didn't live in Manhattan?
Now it's accepted that actors - serious ones, extremely dedicated to their craft - live all over the country and world! How is that possible? Online submissions! What?! The last time I'd checked, submissions meant picking up a copy of Backstage as soon at it hit the newsstands on Thursday night, stapling resumes to headshots and hauling it all to the post office.
I happen to be tech savvy, but online submissions opened a huge can of worms for me.
Which casting services did I need to join? And, as a naturally polite person of a certain age, I was positive that emailing strangers was going to have me drummed out of the business.





The "Dizzying" Part

NO PHONE CALLS AND NO VISITS was the message I'd heard loud and clear as a young actor. Wouldn't emails be met with the same derision? Gen Xers like myself disdain spam and I didn't want to be seen as a spammer! Yet snail mail seemed so...old, a quaint relic of a bygone era. I was told repeatedly to never send an email without a headshot, which is good advice, but how big should the shot be? What would be considered "too big" and therefore stand out for all the wrong reasons?
These may seem like trivial concerns, but first impressions are everything and I didn't want mine to be that of a crazy old person! Self-taping, which, as a person who owns a pricey video camera, lighting and sound equipment, thanks to my web series, should be a no-brainer for me, but self-taping, too, was cause for concern.
Who could I use as a reader?

What should I use as a background?

How would I deliver this masterpiece to buyers?
The millennials I met in classes and at events navigated these issues so easily. Surely it couldn't be as vexing as it seemed. I tackled each issue as it arose and it did eventually all gel in my mind. I put my ego aside and asked for help.
This may elicit sniggers from anyone out there as an actor, but one happy change I found in the industry was in a wider acceptance of imperfection in actors. As a young actor, my quirks and idiosyncrasies were viewed as negatives. "Beautiful" was, of course, ideal for a young woman just out of acting school. Thinness was crucial and heaven forbid you be "too" anything, lest you not seem castable. Branding was unheard of. You wanted to be as neutral as possible, able to tackle any role.
It was also important to not show any vulnerability off the camera or stage. I was afraid to ask too many questions, lest I be seen as unprofessional, off my game, or downright stupid. It was a lot of pressure and I found myself scrambling and lost much of the time.
Upon my recent return, I was thrilled to see not only actors of every description in the room, warts and all, but a willingness on the part of many, encouraged by the industry, to be themselves. It was very weird to be able to walk into a room and be myself, but so exciting and freeing. That freedom allowed me to ask questions and to be myself, even if I didn't know exactly what I was doing.
I discovered that many people are willing and eager to answer questions and give advice if you simply ask - something I would never have done 20 years ago.
There was more good news in store, too. I'd become a content creator without making the conscious decision to do so, which meant I had been building my body of work and continue to do so to this day.
The dizzying advances in tech mean that I work as an actor constantly and that I'm in charge of my creative output. Pretty powerful stuff! And anyone can do it!
As a young actor I longed to create a one-person show, yet became overwhelmed by the idea of writing a piece for myself, renting a theater, finding a director, promoting it, and so on.
Producing my own web series is not just fulfilling in a creative sense, it gives me an identity as an actor and a project that is entirely mine and it has expanded beyond online video. Along with my husband, I'm moving into the area of live performance and even have a record (yes, an old-school vinyl record) coming out in December, with original songs inspired by our show!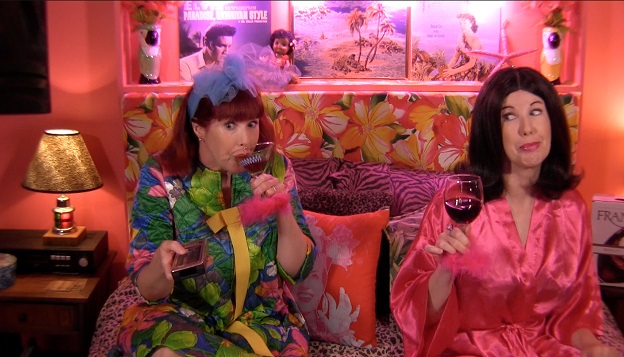 Kelly Camille Patterson as Ms. Velveteen and Cousin Glendora on the "Velveteen Lounge Kitsch-en"
Happily, throughout my years away from the industry, I'd never stopped my voice lessons. Paul also has a musical background and we began producing music videos to supplement our regular episodes - boozy songs, mostly original, and all (in our humble opinion) funny. Our first venture as record producers has been fascinating: we're making a 45 RPM record with two original Christmas songs: "It's Martini Time," performed by Paul and I and "A Box of Wine for Christmas," performed by Cousin Glendora.
It's been a crazy experience. The project has gone wildly over budget and we're sweating making our (self-imposed) deadline, but I would do it again in a heartbeat. There is just nothing like creating your own content. The challenges are vast, but the confidence you gain with every success is amazing. It turns out I like being the boss!
My best advice for anyone in circumstances similar to mine is threefold.
· Ask for help. I joined a supportive online community where all questions are welcome, no matter how dumb I may feel asking them and you're here on Stage 32 - I can't think of a better resource!
· Create your own work. Whether that means a web series, IGTV, or something else entirely, having your own project will empower you. If I can do it, with no budget and no plan (although, in hindsight it's better if you have both, at least to some degree), you absolutely can.
Know that your age and experience make you utterly unique in this industry. That is your gold, so embrace it! You've got this!


Kelly Camille Patterson is an actor, writer, producer and creator of the
"Velveteen Lounge Kitsch-en" web series, on which she appears as both
Ms. Velveteen and her feisty cousin, Glendora. She has appeared onscreen
in the documentary "Tikimentary" and on "One Life to Live," and has toured
the United States as the Wicked Witch of the West in "The Wizard of Oz."
A regular contributor to Bachelor Pad Magazine, her film "The Castaways Meet
the Blob," co-written with husband Paul Spencer, was chosen at the Fan
Favorite at the 2009 BlobFest in Phoenixville, PA.
---
Like this blog post? Please share it on social media (Facebook, Twitter, LinkedIn, email etc) by using social media buttons at the top of the blog. Or post to your personal blog and anywhere else you feel appropriate. Thank you.
As always, we welcome thoughts and remarks on ANY of the content above in the Comments section below...