"I'm the guy that does his job. You must be the other guy." – Mark Wahlberg playing Dignam is The Departed.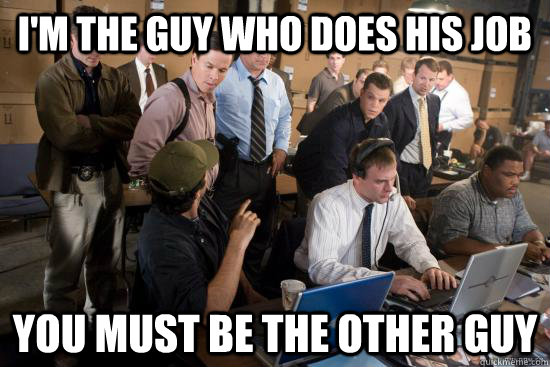 When I told Rosalind Winton that I wanted to write another blog here on Stage 32, there was one topic I had been looking to address for a while, but also one that is quite timely in light of what's going on in the entertainment business: Professionalism.
It's the reason I led with Mr. Wahlberg's quote from the Oscar-Winning Best Picture, The Departed. I've always related with it.
Perhaps it's just The Professional in me.
Part of being professional is certainly knowing how to brand yourself correctly. Still, let me take it one step at a time.
One of the great things about Stage32, is that it is filmmakers helping filmmakers. And that is a wonderful forum. It has the social aspects of Facebook with many more professional implications. There are job boards, where both paid – and unpaid – jobs are listed. There is advice from other filmmakers, writers, art directors … you name it.
And, I've already met several wonderful friends here on Stage 32.
Let's start with Sara Dahmen. Sara flew in from Wisconsin on a week's notice to attend my friend Daniel Roebuck's New York Sneak peek of his feature directorial debut of Getting Grace, which is getting a nationwide theatrical release from Hannover House and DVD/BLU-RAY distribution from SONY Home Entertainment. I was so glad she was there. She's a wonderful person and I already count her as a friend.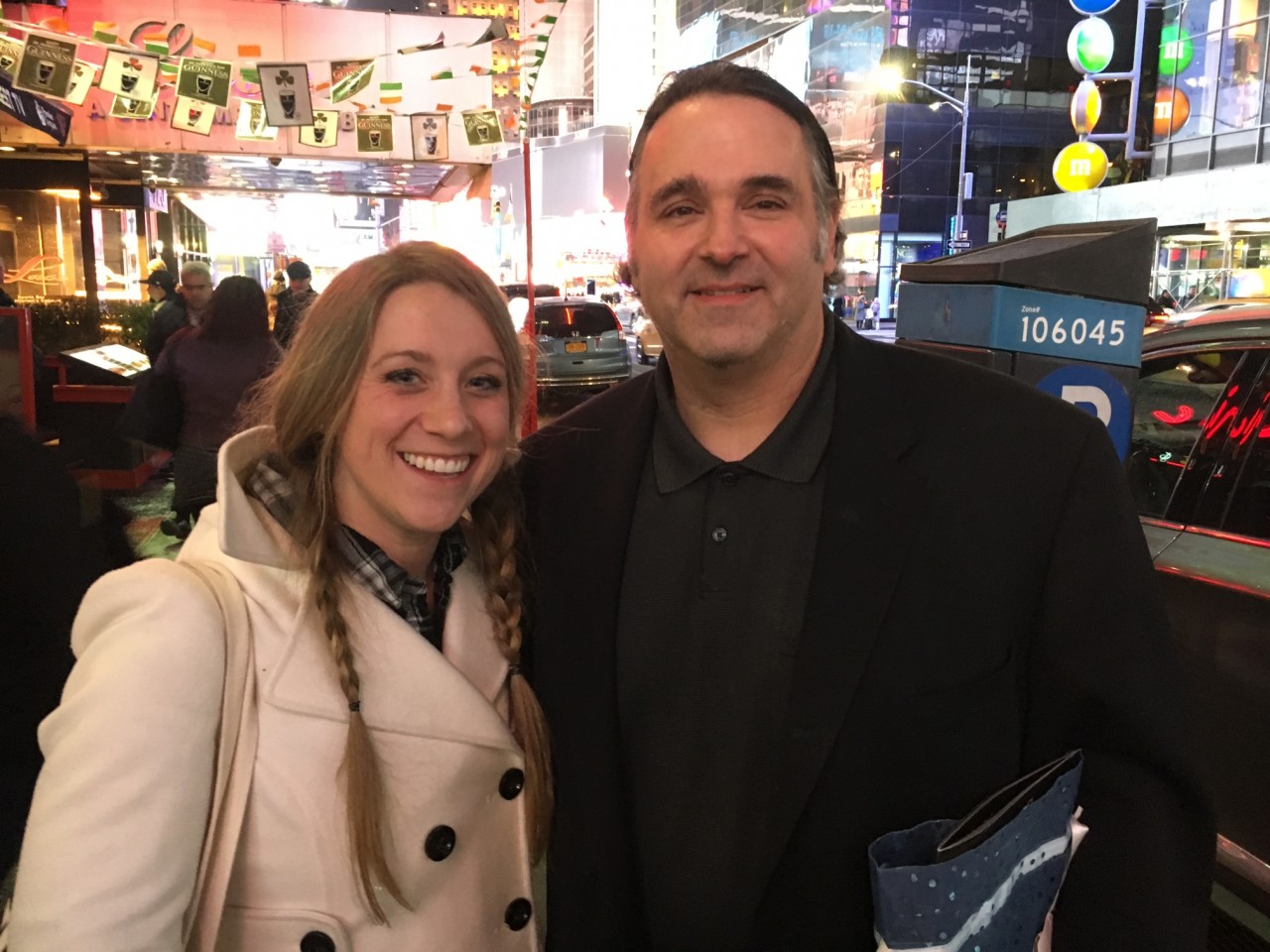 Then there was Jeremy Jordan. He hired me to not only write a short script based on an idea he had, but to help guide him and possibly produce the short. Heck, he even paid me a bonus because he liked it so much and it was more than appreciated. But, more than that, it was professional. Jeremy's a wonderful person and I have no doubt he will be successful with this short as time goes on.
And, I can't forget about Kimberly Ruzich, who I met on Stage32 and who hired me as a writing instructor. Not only did she complete her first short with my help, she went on to write another short and is currently working on a feature. She not only paid me, but drove more than an hour to meet me and my assistant Taylor Salotti when we were in California last August, for some meetings for a friendly dinner. That told me she was willing to be cordial and go to great lengths to learn and grow.
And I bet this next guy's like – WTH Sam? WTH, Indeed! Yes, of course last, but NEVER LEAST, my good friend Andrew Akler, I also met here on Stage 32. Andrew was looking for a writer to pen a feature idea he has that is not only timely, but poignant and entertaining.
I agreed to do it for less, and as a result, made a wonderful new – dare I say, close? – friend in Andy. He has twice been a guest in my acting workshop, guest-directing one scene, giving wonderful advice and much needed enthusiasm to my students. He also agreed to edit a short film I produced – Time's Up - for one of my protégés. AND, still said he wanted to pay me more than I agreed to.
It's obvious that Andy is a kindred spirit and someone who can hang with me when I talk movies – whether of the classic, superhero or obscure indie variety. He also was present, as was Taylor, who I mentioned briefly above – at the Getting Grace New York Sneak Peek.
One of the reasons all of these people, who I met on Stage 32, became both close friends and business contacts, is because I enjoyed their personalities, which were engaging and professional.
Professionalism helps build friendships, business relationships and more importantly lasting relationships. Ones that will help you to continue to grow as a writer, director, producer … filmmaker. Ones that can help you achieve your goals and more importantly get help with them, as well as emotional support.
Rather than focus on what has been going on in Hollywood for far too long – mistreatment of others by so many people, sadly many of whom are men – I would rather focus on the people who are doing things right. The people who can do what I refer to in my acting workshops as, "The Bare Minimum."
The Professionals: The people who know that eyes are always on them in this business, whether you're having lunch at a Hollywood hot-spot, grabbing an In-and-Out burger, sitting in a Diner in New York City or New Jersey, on a plane … or a train, or even right here on social media.
Eyes are always on you in this business.
And, how you choose to be seen is exactly how you're branding yourself. Let's start with your profile picture. What does it say? Regardless if you are here on Stage 32 or Mr. Zuckerberg's site over there, if you have a picture of your dog, an animal wearing a top hat or a sunset, that's personally not how I would choose to brand myself. Now, before anyone jumps down my throat, I am not speaking personally to anyone on this site, even if their profile picture reflects what I am talking about.
It's just that I've prided myself on being professional.
When I am out West, and I go see one of my mentors, Al Ruddy, who has won two Oscars for Best Picture (The Godfather and Million Dollar Baby), I pay attention to the way he conducts business. He doesn't have a picture of Rocky Raccoon representing him on IMDb. He doesn't call himself Cousin Al. He is simply Albert S. Ruddy, 2-time Oscar-Winning Producer and that's good enough.
Sam & Al Ruddy (Producer, The Godfather)
I can remember another time when my other mentor, Samuel M. Sherman was helping me with music and clip licensing for a feature I produced that had Oscar-winner Benicio Del Toro involved, he said in a strong voice, "We'll get all this done tomorrow. Now, I want you to come to me like a professional producer in a suit with a professional briefcase and every license and piece of paper regarding this project." I showed up the next day in my black "Chili Palmer" suit and a leather briefcase filled with licenses that were printed out. We worked the phones and then went to lunch, where I still learned more.
Sam is one of my closest friends in the world and I absolutely love him. It meant a lot to me when he came to my mother's funeral and he always asks about my Dad – yet another Sam, LOL. And, in turn, my Dad came with me to Sam S's mother's funeral – she was 104 years young when she passed a few years ago.
He's also the man who introduced me to Al Ruddy … and a host of others. Imagine if I spoke to him the way I see some of the people here in the comments. Or if my IMDb page had a picture of Captain America as my profile. No bio. No personality. One credit? Sam has helped produce half a dozen of my pictures. But, that relationship was built over 17 years of friendship and learned professionalism.
One thing I've always preached to my protégés is that when you make a movie – be it a short film or a studio feature – they should all be made with the same level of professionalism. In other words, it's not a high school project.
I've found that if you carry yourself with a certain level of professionalism you will go much further in this business. Echoing what "Sam S" once said, show up like a professional producer, I always go to a film festival in a suit. I have my trademark black suits – dubbed the "Chili Palmer suit" above (though I have several of these of varying brands) – an Olive brand-name suit and several others. Once in a while I show up in nice slacks and a sweater or expensive dress shirt. But, I don't wear ripped jeans on the red carpet.
You can, if that's how you choose to brand yourself.
People always ask me, "How do you get a million dollars or more to make a feature?" "How do you work with Oscar-Winners?" "How do you get distribution?" "How did you get such a great IMDb page?"
This is how I did it: By outworking the next guy… and by being a professional. Now, I'm certainly not perfect. I've made just about every mistake you can make in this business. And, I continue to learn … and hopefully evolve …. even as this business evolves.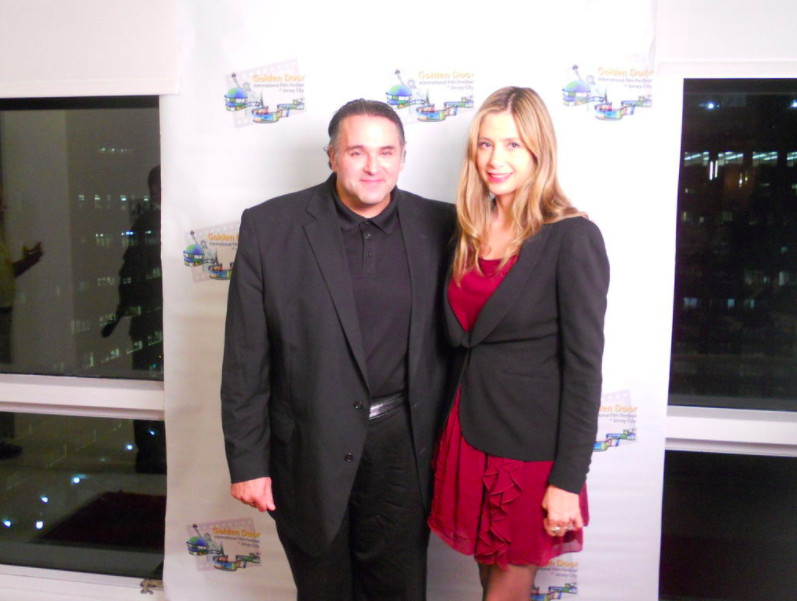 And, I've certainly had my share of help. Be it the afore-mentioned Ruddy or Sherman, my own father, who was hard on me, but still supports me, people I've gotten to know at studios, my good buddy Roebuck, who has starred in so many network television series' such as Matlock and LOST and who has been in no fewer than five of my projects. Be it Duane Whitaker, who you remember as the racist, rapist pawn-shop owner in Pulp Fiction, but who couldn't be farther from that character that he is often recognized as (meaning recognized as an actor). Duane's been in a few of my films, as well and is not only a great actor, but a talented filmmaker in his own right.
Be it my dear friend Ben Chapman, who was the original Creature From the Black Lagoon (Ricou Browning served as the swimming double), the last living original Universal Monster, who encouraged me to make my feature-length documentary, Creature Feature: 60 Years of the Gill-Man with fellow filmmakers and friends Eric Rosenberg and Matthew Crick.
Be it Oscar-Winner Ernie Borgnine, who was a dear friend and one of the leads in my feature film, Night Club. Or one of the supporting actors in that same movie, Rance Howard, who knew a thing or two about guiding young filmmakers. Perhaps you've heard of his son?
I miss Ben, Ernie and Rance so much these days. Still, I'm so grateful for all the help I've had along the way.
But, would I have had that help if I hadn't evolved in a professional way? If Shrek was my profile picture here on Stage 32 or IMDb or even Facebook? If I had no bio, just one credit, no Red-Carpet photos? No track-record? Just complained on sites such as this one that it's too hard to find money? Or said I only made one festival, because I had a connection (as one user recently posted). If I thought short films were a waste of money, so instead I made nothing? Had I made a post saying things like, "I just want to write and not go to pesky networking events and film festivals?"
Quite the opposite, actually, I've met a lot of people through those pesky networking events and film festivals. I take any meeting I can get. When I come out to Los Angeles for business meetings and friend/co-worker get-togethers, I call around and see who else I can meet with. Not every person is available to take a meeting, but some of them are. And, that is always a good start.
It's funny, but as I get older, more experienced and yes, more successful, Wahlberg's words in that Oscar-Winning Best Picture continue to echo in my head. They will likely stay with me for the rest of my days.
Perhaps it's just The Professional in me.
About Sam Borowski
Sam is a New York-based director, writer, producer and the creator of the twice-monthly "So, You Want To Be An Actor," Workshop.
As a director and producer Sam has worked with many actors, including Oscar-Winners Ernest Borgnine and Benicio Del Toro, Oscar-Nominee Sally Kellerman, legendary performers Paul Sorvino and Mickey Rooney, 3-time Emmy-Winner Keith David and Natasha Lyonne.
As a filmmaker, Sam is as eclectic as his favorite movies, as showcased in his Desert Island Movies on his Stage 32 page. He wrote and produced a documentary about the Creature From the Black Lagoon with Del Toro, Creature Feature: 60 Years of the Gill-Man, that has received wide distribution. He wrote, produced and directed a short, The Mandala Maker, that qualified for the Academy Awards several years back. His feature Night Club had an impressive cast featuring Borgnine, Lyonne, Sorvino, Kellerman, Zachary Abel and Daniel Roebuck of LOST. He's produced features all over the United States including Rex in Georgia and A Place for Heroes starring Sorvino, Kellerman and Norman Lloyd in Iowa. He's currently working on Stay Fresh, a large-budget feature that he will write, direct and produce.
Sam's resume of film festival achievements reads like a veritable who's who of festivals on the circuit. He can be followed on Twitter at @Sam_Borowski or reached via email at cinematicheroes@aol.com. And, of course, you can find him right here at Stage 32!
---
Like this blog post? Please share it on social media (Facebook, Twitter, LinkedIn, email etc) by using social media buttons at the top of the blog. Or post to your personal blog and anywhere else you feel appropriate. Thank you.
As always, we welcome thoughts and remarks on ANY of the content above in the Comments section below...