I'm at the traffic lights, sat on the back of (my then) boyfriend's sports motorbike.
"One more blast round, or go home?" he said.
My silent voice inside instantly urging me to say, turn right, lets go home.
"Turn left", I said thinking he would prefer another 20 minutes out in the early evening sun.
It was Sunday evening, August 9th. Five minutes later a red car hurtling up our side of the road at 70 mph came into view. In a nano-second I shift into paralyzing terror. The car isn't supposed to be on our side, I thought. Surely it'll pull back over - as I see it gaining size and its distance from us becoming shorter. The loudest coldest sound I've ever heard followed…the explosion of impact of both human body and metal machines.
The right side of my body took the impact with enough power to then catapult me into a brick wall, smashing the left side of my body.
I eventually stopped rolling down the road. My lower limbs in multiple pieces, bone ends ripped through my skin and trousers, ribs broken puncturing my lungs causing one to collapse. I hear the car engine chugging in the background, it's sat there, just looking at us…at obscene speed the car driver drove off and left.
I had returned from London two days earlier after completing a stint for my advanced veterinary surgical examinations. I wished I didn't work in the field I did, as my skills were giving me the inside information I didn't want, and I knew I didn't have long.

I hear my former boyfriend screaming my name but I can't respond. I can barely breathe. Fortunately, a passerby finds us and rings the ambulance. Sympathetic, concerned doctors, surgeons and nurses fought to save me all night. I didn't know if I would live or even keep my legs.
The next three months in hospital equated to a freakish nightmare.
Enduring multiple operations, failing treatments and surgery, pain at a level I didn't think was possible, to be destroyed once more when I find out weeks later I can't walk. Shouting hysterically at the doctor, "WHY ME, when will my legs work again?" The staff, friends and family tried to be positive. I, wanted it all to go away.
The days and weeks tick by. Finally I'm allowed home in my wheelchair - my home adapted to accommodate it, and me. It felt like this perceived nightmare was seeping into everything I'd built and had. Every day for months and months the local transport ambulance collected me and drove me to my grueling physiotherapy regime. I'd naturally decided long ago this wasn't how it was going to be, this wasn't my life.
I put in the hours, I practiced and practiced, I crafted, perfected exercises and assisted swimming work. I got over the degrading feelings which would often sweep over me.
Then the day came, the day I'd waited for. I was to walk the boards of the gym floor unaided for the first time. I was terrified, markedly vulnerable, yet absolutely clear of my task. My physiotherapist stood by my side. "When you're ready" he said, "and I'm going to come with every bit of the way".
This was the same physiotherapist I had thrown my walker at weeks earlier out of pure resentment and frustration (which by the way, was a dumb thing to do, as I promptly fell on the floor and couldn't stand back up on my own). Others at the far end of the gym floor began cheering and calling my name, waving their arms in the air. My eyes and heart did not move from those people once, not once.
I knew as soon as I swung my leg forward, that was it, no looking back, no self doubt. Step by step by step I put the distance between me and the side of the gym I considered the past, and continued until I fell into the arms of those cheering people, sobbing like the biggest yet happiest baby on earth.
Surrounded by all the smiles, delight and tears rolling from their eyes too, it was this moment, when years later my "why me" question all made sense.
Let me continue if I may –
What this particular adventure taught me was, the perceived nightmare is actually a smokescreen to a beautiful dream. I have achieved way beyond what I thought I could and certainly what was expected of me on many levels, and I give a lot of the credit to the accident.

I listen to my intuition like it's my best pal. I don't mind what you call it or where you think it comes from but that baby is 100% on the money, every time. Whether a warning or the gorgeous butterfly feeling, follow it and trust.
The amount of focus, self-belief and knowing you need to learn a skill we consider easy like walking, is nothing short of massive. I see so many trying to learn and teach the power of focus and directing your mind and I think - hot damn I had this zapped into me years ago! I learnt the importance of the company you keep - had my team and those people at the other end of the boards been yelling you can't do that, it's not how its done, you're not the right fit, I would never have done it and would have continued living a life I didn't want.
I understand making a decision isn't deciding you would like to do something, it's deciding there is No Other Option, but the one you wish and the right choice (however illogical) is led by inspiration, not pushed by your ego. There is a big difference, and I have come to find anything we are trying to gain by ego and pushing will fail you, or it will eventually, because that's its job to keep us where we are.

Lastly, for a long time I would become upset over my less than pretty looking legs. As a woman not being able to wear short dresses and heels is a tricky one. I give the term killer heels a whole new meaning. You see, all those scars, the limp and odd shapes are my proof, my evidence that I, me (the girl who thought for her entire life she was useless and a hindrance, not an asset) I was stronger than IT was. If I have to face another operation (I've done 12 so far!) a phone call, project or something I find fearful, I no longer have to look very far to find my courage. Plus, I never did like short dresses and heels anyway.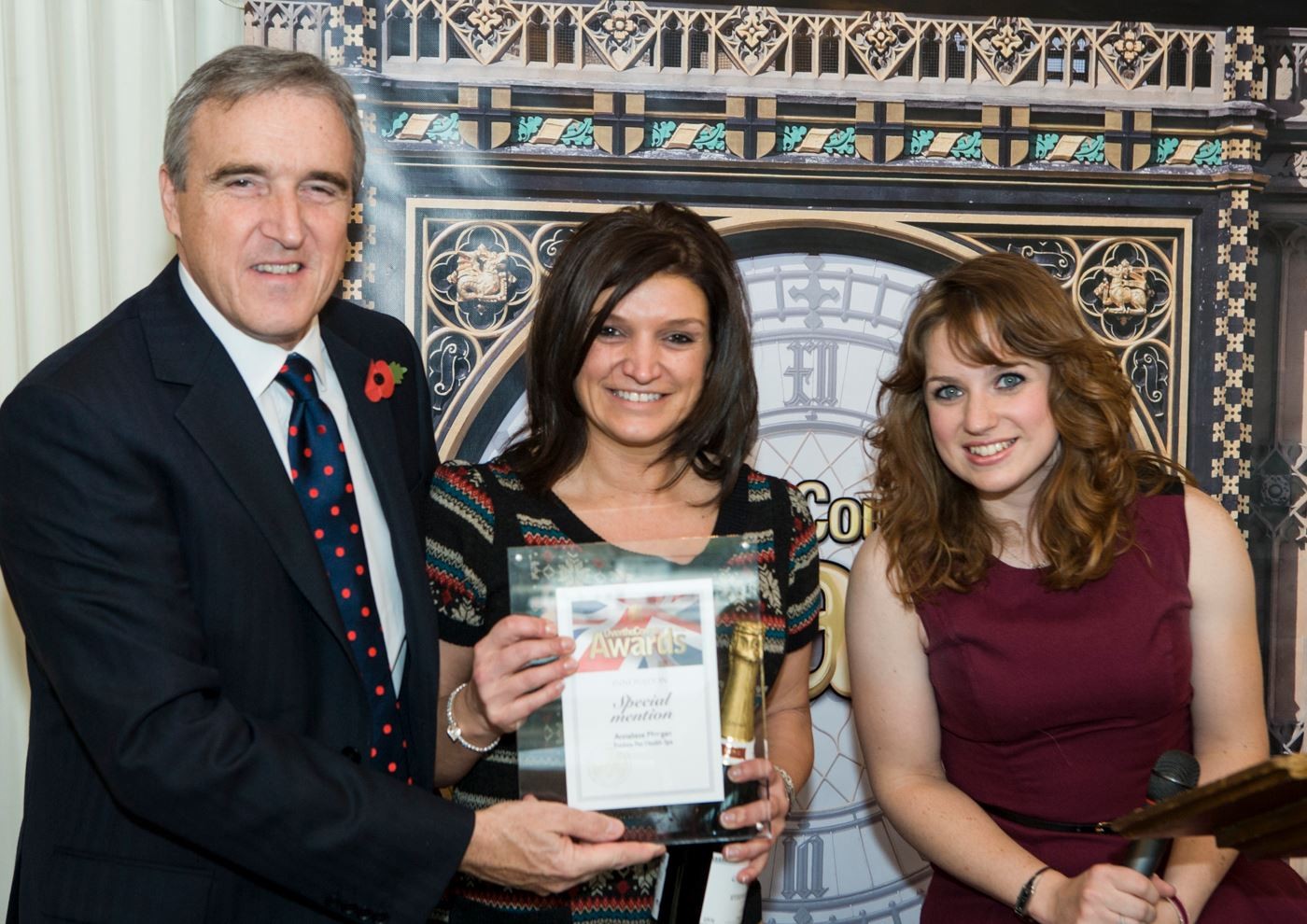 In 2012 I was awarded a special award created specifically for me for my inspiration and innovation, presented to me at the House of Lords in London by double gold Paralympian Natasha Baker (awesome woman who I loved). Unaware this had been arranged, I was attending an awards ceremony there due to been nominated for a different one and was stunned when normal proceedings were halted to present this. It was a most magical day I will never forget.
Whether you're a fellow writer, producer, director, actor or any other genius I hope my words and the lessons I learned help you along on your path.
When I hear somebody tell me "That's impossible", "It's not normally done," "They won't like it," "You're not good enough", etc., I smile because I know different. I know, I just heard my cue.
…and this is your cue; to check in, harness what you have, and go walk those God damn boards.
---
Like this blog post? Please share it on social media (Facebook, Twitter, LinkedIn, email etc) by using social media buttons at the top of the blog. Or post to your personal blog and anywhere else you feel appropriate. Thank you.
As always, Annaliese is available to answer any questions or comments in the Comments section below...