The subject line of the email read "I'm so sorry".
It was from one of the Emmy-winning producers I had been working with for several years on my award-wining true crime drama, CONFESSIONS. After multiple rewrites and the involvement of two notable directors, the latest option was expiring and the project had hit a wall. I had been here before – a rocket ride to the one-yard line and the brink of a "go picture" that suddenly gets stalled.
October, 2013. I met Joe Burke over a drink, a friend who just heard my concept for BLIND SPOT, a white-knuckle psychological thriller about two young women traveling the back roads of the American south. We raised a glass and decided this is the picture to do. The plan: Get the best emerging talent in Hollywood and team with my friend and collaborator, director Rob Gardner, owner of MFilms. We formed our own production entity, Lago Pictures, and got to work.
By all accounts, the script grabbed the reader fast and didn't let go. It featured two powerful female lead roles and a production schedule Gardner and co-producer Joel Segal machined into a Kentucky backwoods surgical strike on budget and location. Based on the strength of the material, the director's reputation and my own track record of award-winning scripts, the project gained the interest of top casting directors, enthusiastic investors and ultimately a stellar cast. The three producers all ponied up five-figures apiece and committed to an unseasonably hot shoot in Kentucky; for us, this was a one-way road with no backup plan. Persistence, pain and perseverance.
What Gardner and I didn't expect was attracting the interest of an outstanding sales executive before the film was even cast. Reading of a Stage 32 Pitch session with Tiffany Boyle, Vice President of Packaging and Sales at Ramo Law, I reserved a slot and hopped on a call with Tiffany on a whim, literally at the last minute. Tiffany liked the sound of the project and two conference calls and a script read later, Tiffany had signed on to represent the film for sales and distribution.
This opportunity came out of the blue. Rob and I are so happy it came about. Tiffany has been an incredible creative partner on every level. We're extremely grateful for both Tiffany and Stage 32.
Retitled "WHAT LIES AHEAD" and announced in Variety, the film went into principal photography in August 2016 in and around the small town of Bardstown, Kentucky. Starring Rumer Willis (EMPIRE, THE HOUSE BUNNY), Emma Dumont (AQUARIUS, PRETTY LITTLE LIARS) and Kelly Blatz (PROM NIGHT, FEAR THE WALKING DEAD), the film is currently in post-production.
"We were fortunate to have a wonderful and professional cast who knew their characters inside and out," Gardner said. "And an experienced crew I've worked with for years that were able to help us deliver on a very ambitious schedule." With an independent feature, many people often ask the producers what their plans are once the film is complete. In our case, the answer is easy: We're lucky enough to be working with Tiffany Boyle. That's about as solid as a plan can get.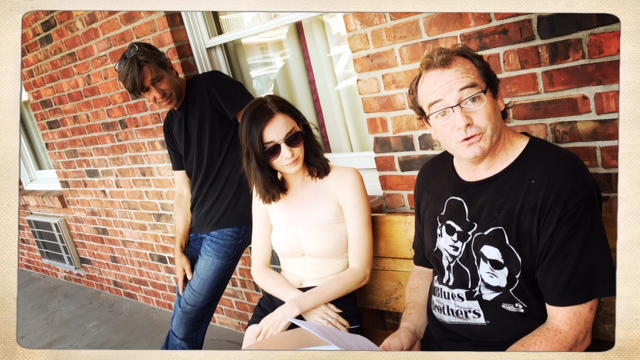 Director/Producer Rob Gardner (left) and Writer/Producer William Viglione (right) on location with What Lies Ahead co-star Emma Dumont
Three years after we first discussed the project, Burke and I met back at the watering hole where it all began. We raised a glass to a successful shoot and the whirlwind ride that got us there. And another glass for the two other projects we have in mind for the upcoming year.
My advice for writers and producers: surround yourself with achievers. A lot of early believers and investors in the project dropped out after the first year. The achievers stuck it out. It's how we got our picture done. Use every opportunity Stage 32 has to offer, and know that persistence pays off.
---
Like this blog post? Please share it on social media (Facebook, Twitter, LinkedIn, email etc) by using social media buttons at the top of the blog. Or post to your personal blog and anywhere else you feel appropriate. Thank you.
As always, we welcome thoughts and remarks on ANY of the content above in the Comments section below...