I get it—you became a filmmaker, or a writer, or an actor because you love movies and television. You weren't planning to launch a business.
But if you hope to build a career in the film industry as a writer, filmmaker, or even actor, then you need to think like an entrepreneur. Otherwise, all you'll have is an expensive hobby. And there's nothing wrong with that, but that's likely not quite what you were hoping for.
So, take a deep breath and admit it. You're an entrepreneur.
Especially now, when there is so much uncertainty in the industry, you can benefit from focusing on the risks you're willing to take and the goals you hope to reach. So, here's a quick guide for thinking through your mission and objectives, proactively mapping out your actions, and meeting the challenges you will inevitably face.
1. Decide Your Mission
No, your mission can't simply be to get tons of fans or make loads of money.
As a creative entrepreneur, your mission should stem from your core values—principles that guide both your artistic work and professional interactions.
Recognizing your values helps you prioritize what's important. For example, if you know that freedom is more important to you than security, then you might prefer to create your own schedule and decide your own projects as a freelancer. If security is more important to you than freedom, you might opt for a position at a larger, more stable company in the industry.
And if you don't know what your core values are, that's a fine place to start. There are plenty of free resources online to help you narrow them down.
With your values in mind, you develop your personal mission statement. Think of this much like an elevator pitch or business mission for your own creative career. You are articulating your own unique position in the marketplace.
And just like a business or entrepreneur, your mission must have more to do with what you are giving than what you are getting. How is your work satisfying a need? How does your work offer people what they crave?
2. Make a Plan
Almost every aspiring filmmaker or writer I meet wants to make a living writing scripts or directing films, but they typically don't have a clear sense of how the industry works and how to find their place in it.
Keeping in mind your core values and mission, what do you want to accomplish in five years? And what do you need to do to help make that happen?
Depending on the stakes, your plan might be as simple as a list of goals for the next five years and corresponding actionable steps. If you are seeking investors for your work, then you will need a detailed prospectus and business plan that includes not just fundraising and production, but also the distribution and marketing strategy as well. Investors will need to know there is a strong potential for a return on their investment (ROI).
As an individual, your plan will likely include how you will educate yourself about the industry and hone your craft, as well as how you will produce, share, and monetize your work.
3. Invest in Yourself
You might think, oh I'm not starting a business, I just want to be a writer. But what is the investment that you're prepared to make to build that career? How much will you spend on courses, coaches, tools, contests, and advertisements to launch that career?
Thinking about your art as a business forces you to tackle an aspect that many of us creative types cringe at—money.
Making films gets expensive—and even if you are doing it as a labor of love, you need to know not only why you are doing it but how.
Sitting down to confront these expenses (and hopefully the corresponding revenues) is not the fun part, but it's absolutely necessary. I have seen so many filmmakers submit almost recklessly to film festivals with little to no plan, and then wonder why they are out hundreds of dollars with nothing to show for it.
Knowing the costs involved in moving towards your goals is essential to having a smarter, more cost-effective, and, ultimately, productive strategy towards your mission.
4. Know Your Strengths
I have some secret powers, and I'm sure you do too. Leverage those towards your mission.
But you're not good at everything. And I don't say this to insult you. I'm not good at everything either. So, admit that you will need help. Sometimes you might need to learn the skills, but other times you might discover that there are some things that are just not your forte. Knowing where you fall short highlights the areas where you can hire someone or find a collaborator.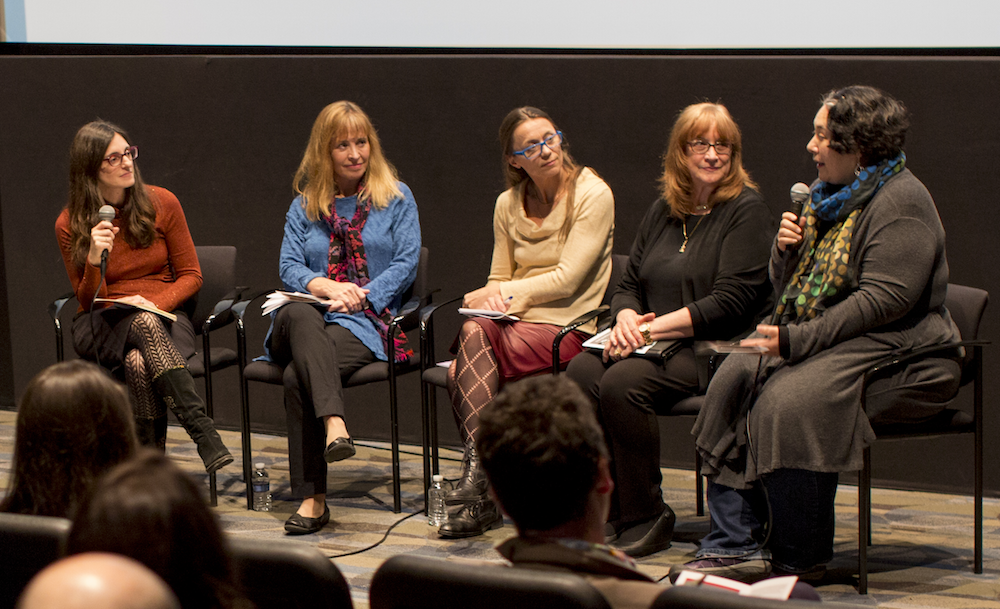 Michele Meek, Ph.D. (at left) leading a panel "Stepping Up Your Film Career" for NewEnglandFilm.com's 20th Anniversary. Other panels include (from left to right) Genine Tillotson, Executive Director, Harvard Square Script Writers and Principal, Magic Lantern Multimedia; Clemence Taillandier, Head of Theatrical Sales of Distrib Films US and Film Movement; Cirina Catania, President/Founder, Catania Group, Inc, Co-Founder, Sundance Film Festival and Former Studio Executive; and Nancy Campbell, Program Director, IFFBoston
5. Connect for Collaboration and Support
Success is not a solo activity.
Mentors and coaches can help build your career.
But what all creative entrepreneurs truly need is an advisory board—a group of people with varied backgrounds and areas of expertise who can offer consistent advice and support.
A sustainable and mutual way to both get and give this type of support is through a mastermind group. High-powered executives have been using these groups for over a century, and I think it's high time that creatives start claiming this idea for themselves.
For several years, I have been part of a Mastermind Failure Club where seven artists, writers, filmmakers, and other creative entrepreneurs come together for a weekly two-hour meeting to get feedback on our ideas, talk through the obstacles we face, and think up strategic ways to build our creative businesses. Since then, numerous other groups have formed, and I recently published The Mastermind Failure Club as a guide to help others to start their own groups.
It is absolutely transformative. And it's completely free.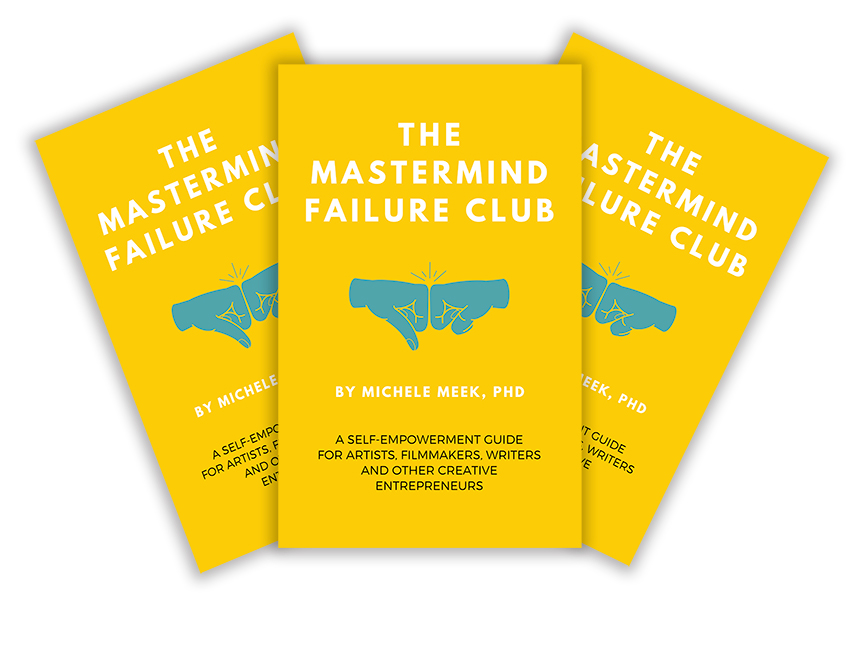 The Mastermind Failure Club mini-book by Michele Meek, Ph.D. is now available on Kindle
6. Get Ready for Success—and Failure
I cannot tell you how many people want to be the next Quentin Tarantino or Ava DuVernay, but it's a lot. The reality, however, is that artistic careers don't take off in a simple upward trajectory. And most businesses fail.
I know a professor who would tell his writing class, "Those of you who are still writing in twenty years will be successful at it." The students would take offense since they were all certain that they were in it for the long haul. But decades later, it was evident that most of them were not. And it's impossible to succeed at something if you're not even trying.
I can't promise you that by making a plan and sticking with it, you'll achieve all the success you are after. But if you continue your creative career for many years, you will likely experience a combination of highs and lows. Celebrate them both—the failures prove that you are aiming high and taking risks, while the successes show how your hard work has paid off.
I believe that most of us are in this creative industry because we are passionate about it. We are compelled to act, to write, or to direct. And there are a million ways to make that happen.
Try yours.
About Michele Meek, Ph.D.
Dr. Michele Meek is a writer, filmmaker, professor, and the founder of NewEnglandFilm.com. Her most recent books include The Mastermind Failure Club: Self-Empowerment for Artists, Filmmakers, Writers, and Other Creative Entrepreneurs (2020) and Independent Female Filmmakers (2019). She has directed numerous award-winning short films, including Imagine Kolle 37 (2017), and she worked as associate producer on the documentary feature Salvage (2019), which premiered at SXSW Film Festival. For more information, visit her website at michelemeek.com.
---
Let's hear your thoughts in the comments below!
Got an idea for a post? Or have you collaborated with Stage 32 members to create a project? We'd love to hear about it. Email Taylor at taylor@stage32.com and let's get your post published!

Please help support your fellow Stage 32ers by sharing this on social. Check out the social media buttons at the top to share on Instagram @stage32online , Twitter @stage32 , Facebook @stage32 , and LinkedIn @stage-32 .