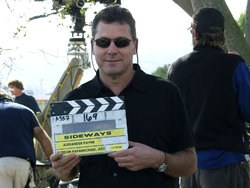 Rex Pickett
A couple things before I get started: When referencing films, I'm going to be relying heavily on Metacritic.com. They're a terrific Web site, unlike their lesser forebear Rotten Tomatoes. They cull film reviews from a select group of a maximum of 42 critics, assign a score of 0-100 to each review, weight the review in accordance to the prominence of the critic, then average the score. E.g., anything over an 80 would have a filmmaker leaping with joy. Over a 90 is stratospheric. Below 70 - especially if a film is critic-driven - it's time to start reaching for the Zoloft. Every time I'm depressed I click on Metacritic because Sideways, deservedly or not, garnered an outrageous 94.
I'm also going to be referring to box office numbers. Domestic and international theatrical grosses are easy to track on a variety of Web sites (I use Box Office Mojo), but it's almost impossible to get ancillary numbers, particularly sales of DVD's. (Don't get me started on this with my 2.5 "monkey points" on Sideways!) So, when I refer to movie grosses, it's going to be mostly domestic theatrical, with my educated guesses about what the film really pulled in. As for the budgets of the movies, sites like IMDB.com and Box Office Mojo are error-plagued, but I have a pretty good idea based on my extensive knowledge of the film business.
One last thing: I bear no grudges, I have no axe to grind, in reporting what I'm reporting. I have been both praised, and impugned, for speaking the truth. It's the only way I know how to be. Do I think some individuals unfairly reaped millions off the success of Sideways the movie? Absolutely. But life, and especially Hollywood, is not a meritocracy. Also, life is too short to wax bitter about the past. I write this without a scintilla of disingenuousness: I'm very grateful for the film that Alexander Payne made of my novel, for the unbelievable creative autonomy that Fox Searchlight vouchsafed him, to the wonderful, heartbreaking performances of Paul Giamatti, Thomas Haden Church, Virginia Madsen and Sandra Oh. Many creative talents played a role in the critical and commercial success of this movie, some more than others. But it was not the Immaculate Conception, ladies and gentlemen. It started with a novel, a novel that you now know from having read my 6-part serialization here on Stage 32, I suffered greatly for. Bear that in mind when you read the below:
VIRGINIA MADSEN: Shortly after Sideways, for which she won numerous Best Supporting Actress awards, she co-starred in a Harrison Ford thriller titled Firewall (an abysmal 45 on Metacritic), that was both a commercial disappointment and hardly a showcase for this actress's talent. She bounced around several under-performing indie films, continues to work here and there, has dabbled in producing and commercials, but it's fair to say that she's never even come close to duplicating the success of Sideways. And it's fair to say that her now famous wine speech with Miles on the porch of her friend's house will probably go down as her finest moment in every film and TV show she's ever done. Pandemic ageism and sexism in Hollywood will not be this actress's friend; and that's sad.
SANDRA OH: Perhaps realizing that actresses of Asian descent (for the record she's Canadian/Korean and her native language is English) lamentably can't hope for much of a future landing leads in theatrical features, Sandra took a recurring role on the hit network series, Gray's Anatomy. She occasionally does feature work, but she clearly found her calling in TV where she's done extremely well for herself. She's a terrific comedic actress, and it's deplorable that she doesn't get more opportunities to demonstrate this side of her enormous gifts.
THOMAS HADEN CHURCH: After also garnering numerous Best Supporting Actor awards, including an Oscar nomination (Morgan Freeman won), shortly after Sideways, Thomas took what must have been a huge payday to play the villain in Spider-Man 3. He had a terrific role in the TV mini-series Broken Trail, but, although he works a lot, he's more or less slipped into obscurity with a raft of supporting roles in undistinguished movies. Again, like Virginia, he's never come close to equaling the success of Sideways. A role like Jack maybe, like Hailey's comet, only comes once in a lifetime, and I'm sure Thomas is grateful for that. If it wasn't for Alexander Payne's casting genius, and his power as a director to make an uncompromising work on his own terms, Jack could easily have been played by George Clooney, who was, albeit briefly, seriously considered for the role. If a sequel to Sideways were made (see below), Thomas would have another leading man role that would challenge him as an actor, in my biased opinion, in new ways.
PAUL GIAMATTI: Though he was snubbed for an Oscar nomination, Paul was really the acting heart and soul of Sideways. However, his career since then, though a full plate, has been spotty. Right out of the box he accepted a starring role in M. Night Shyamalan's The Lady in the Water, a critical (36 Metacritic) and commercial face plant. He rebounded with an Emmy Award-winning performance in the HBO mini-series John Adams, a spell-binding supporting role in Ron Howard's Cinderella Man, but then fell hard with a starring role in Barney's Version, a reportedly $30 million budgeted film that went off the domestic charts with less than $5 million in gross. Paul rebounded with the charming, if tepidly received, Win Win (75 Metacritic and $10 million gross). He continues to work a lot, mostly now in supporting roles, but it's an incontrovertible fact that Sideways is the acme of his career to date. And it's also an inarguable fact that with any director other than Alexander Payne, he would never have been cast as Miles in Sideways. He, as do I and many others, owe Alexander a huge debt. I have said unashamedly many times, if a sequel were made, because of the narrative thrust of the story, he would win that Oscar.
JIM TAYLOR: Astonishingly, Jim has only a single writing credit and not a single directing credit (and I know for a fact that he's tried) in the 7 years since Sideways, where he co-won (with Payne) nearly every screenwriting award a writer could win, including the trifecta of the Oscar, the prestigious WGA award, and the Golden Globe, and just about every critics award organization on the planet. Shortly after Sideways he and Alexander Payne took a work-for-hire rewrite job on the God-awful Adam Sandler "comedy," I Now Pronounce You Chuck and Larry. It earned them a Golden Razzie nomination for Worst Screenplay of the year (didn't win), but in all fairness to the two of them Sandler & Co. never used their script, just their names on credits. Jim worked for 3 years with Alexander on a script (see below) that never came to fruition, is credited as a producer on several movies, including his wife Tamara Jenkins's fine film The Savages (85 Metacritic, but a minor disappointment at the box office with less than $7 million domestic). As a partner in Ad Hominen, the company he formed with Alexander and which is underwritten by Fox Searchlight, he has producing credits on the underperforming Cedar Rapids and Payne's latest The Descendants.
MICHAEL LONDON: Though he had produced other films ( 13, The House of Sand and Fog, e.g.), it's fair to say that owing to the success of Sideways Michael was able to leverage that success and pull together $200 million in hedge fund financing from some Middle East consortium. This was a heady time, when money was dropping out of the sky, when producers like Scott Rudin were circumventing the standard studio deals and setting up their own mini-major studios. Groundswell Productions, as it was named, opened offices in Beverly Hills nearly 6 years ago. As CEO, Michael hired a CFO, a COO, a Head of Physical Production, assistants galore, on and on - in essence, he was trying to create what is known in the film business as a mini-major. They hobbled out of the gate with a string of failures, some of their films so egregious they never saw the light of day. There was Smart People (57 Metacritic, $9.7 million domestic), The Mysteries of Pittsburgh, based on the Michael Chabon novel, (a dismal 38 on Metacritic and a shocking $80,238 [sic] theatrical gross); and, just when you didn't think it could get any worse there was The Marc Pease Experience, a film starring Ben Stiller and Jason Schwartzman that - this is not a typo - grossed $4,033 and garnered a deserving 30 on Metacritic. On a slightly sunnier note they produced the western Appaloosa, a relatively big budget film for Groundswell, starring Oscar winners Renee Zellweger and Jeremy Irons, as well as Ed Harris (who also wrote and directed). But with a 64 on Metacritic and only $20 million domestic gross on a reported budget of $20 million (remember, there's distribution fees, P&A, exhibitor takes, etc.) the film had to have been a disappointment for Groundswell given the high profile nature of the project. Groundswell and Michael London did put their names on Steve Soderbergh's under-performing The Informant and Gus van Sant's moving and multiple award-winning Milk, but it's well known that Groundswell was merely a financial partner, and not an active developer of those titles. A year ago, it was announced in the trades that Groundswell was "restructuring their debt" - i.e., whatever their deal was with the middle eastern money, it must have mostly disappeared because, other than Win Win, a break-even film, their dream of being a mini-major has all but faded.
London continues to say to the press that he, and he alone, passed my manuscript to Alexander Payne, but, as I wrote in "My Life on Spec ..." it was my agent Jess Taylor who made that brilliant move, and whose name appallingly never comes up when people are credit-grabbing, as they are wont to do in Hollywood. Michael has also gone on record in various interviews claiming credit for things like he came up with the title Sideways, that he worked with me on the manuscript in prepping it for publication - both of which are blatant fabrications to burnish his role in Sideways. The truth of the matter is: Michael London would never have produced Sideways had I not gone to bat for him with Alexander Payne. In fact, Payne's first words to me, after he praised my book, but learned that Michael was vaguely attached to the project (no fee, no contract) were: "Who's Michael London and do we need him?" I paused and took a deep breath. In all fairness to Michael, he was an early supporter of the novel, he helped me find an agent after Jess, my Endeavor agent, left the business, and he did subtly pressure Alexander to option my unpublished manuscript, and because of that I tacitly endorsed him to Alexander as a potential producer. But, he didn't force the option solely for my benefit. Not owning an option on the book himself, he needed to be contractually tied to the hip to the very hot Alexander Payne, lest the latter decide not to use him as a producer, which would have been Alexander's right, and who I, and my reps, would have quickly deferred to because he held all the power. London and Payne, however, forged, from what I could glean from afar, a felicitous and mutually beneficial director/producer relationship.
After the Oscars concluded - i.e., the official end of the awards season - I did not hear from Michael in 5 years. Nary an E-mail, Christmas card, a Thank You note, not a peep. (You have to understand the politics of Hollywood: Once there was a hit film and Michael was vouchsafed the sole producer credit, regardless of how he came to find himself in that position, he no longer needed me for anything. In fact, I was a liability to him because every time he fabricated things to the press, and every time I contradicted him, or personally called him out, with the truth, it make him look bad, it repudiated his fantasized role in the making of the movie; i.e., in terms of his future, I may have been the author of a book that gave him by far the biggest success of his life, and millions in the bank, but I was also a veritable thorn in his side. At some point I just gave up in trying to undo his rewriting of history. When the Fox Searchlight writer who interviewed me for the press kit wrote Michael's fallacious version of how Payne got my book, I knew it was over; the lie(s) had become official.)
One morning, almost exactly 5 years to the date of the '05 Oscars, I got a call from Michael's assistant at Groundswell. Harboring no grudge, I returned. He was calling because he had heard there was a sequel in the works. The knee pads were back on.
ALEXANDER PAYNE: As reported above, he took a reportedly nice payday to retool an embarrassing - is there any other kind? - Adam Sandler script. He then directed a short for the omnibus film, Paris Je t'aime, and, in my humble, albeit trenchant, opinion, it was the best of the 20-plus shorts. He co-produced, with London, The King of California, a Michael Douglas-starring misfire that landed with a thud at the box office ($250K total domestic). He then toiled nearly 3 years working on a futuristic political allegory titled Downsizing. At 180 pps., and requiring numerous special effects, the film, in Alexander's own words, would have cost $100 million to mount. Despite his Hollywood heat factor after Sideways, when the economy collapsed in '08 there was no way a studio was going to greenlight such an ambitious, on the surface, non-genre movie, one with minimal comedy, little action, and no romance. It would be inappropriate for me to comment on the script, as I read it twice and gave Alexander, in person, my opinion, but I will go on record as saying that it's a truly original screenplay, possibly the most risk-taking I've ever read. I have my doubts about how it would play on the screen if ever made, but then that's the beauty, and maddening enterprise, of a screenplay: you never really know. I can only imagine to a studio chieftain, with pen in hand poised over a $100 million check, that it would be one nervous, head-scratching, moment.
Unable to get Downsizing funded, Alexander, itching to get back into the director's chair, kind of backed into a project that Ad Hominen had in development with two other writers based on a novel by Kaui Hart Hemmings, The Descendants (a stellar 84 on Metacritic, performing admirably at the box office, and picking up some awards along the way toward the Oscars where, I predict, it'll be nominated for five). Closer to About Schmidt than Sideways, and perhaps more in his comfort zone than the risk-taking, arguably over-ambitious, Downsizing, Alexander continues a trend of making sui generis movies about rudderless characters trapped in their own existences. His next proposed film, Nebraska, follows a whisky-tippling septuagenarian who deludedly believes he's won $50K in some Publisher's Clearing House Sweepstakes on a road journey with his son in the former's battered truck. If he can inveigle Gene Hackman out of retirement, from the script version that I read, it could be a minor masterpiece.
One thing is certain: Alexander Payne has earned the right and will get to make - like Woody Allen and Robert Altman and others before him - the kind of personal films he wants to make for the rest of his life if he stays within certain budget boundaries. He is in the unique position of being able to call his own shots because of his stature in the film business and because the "greenlighters" will always want to be in bed with someone of his talent. After an early screening of Sideways I said to him: "You are single-handedly resurrecting the auteur theory." He just wryly smiled. There are very few like him today in Hollywood and, like Terence Malick and others, love him or hate him, one can only marvel at his stubborn insistence to go his own way in a business where people sell out their souls and sensibilities every day.
Alexander has read my novel Vertical (recently published) and has "passed" on making a sequel. He has not read the adaptation that I did with a friend. The sequel possibility - some think inevitability - is the number one question I get asked at the many public appearances that I attend. I don't like to psychoanalyze someone's artistic motives, but I'll go out on a limb and surmise that for Alexander Sideways - without question his most successful film, critically and commercially - represents my personal journey, as refracted through his own personal filmmaking voice. Vertical is, without a doubt, even more personal, despite the fact that it also features Miles and Jack. I think, as an artist, an artist whom I admire and respect, I don't think Alexander wants to take that personal journey again, despite the other salient fact that the fan base is colossal and that a sequel, if done well, stands to be an almost guaranteed success. In his mind, a sequel is sort of akin to selling out, a la The Hangover creators, and Alexander is very much aware of his cinematic oeuvre and legacy and doesn't want it vitiated in any way, shape or form. Although I (tendentiously poised, I realize!) think Vertical hoists Miles and Jack to new levels of their emotional development, attested by the many positive reviews I've received, and is not just a gratuitous and shameless regurgitation-for-commercial-purposes sequel, Alexander has his own journey to pursue. He wants to be the master of his own destiny and he's not going to dedicate 3 years of his life to something just because it stands the chance of grossing millions, or because there's pressure to do a sequel from a large, international fan base who would love to see Miles and Jack reunited. (For the record, Fox Searchlight owns the film rights to Miles and Jack and anything else in the Sideways movie in perpetuity - the film rights. They could elect to make it without Alexander, but their reverence for him, and the importance of their relationship with him, leads me to believe that they wouldn't move forward with a sequel without his blessing. As of this writing, it's my understanding that he doesn't want anyone else to make it either, not with his imprimatur on it anyway. But therein lies the clich'e Catch 22. Without his imprimatur on it it won't get made. It should also be noted that his partner, Jim Taylor, is pretty adamant that a sequel to Sideways not be made. And, hey, dear readers, in all fairness, it's also possible that they hate the novel and are just being kind in telling me they admire it.)
THE SANTA YNEZ VALLEY (the setting of Sideways): Upon visiting, now 7 years after the release of the film, you wouldn't notice much different than back in the '90s when I first started sojourning there, as they have very strict zoning laws. But the valley in which most of the film was shot has profited millions - tens of millions by some accounts - because of Sideways. Everywhere you go you'll find lime green tourist maps, mimicking the color scheme of the poster, that will guide you to all the locations in the movie. Even some businesses that didn't want to participate in the movie - and that's a long story worthy of a lengthy blog - have profited heavily. One example: the tiny, postage stamp-sized town of Los Olivos where the famous "I'm not drinking any fucking Merlot!" scene was shot - literally a town no more than 4 square blocks - once had only a handful of tasting rooms pouring the wares of some tiny, local wineries. Now, get this: there're 40! I now refer to Los Olivos as a shameless red light district of tasting rooms. The Hitching Post, the iconic restaurant in the film where Miles and Jack meet Maya (Virginia Madsen), and where Miles staggers out of one night after too much wine, has been, and continues to be, packed, especially on weekends. Its owner is a multimillionaire. Lesser wineries like Kalyra - where they shot the scene where Jack comes on to Sandra Oh - has made hundreds of thousands of dollars beyond what they would have ever made, given the inferior quality of their quaff. I could go on and on.
Sideways is officially an iconic movie in the wine world, and it's one, if you're a fan, where you can literally go and live it as if you were up on the silver screen. I don't begrudge the Santa Ynez Valley for their exploiting the movie's success for their personal gain, but their greed has been, at times, borderline disgusting.
REX PICKETT (yours truly): When the film came out I found myself twisted and pulled like taffy in every conceivable direction. After over a decade of deprivation and destitution I found myself caught up in the hoopla of the film's success: huge book signings; wine festivals; sold-out faculty dinners; invitations to attend this high-end wine event or emcee this charity function; on and on and on, ad infinitum. As it happened, my agent at the time decided to reinvent herself as a manager. Boy, if ever you had to go on the prowl to find a new agent, being the author of Sideways during the lead-up to the Oscars was certainly a propitious moment. I was suddenly very, very radioactive. As just one example, I remember sitting in an office at UTA with 4 top agents from their various departments desperately trying to sign me. Other agents that I had interviewed chased me on the phone like telemarketers on meth. I finally signed with then Endeavor (now WME), the first in a series of near-sighted mistakes. (It's fair to say, since I've been honest with everything else in this series, and especially this postscript, that I found myself in a state of, let's say, libidinous excess, a little too caught up in the fame, drinking too much wine and enjoying myself too much, and not being an astute enough businessman. Once my phone rarely rang; now it was ringing off the hook and there were some very, very important decisions to be made, and, admittedly, I wasn't always firing on all 8 when I made some of those decisions.) Everyone wanted something from me. Write a TV show ("Funny is money," one powerful TV agent exhorted me); write features; take adaptation assignments; sign on for six-figure rewrite jobs; direct that indie feature (I really got my start writing and directing two indie features); or ... write another novel. My publishing agent was vehement that I capitalize on the success of Sideways and pursue a book deal. I didn't know what that book was. Sideways, and my mystery novel La Purisima before it, had so sucked the marrow of my own brain and last corpuscle of my soul, I felt empty, depleted of ideas. Undaunted, my publishing agent read a script I had written in the early '90s titled The Road Back. It had been optioned for 5 years, was much admired, but, trite Hollywood story, never made. Desperate to do a deal and capitalize on a success he threatened was ephemeral, he urged me to consider novelizing it. Initially, I wasn't interested. At his insistence I humored him by writing a "one-sheeter" proposal - basically, a synopsis. Alfred A. Knopf, the literary division of Random House, bit - not for a lot, I might add. I thus made one of the gravest mistakes of my entire career: at the height of my ability to cash in on a success that would probably never come along again, I chose to go down the romantic path of literary fiction with one of the most august publishing houses in the history of American literature. In the ensuing years, I have never been treated as a writer so despicably in my entire life; not in Hollywood, not anywhere. It's a long jeremiad, worthy of another 6-part series, but after years of frustration with the senior editor who bought it, after nothing but being treated like the scum of the earth, I got out of the deal, abandoned that book and wrote Vertical, the Sideways sequel, borrowing some from the novel I had abandoned, and published it under a self-imprint.
My father, long dead, once advised me to die with one penny on each eye. He also advised me to take risks - he was a captain in the Air Force and had many close calls with death - otherwise, he opined, I would never realize my dreams. I took his advice. I wish it weren't true that I'm going to die with one penny over each eye - the operant metaphor here being that you spent everything you made and lived life to the fullest - but that's closer to probably how it will end when it does. Given the huge success of Sideways, not only as a film that many people related to and enjoyed, but also as a phenomenon that changed the wine world, people think I'm rich, tool around Hollywood in a Lamborghini, take meetings with film biz muckety-mucks and sip $1,000 Burgundies on my deck overlooking the Pacific in Malibu while nubile women hand-feed me slices of fresh papaya. Not that I aspire to those superficial rewards. For the record, I live a very modest, now abstemious, life in a one-bedroom apartment in Santa Monica. My days of intemperance and celebration are over. I'm developing a pilot for HBO and I'm conducting a fair amount of publicity for Vertical. I hope that one day it will make it to the screen but I've learned from experience not to believe anything in the film business until I see the Panavisions downloaded off the camera truck. I've also just finished writing the Sideways play and I'm very excited about its opening in April here at the Ruskin Group Theater Co. in Santa Monica. If everything goes according to plan, we hope to do a live Web cast of the premiere and have it as a download and maybe I will one day become a member of the affluent class like so many, most of them unwittingly and luckily, did off of Sideways. I don't really give a shit, to tell you the truth. I never started writing because I wanted to climb into the rarefied world of the One Percenters. In fact, I never really started writing because one day a flare went off in my head that I had to be a writer - and a filmmaker, etc. No, it just, willy-nilly, became who I was. I had no choice. It enveloped me like some spirit strangling me to reveal my soul and that just, as the years went by, became my life, who I was, who I am. I did not choose it. It chose me and wouldn't let go. How low can you go and still turn on your laptop? is what I tell young writers setting out to make a life out of it. And therein lies the real truth: can you live this life?
The most gratifying consequence of writing Sideways, and lucking out - yes, lucking out! - and having it become such a beloved movie are the twin rewards of its critical and fan acceptance. And the rare possibility that the film has the potential to endure through the course of time and, with it, leave a vestige of my soul long after I'm gone. Sure, had I been a smarter businessman I probably would be a wealthy person today, my future secured. My goal with my writing, and my filmmaking, has always been to see the end result. I would rather go into debt to make an indie film so that I could see a screenplay in its ultimate form than get mired in endless, frustrating development. I'd rather take nothing for a novel if only for the sake of seeing that novel one day in print and the hope that readers will discover it. I never embark on writing something with the hopes of making money. But when one day, if all the forces come together into a felicitous confluence as they did with Sideways, my advice: watch your back like a hawk. If you let your guard down for a second, the credit-grabbers and money-grubbers will take advantage of you in so many ways it'll make your head reel.
And be grateful for what you were given. Because it may not ever happen again.
You know what makes me most happy, and most proud? A couple years back, the WGA voted the 101 greatest screenplays of all time. It's an admittedly flawed list - not as many foreign films as there should be, e.g. - but Sideways made that list. To commemorate that list, plaques were mounted on a wall in the WGA Theater. Unlike when someone wins for adapted screenplay and the author of the source material isn't given an award, these plaques all had etched, of course, the names of the writers of said source material along with their adapters. My name is on that wall with the likes of some of my literary and filmmaking heroes: Raymond Chandler, Billy Wilder, and James M. Cain (Double Indemnity); Francis Ford Coppola (4 films on the list!); Robert Towne (Chinatown); Orson Welles, Ben Hecht, David Lean, Preston Sturges, et alii. That inclusion, alongside so many august names, whether deserved or not, alone ameliorates all the suffering, all the ostensible and irremediable unfairness, everything that I endured in my life to have experienced this one moment of Himalayan artistic success. If I died tonight in my sleep I would be content ... one penny over each eye....