Turkey. Football. Awkward Family Conversations. Just another normal Thanksgiving. And that means extended family asking you about your screenplays.
Some folks love talking about their script. Some people love it so much, you'll find you don't even have to ask them about it… or initiate a conversations… or even make eye contact… We get it! Your 7-part Lord-of-the-Rings-meets-Little-Miss-Sunshine epic is a masterpiece and all the producers "just don't get it."
For the more introverted among us (myself included) this question brings a bit of dread. After all, I thought this was my day off, not another pitch meeting. I don't need to be judged on Turkey day. Not in my stretchy pants!
But here's the thing you probably never considered - you're super cool! No, seriously. Most people never have the guts to put pen to paper (or fingers to keyboard) and write something. Even fewer have the brass to finish it and still less the chutzpah to try to make a career of it. To most people, you're a person of ambition. A dreamer. A go-getter. A person to be admired.
Even if you feel like you're struggling to break in, your the closest most people around you know to a Hollywood elite, and they want to hear all about it. They want to hear what you're writing. What your writing process is. Who you want to send it to. If you know Steven Spielberg (Nana loves him!). And who to send their angry letters to after they took your nephew to see THE EMOJI MOVIE. Because being a writer is one of the most interesting occupations a person can have. You get to spend your days creating a vibrant, imaginative world filled with interesting people who do spectacular things, and you get to work and network with people who share your creative passion. Writing is awesome!
So this Thanksgiving, I'm thankful for Write Club. I decided to use this month to develop a detailed outline for an historical pilot that's been sitting in the back of my metaphorical drawer and you've all encouraged me to keep pushing on it. So when my aunt is done complaining about the dry turkey and asks me what I'm writing, I have a brand new/dusted off project to talk to her about.
Just be prepared, because I guarantee a few family members will have ideas of their own to pitch you. But I suppose you never know where your next great idea will come from. So keep writing and finish your write club goals so that when December comes, you will be ready to move on and get started on your cousin's brilliant live action, talking guinea pig pirate feature screenplay!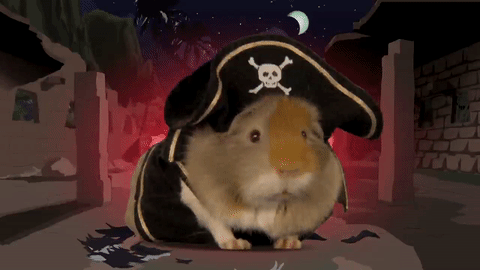 Please share your progress, thoughts, feelings, ask craft questions, offer help, provide tips and possible resources in the comment section below. Let's support, inspire and cheer each other on throughout our 30-Day endeavors. And, to stay on track for next week, here is to the 3rd Annual November Write Club Screenwriting Lounge Thread.
And, please share this blog on social media to encourage and inspire other writers to participate.
About Allen James Roughton
Allen James Roughton is a screenwriter, and the Coordinator of the Stage 32 Happy Writers Program. He is a former reader and development researcher who has consulted on over 100 projects, scripts, books, comics and films and conducted research on life stories, exposés, professions and locations for major production companies. Allen also has a heart for non-profit organizations and has produced promotional videos for the Big Citizen Hub and Healthy Jurupa.