'Before the Dawn' is a dramatic feature film about a young high school teacher who falls for a troubled student and then struggles with the choice of either giving in to her desires or doing the right thing. The film has won a number of awards on the festival circuit and was awarded the ReFrame Stamp by Women in Film and the Sundance Institute for its gender parity both in front of and behind the camera. It is now available on Amazon Prime, Tubi, Roku, YouTube Movies, and Google Play.
1. Good, Fast, Cheap. You Can Only Pick Two
I had set out with the intention to write, produce and star in my first feature film in June of 2017 and aimed to have it completed later that same year on a micro-budget. Ambitious, I know. Spoiler alert: the film wasn't released until October 2019.
Everything was going swimmingly, and we were working to a whirlwind schedule until it came time to get stuck into post-production.
The screenplay was written by July 4th, 2017. It got a few polishes before production started on August 23rd, 2017. We wrapped 15 days of principal photography on September 9th and had four days of pickups/reshoots in October 2017. We had been handing off footage to our Editor, Ahsen Ali (The Pale Red Dot, Untitled), at the end of each day of shooting, so we had an assembly cut within five days of wrapping in September. We were on cloud nine!
At some point during post, we ran out of money. We had spent $70k that had been secured from an angel investor, and from that point on I was funding it out of my own pocket. Obviously, that's not ideal, but I was well and truly committed to finishing the film.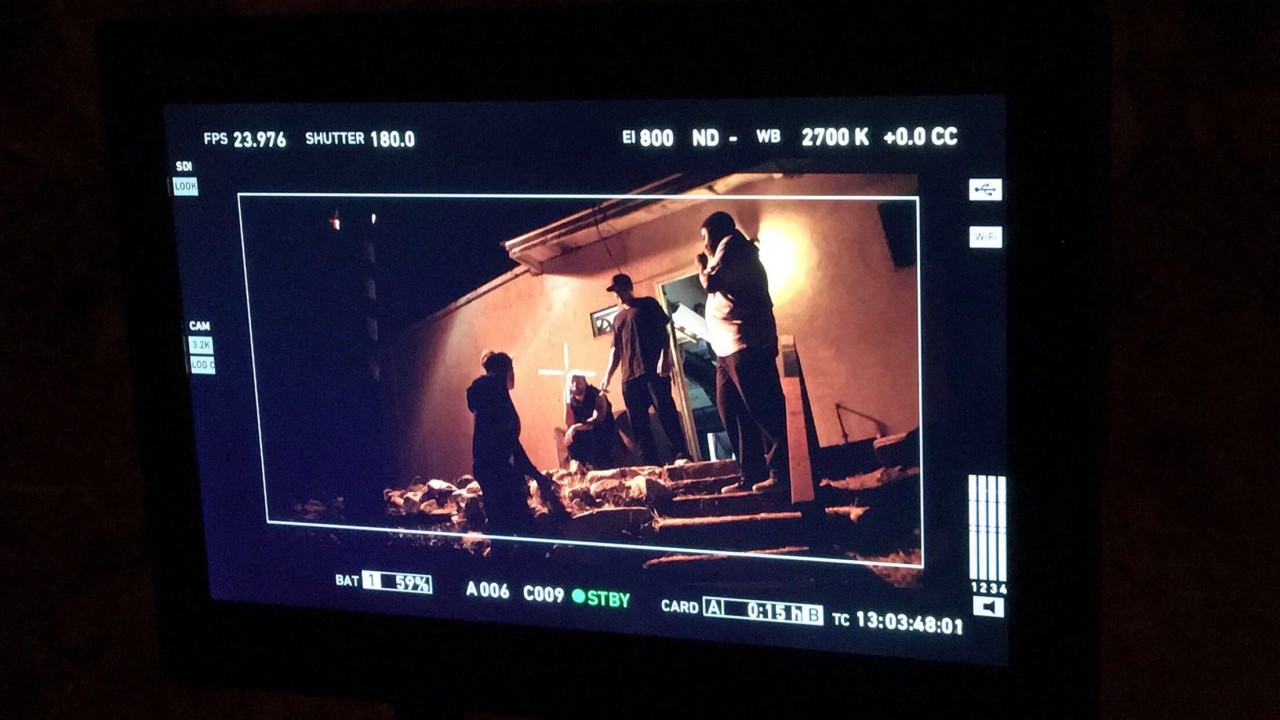 Behind the Scenes of "Before the Dawn"
We spent two years in post-production. Sometimes it dragged, sometimes it flew by. The thing you need to understand about micro-budget films is that when people are working for a reduced rate, it isn't their priority; Not for lack of interest, they simply have to prioritize the work that pays the bills. This means your jobs get done in their spare time, hence dragging out the completion timeframe.
A lot of time went into sound design. Shout out to Bradly 'Trip' Clark who did a stellar job on our sound design, even having to recreate the sound for three scenes because a mariachi band was playing on the neighbor's property (that's a whole other story!). I will also say that we took our time with the cut. At a certain point, Ahsen had worked well beyond his contract and had to move on to other projects, so our Director, Jay Holben (Of Fortune and Gold, Femme Fatales), took over the editing. We took the time to get feedback from a test audience which led to us re-casting and reshooting a couple of scenes. We also got input from well-respected industry connections whose notes were incredibly useful in tightening up the film.
Behind the Scenes of "Before the Dawn"
2. Be the First Domino…
When I decided on this crazy plan back in 2017, I began talking to friends about it. Some said I was crazy, and others were very encouraging. I brought on my good friend, Diane Foster (Iowa, The Orphan Killer) to produce alongside me. This is how I learned that if you say you are going to do something, and you actually start doing it (e.g. writing the script) people will follow your lead and jump on board. It's a domino effect! The more proactive I was, the more people wanted to be involved in the project. Now, this may sound like an obvious thing to say, but you have the bear in mind that I had never written or produced a feature film before. People had no reason to put their faith in me.
Hell, I even started casting before I even had a cent of funding in place! I had decided this film was getting made one way or the other. I asked Jay after we'd completed the film why he came on board when he must have known from the outset how naïve my initial plan was. He said that my conviction convinced him that it would all fall into place. He also said to me that I have to try not to lose that tenacity now that I fully understand the magnitude of what making a film entails.
Still from "Before the Dawn"
3. How to Micro-Budget
According to SAG, Ultra-Low Budget is any film with a budget under $250k. I wouldn't be surprised if you gasp when I tell you that our initial budget was a mere $35k. Admittedly, our initial plans for this film didn't include any post-production work outside of our editor and our composer. I just wanted to get something made, and honestly, I didn't even know what I didn't know. We ended up bringing it home for under $100k. The additional time and funding that went into the film have exponentially increased its quality. Making this film was like a film school for me. Here's where we were able to save money:
Connections: call in every favor you can. If you live in L.A., so many people are excited at the prospect of being involved in the making of a film. Have your friends help out as P.A.s and doing craft services, etc. Whether it be skills, time, funding, equipment, etc. Let people know what you're doing and ask if they'd like to be part of it. Don't forget to recognize them in the film's credits!
Locations: this also comes back to connections. All the houses, the cars and the bar that we used as locations in the film were provided to us by our friends for next to nothing. I cannot tell you how many people I know helped out with the making of 'Before the Dawn', and I am forever grateful.
Behind the Scenes "Before the Dawn"
Cast and crew: the production was non-union and most of our cast and crew were looking to get their first feature film under their belt. They had faith in the script and were willing to work for a reduced rate in exchange for the experience and exposure.
Equipment: Oftentimes your crew will have access to equipment through their own connections. Our Director, Jay Holben has been in the biz a long time and was able to set us up with lenses and a small lighting package that (with a little creativity) we were able to make work. I was also incredibly lucky that our Director of Photography, Kaity Williams (Goin' Around, Contaminate), owned an Arri Amira, so we were able to save money on renting a camera. I also recommend trying to utilize your cast and crew for anything you need for set design, props, etc.
Music: I don't even know how much time I spent online listening to hundreds of tracks for the soundtrack. There's a heap of royalty-free music websites out there, but I had the most luck when I put the call out over social media for indie artists to send me their work. I can't stress enough how much untapped talent there is out there. Again, these are people who are looking for the exposure for their work and won't cost you the fortune that a music supervisor and big-name musicians will. Of the ten tracks we have in the film, six were written specifically for us. Five of those were from my friend and musical genius, Justin Robinson (again, connections!). I absolutely adore all the tracks we have in the film – they elevate it to another level. It's time-consuming searching for tracks/artists, but well worth it!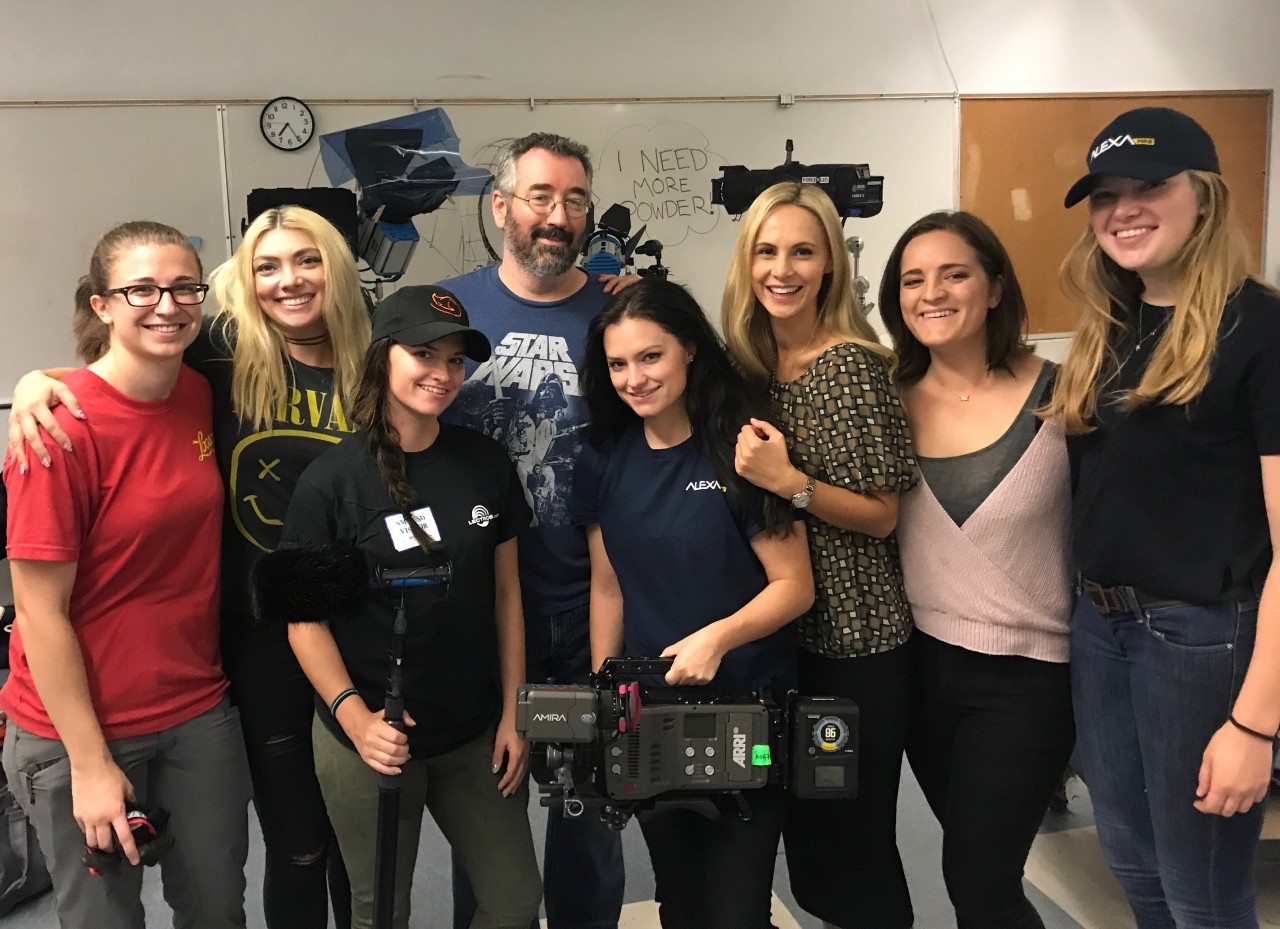 The crew for "Before the Dawn"
4. Get Creative
Producing is all about problem-solving. Think outside the box.
We had three scenes that required rain. One at a lookout and the other two were in the car driving to and from the lookout. As you know by now, we were not a big production set up with fake-rain facilities, nor do we control the weather. Jay came up with the idea of Hudson Sprayers – you know, like for spraying insecticide on your garden. They are pretty cheap at any hardware store. We had our crew use those to spray 'rain' in the air above us at the lookout, and we rigged them to the top of the car and had them spray out over the windshield when we were driving. Hey presto - rain!
We needed a police station for one of our scenes, and thankfully, we only needed an exterior. If you are shooting in L.A. without a permit, the cops will shut you down, so we knew we couldn't just set up a shot outside a station. We opted to use the exterior of a library and a little VFX work in post was able to change the signage to sell it as a police station.
Our "Presto Rain" using Hudson Sprayers
5. Consolidate Locations
We needed six houses (three only as exteriors), a school, the exterior of a police station, a bar, a lookout, and a lake, in addition to numerous driving scenes. That's a lot for an indie film! And it's a lot financially if you are based in Los Angeles. Location costs and permits through FilmLA can really add up. As I've mentioned, we utilized our friends/connections when it came to securing locations for the bar and various houses. But here's an extra tip: look for locations that can pass for multiple locations.
We only actually used three properties for our six houses. One of the properties we shot at had two dwellings on it: the main house and a small storage building. The main house was used as the home of the male lead, Jared Scott (13 Reasons Why, Turnt). The storage building was shot from one side to depict the den of the 'bad guys', and the other side was used as a hangout for the male lead and his friends. Likewise, the house we used for the home of the female lead (me) was also shot from the side to depict another hangout for the male lead. Five locations across two properties! This saves you time and money in company moves.
Classroom still from "Before the Dawn"
The rest of our locations accounted for a MUCH larger chunk of the budget. That leads me to…
6. Get Permission
Midway through pre-prod (which was barely seven weeks), the high school location we secured through a friend for a few hundred bucks fell through. With no other options, we obtained a permit for five days of shooting at a decommissioned building (that has since been demolished) at Santa Monica High School. Between location costs and permit fees, this added an additional $25k to our budget! Now you see why I say locations can add up.
The good thing about permits however is that you don't have to worry about being shut down by the police. I learned this the hard way. We had in our minds from the beginning that we would try to 'steal' the location for the lookout. We drove up to Topanga Canyon one night, two cast members and about seven crew, and set up by the side of the road. Normally you would only take a skeleton crew on this expedition, but we needed hands to run our 'rain machines' and touch up SFX makeup.
As if on cue, right when we were ready to start rolling, the police arrived. We were lucky that we weren't fined. They just told us to move along or it would be a $1200 fine for every person involved and that they could confiscate our equipment. Definitely not worth it! We were lucky to only lose the time and money we had paid everyone to be there.
We had previously shot at a film ranch out in Santa Clarita which required permit and location fees of roughly $1200, so Diane scouted some other ranches out there and we ended up paying for another location and permit to shoot our lookout scene out there. Well worth it for the peace of mind.
Still of Jared Scott in the "rain"
7. You Will Be the Last Man Standing
Filmmaking can get lonely for a producer or director. When all the other actors and crew have moved onto the next job, you are the only ones still plugging away at it. If you are going to get into this line of work, you can't have a short attention span. You will have to watch this film more times than you can count and still be paying very close attention to every little detail. You have to be committed to seeing it through to the end. But I can tell you this, there is nothing like the satisfaction (and relief) of finally having it released!
Then you very quickly learn that the work is nowhere near over. Your marketing journey is about to begin, but that's another blog for another day…
About Alana de Freitas
Alana de Freitas is an Australian-born actress/writer/producer/director based in Los Angeles. In 2017 she founded her production company, ADF Productions.
Alana produced the short film, 'Infidelity' in early 2017 which was also her writing debut. The film was selected as a finalist for Los Angeles CineFest. Prior to this, Alana had produced numerous narrative short films in addition to a 12-episode internet lifestyle program, 'LifeFunk TV', that focused on reviewing bars and restaurants and interviewing up-and-coming fashion designers.
In 2018, Alana wrote and produced the LGBT-themed short film, 'Nancy', which also marked her directorial debut. 'Nancy' has accumulated 11 festival laurels (and counting), including the Grand Jury Prize for Best Dramatic Short Film at the Sherman Oaks Film Festival, and Festival Favorite at the Cinema Diverse Film Festival in Palm Springs.
Most recently, Alana was selected by the Women's Weekend Film Challenge to produce a short film over the course of a weekend. 'For Life' has just completed post-production and is about to begin its journey on the festival circuit.
In addition to the ReFrame Stamp, 'Before the Dawn' has collected seventeen festival laurels, including two Best Picture wins and a Best Producer award.
Alana currently has a MeToo-themed documentary and a horror feature in development.
---
Let's hear your thoughts in the comments below!
Got an idea for a post? Or have you collaborated with Stage 32 members to create a project? We'd love to hear about it. Email Taylor at taylor@stage32.com and let's get your post published!

Please help support your fellow Stage 32ers by sharing this on social. Check out the social media buttons at the top to share on Instagram @stage32online , Twitter @stage32 , Facebook @stage32 , and LinkedIn @stage-32 .