The Old West is generally considered the territories west of the Mississippi River between the years 1850 and 1900. The West, however, has also been defined more broadly to include the earlier period of the Spanish colonies of California and New Mexico (1800-1849) and the Louisiana Purchase of 1803, as well as western Canadian history of the 1800s. So, let's accept that the American Old West covers the westward pioneer movement and development across the North American continent during the nineteenth century.
The West has been popularly dramatized in art since at least 1860. Poetry, song, dance, painting, magazines, newspapers, museums and Wild West Shows have all re-created the Old West. But most importantly the West was brought to life in novels, radio, TV and film.
Western radio shows blared through American living rooms from the 1930s to the 1950s. Classic western radio shows included Gunsmoke, Hopalong Cassidy, and The Lone Ranger.
With the arrival of television in the United States in 1947, the western and its understanding of America, dominated the small screen for many years, especially in the 1950s. Some of the most influential shows and stars during the television western heyday included The Lone Ranger (starring Clayton Moore), Rawhide (Clint Eastwood), Bonanza (Michael Landon) and Gunsmoke (James Arness).
The history of western films is as long and rich as the history of film.
Westerns were very popular during the silent film period, when the movies were being invented. The first western was shot in 1894, when the Thomas Edison company recorded Old West related events, such as a 20 second tape of Annie Oakley target shooting. The first motion picture of Indians was also shot in 1894, when the Edison company filmed the Sioux Ghost Dance (and other clips) of Indian performers from Buffalo Bill's Wild West show.
The first fictional western footage was the 12 minute The Great Train Robbery, filmed in 1903. The one-reeler was a sensation. The first full-length (one hour) narrative western (and the first feature of any genre) was shot in Australia in 1906: The Story of the Kelly Gang, about local bushranger (outlaw) Ned Kelly. The first U.S. feature length western was Arizona, filmed in New York in 1913. The first feature film shot in Hollywood was Cecil B. DeMille's western The Squaw Man, also filmed in 1913. Western films hit their peak, in quality and popularity, in the 1950s. This era brought us westerns in color, with wide screen action and vistas and adult themes and characters.
From 1920 to 1970, sundry western film stars galloped across the big screen to great whoops and hollers: In the silents, William S. Hart and Tom Mix conquered. Later, the singing cowboys Gene Autry and Roy Rogers were popular matinee idols. Big talkie, non-singing western stars soon dashed across the screens. Around the world, John Wayne, James Stewart, Gary Cooper, Randolph Scott, Henry Fonda, Joel McCrea, Audie Murphy and Clint Eastwood came to represent the westerner. Many notable Hollywood directors became famous for their westerns. Often riding tall on a western saddle were John Ford, Howard Hawks, Henry Hathaway, Anthony Mann, Budd Boetticher, and Clint Eastwood. Immensely popular in America, the western also came to represent America around the world.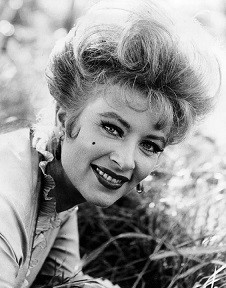 The American women of westerns were not pseudo men in duds. The women of westerns were often strong and independent in spirit and feminine. Their uniquely American femininity was essential to the distinctiveness and appeal of westerns.
Novelist and screenwriter Ayn Rand once wrote that "the essence of femininity is hero-worship—the desire to look up to man. "To look up" does not mean dependence, obedience or anything implying inferiority. It means an intense kind of admiration; and admiration is an emotion that can be experienced only by a person of strong character and independent value-judgments….[T]he object of her worship is specifically his masculinity."
The "desire to look up at a man" is an important value to many heroines in westerns. Remember Alter Keane in Rancho Notorious, Annie Oakley in the film of the same name, and Mattie Ross in True Grit. But this "look up" attitude is especially seen in the westerns of director Howard Hawks. Hawks' female characters "look up" attitude towards men is arguably best depicted by Tess Milay (Joanne Dru) in Red River and Feathers (Angie Dickinson) in Rio Bravo. Both women admire the man they throw their hat to and are not shy about expressing it. Witness the following dialog in Rio Bravo between Feathers and sheriff John T. Chance (John Wayne):
Feathers: I thought you were never going to say it.
Chance: Say what?
Feathers: That you love me.
Chance: I said I'd arrest you.
Feathers: It means the same thing, you know that.
[Later] Feathers: In case you make up your mind, I left my door open. Get a good night's sleep.
Chance: You're not helping me any.
There is no more feminine woman in westerns than Marian Starrett in Shane. A strong pioneer woman, Marian is intensely private in her devotion to her husband Joe and love for the mysterious stranger Shane. What separates Shane from most westerns (and most films in any genre) is the poignancy of the "love triangle" between Marian, Joe and Shane. Shane's strength and goodness attract Marian, but they also attract her husband, who greatly admires the gunfighter. Shane in turn greatly respects Joe and is attracted to the virtuous Marian. The undercurrent of their unexpressed attractions add layers of irony and interest to the film's scenes and dialog, especially when Marian is reacting to Shane.
Because of her purposefulness, innocence and a "go get 'em" spirit, Laurie Jorgensen in The Searchers represents the unique beauty of the American woman. The spirited Laurie calls her ranch home a "god forsaken windscow" but whatever frontier hardship she endures Laurie never forgets her highest value, her desire for romantic love. She is always at ease with her self and explicit in her worldly ambition. Not afraid to seize what is hers. She twice kisses Marty, declares they are engaged, and watches him bath, unabashed. No shame, no guilt. Just honest feminine love. Laurie is always one step ahead of the somewhat earnest Marty, always excited to be near him and innocently clever in her attempts to seduce him. Yet, Laurie is wise enough to know that she can't have Marty until his highest value is achieved, the rescue of Debbie. But when Laurie talks of or watches Marty, the screen bursts with the joy and confidence of a woman in love. Westerner Laurie Jorgensen is the epitome of the confident, feminine and beautiful American woman.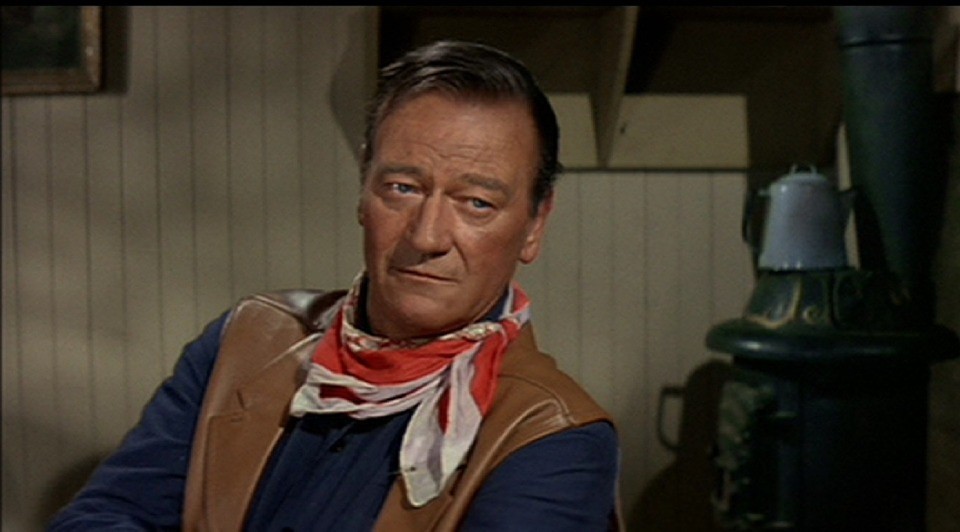 The dialog of western characters is uniquely American and unique in movies. John Wayne once advised actor Michael Caine to "Talk low, talk slow, and don't say too much." The male westerner, be he pioneer, lawman, soldier, gunfighter or cowboy, is often the strong laconic type. He doesn't give speeches; his actions and terse expressions reflect his common-sense attitude and strong American individualist essence. The dialog of westerners is arguably the most easily recognizable film talk in the world.
The Americanism of western dialog is especially evident in characters played by John Wayne. The Duke's distinctive cadence and phrasing is known to all movie fans, as is the confidence and moral surety of the characters he played. Consider these examples: Wayne playing Rooster Cogburn in True Grit, "Young fella, if you're lookin' for trouble I'll accommodate ya." As John Chisum in Chisum, "Well, I don't favor talkin' to vermin, but I'll talk to you just this once." As John T. Chance in Rio Bravo, "You want that gun, pick it up. I wish you would." As Thomas Dunson in Red River, "Get down off them horses. I don't favor lookin' up to the likes of you." And in The Searchers, "I don't believe in surrenders…I still got my sabre, Reverend. Didn't beat it into no ploughshare, neither!"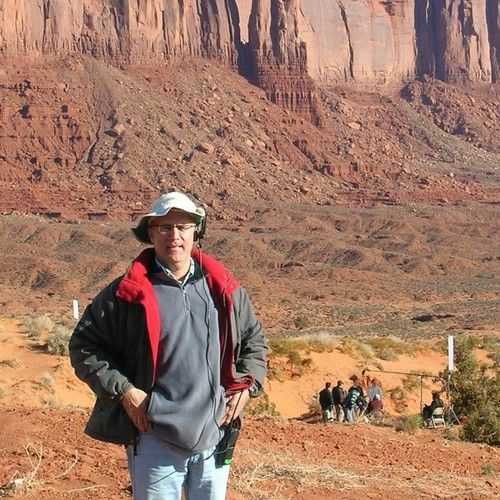 Scott McConnell has worked with story for more than 25 years, beginning as a story analyst in Los Angeles for such companies as the Sam Goldwyn Company, the Sundance Institute, Nu Image and the Roger and Julie Corman companies. Many years later he was showrunner (writer/producer/director) for the US nationally syndicated Live Life and Win. Scott is also the co-writer of the reality show Hollywood Bootcamp, as well as working on shows for Nat Geo, Animal Planet/Discovery, TruTV, Spike and Fox. He is fiction and factual experienced and a member of the Producers Guild of America.
If you would like to know more about his background and editing premises, please consult his many articles on screenwriting and filmmaking published in (among others) Creative Screenwriting, MovieMaker, The Guardian, FilmInk and Inside Film (in whose print publication he is currently featured each month in the column "Screenwriting 101.") Scott is a professional script consultant and can be contacted on Stage32, or scottm100 or linkedin.com/in/scottamcconnell
The following link is to his resume and samples of his writing/clips, which attests to his experience, professionalism and ideas re story. https://www.linkedin.com/in/scottamcconnell
---
Like this blog post? Please share it on social media (Facebook, Twitter, LinkedIn, email etc) by using social media buttons at the top of the blog. Or post to your personal blog and anywhere else you feel appropriate. Thank you.
As always, we welcome thoughts and remarks on ANY of the content above in the Comments section below...