1,000 Stage 32 members from 36 countries joined our Founder and CEO, RB, for the October 2014 edition of On Stage with RB. For almost 3 hours he went over site features, answered Stage 32 community member questions and brought on 2 special guests for exciting interviews – Mitchell Peck and David Rountree.
25 year producing veteran Mitchell Peck talked about the current state of the film industry as it relates to production and development.
Mitchell also explained how he raised funding for and crowdsourced his $15M film,
Crooked Arrows.
He also shared an amazing story of how he discovered an unknown writer whose logline had been sent to 3,000 indsutry executives and passed on by 2,999 of them. You won't believe what is now happening for this writer. As RB always says, "All it takes is one 'Yes'". This story is proof positive and should serve as an inspiration to all members.
Producer, Mitchell Peck
Director, producer and actor David Rountree discussed how he employed 22 Stage 32 members on his film 108 Stitches, which is currently in theaters and on video on demand.
David spoke to the need for directors to give unknown talent an opportunity. He also gave advice on how best to network to create opportunities for themselves. Additionally, David shared some amazing tips on how he and his cast and crew use Stage 32 to help further their projects and careers. Finally, David spoke to how he managed to get two films into theaters this year and how persistence and positivity are the keys to success.

Director, producer and actor, David Rountree
After the chats, RB opened the floor to the community for 90 minutes.
Just some of the questions he answered included:
What are karma points?
If you're an actor and don't have enough money for headshots, what would you recommend?
What is the best advice to take advantage of networking on Stage 32?
Will Stage 32 be at AFM? (Hint: Check the Stage 32 Meetup section soon!)
Is being from India an obstacle to being a screenwriter?
Will Stage 32 host filmmaking workshops?
Thoughts on mediation to inspire creativity?
What are the 2 most important things you should do when you move to California in pursuit of a screenwriting career?
What is the future of 3D film and other advancements in technology as it relates to film festivals?
What specifically do people do to find work through Stage 32?
Is less dialogue and more action the future of films & tv shows?
Is there a market for African American sci-fi?
What advice to you give a young female looking to get more work behind the camera?
And much, much more...
Remember, you can watch this and ALL On Stage With RB webinars as often as you'd like (earlier editions are available under Education on the top menu bar). It's FREE! All we ask is that you remember to pay it forward and spread the word! Please share on Facebook, Twitter, LinkedIn, Pinterest, etc.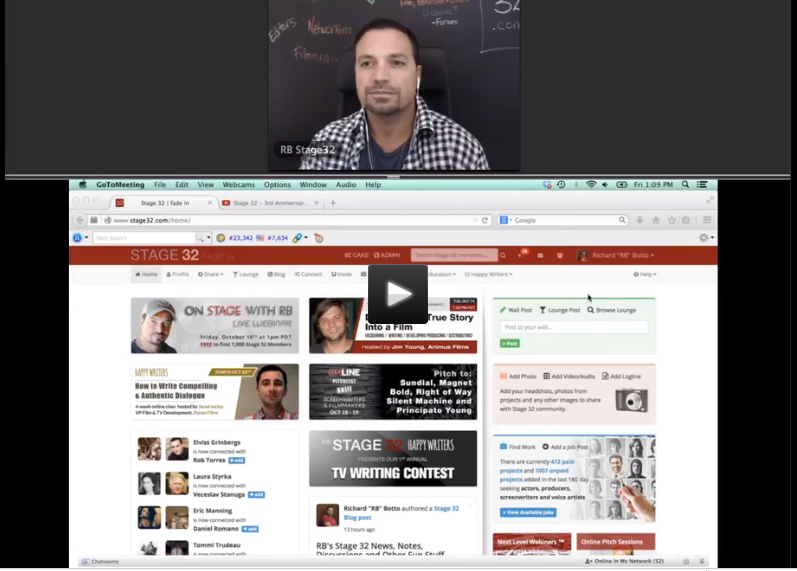 ---
Like this blog post? Please share it on social media (Facebook, Twitter, LinkedIn, email etc) by using our social media buttons at the top of the blog. Or post to your personal blog and anywhere else you feel appropriate. Thank you.
As always, we welcome your thoughts in the Comments section below...