CONGRATULATIONS!
HERE ARE THE WEEK 3 WINNERS!
Watch Webcast #3
THE PICKLE HUT by Mark Reynolds

"The wicked dethroned best pickle champion and her deviant granddaughters plot against the sweet young woman that took her title."
A PLACE IN THE SUN by Oscar Barboza

"When his ward doesn't return from Rumspringa, Levi Schmucker, a 22-year-old Pennsylvania Dutch Amish man, leaves his wife and settlement behind as he journeys to the Big Apple, in search of the young man he fell in love with."
FREE INSIDE! by Sarah Brockmann

"In 1969, while the American military watches the skies for signs of an impending alien invasion, the little green men arrive in an unexpected manner – as toy prizes in kids' cereal."
THE RUSSIAN ADOPTION by Alex Goldfarb
"When Russia bans adoptions by US citizens, an American woman smuggles a little girl from a Moscow orphanage to New York for life-saving surgery — only to stand trial for international kidnapping."
CONGRATULATIONS!
HERE ARE THE WEEK 2 WINNERS!
Watch Webcast #2
STAY AWAKE by Alana de Freitas

"A teenage girl begins having dreams of her own brutal death only to discover that these visions depict the murders of other missing girls. As the nightmares escalate, she tries desperately to avoid sleep, sending her into an erratic spiral that lands her at the center of the investigation."
THE PERFECT SOLUTION by Patricia Simpson

"A fledgling actress goes to Amsterdam to track down a mysterious artist-gone-viral that looks just like her sister…only her sister died two years ago."
ESTRANGED MISSION by Rutger Oosterhoff

"When a former Homeland security agent learns of a planned terrorist attack on the US president-elect, he must stop the suicide-bomber -- his estranged daughter."
CONGRATULATIONS!
HERE ARE THE WEEK 1 WINNERS!
Watch Webcast #1
VISCOUNTESS AND MAIDSERVANT by Tara Strand

"After escaping a vengeful mob, a surly noblewoman from the old country and her faithful companion struggle to regain the lifestyle they're accustomed to while broke and exiled in Los Angeles."
FORCED by Erin Dooley

"A retired doctor is stalked by a new resident at a retirement community. When her adult daughters are kidnapped, her own past comes to light."
VERTICAL by Eric Christopherson

"A window washer for a Manhattan skyscraper witnesses a strangulation murder through a window in the early morning hours and becomes trapped on his platform when the murderer determines to murder him too."
Announcing Stage 32's "THAT'S A MOVIE!" Logline Contest:

The Sequel
That's right! The Stage 32 "THAT'S A MOVIE!" Logline Contest is back and (cue movie trailer guy's voice) "THIS TIME, IT'S PERSONAL…" We're coming back with even bigger opportunities for our winning screenwriters!
You might have written the most original and revolutionary feature script or TV Pilot ever conceived. But if you don't have an effective logline, your script may never break out in this crowded market! Why?
Because every major player in Hollywood routinely hears hundreds of ideas and makes quick decisions based on loglines. This single sentence dictates the uniqueness of the project, shows the bones of your story's structure, and both your "vision" and "voice" as a writer. You need to boil down your entire narrative, your protagonist's journey, the obstacles, and the stakes all into a single sentence.
And if after hearing your logline, an industry professional says, "That's a movie!", it is perhaps the best compliment a writer can receive.
Would your logline hit the jackpot with industry pros? Let's find out!
In our never-ending mission to support the growth, education, and access of screenwriters all over the world, Stage 32 is thrilled to release our "THAT'S A MOVIE!" Logline Contest: The Sequel. Our September 2020 Logline Contest was such a success, we knew that there had to be a "Part Two".
Click here to Enter your Logline for FREE!
So, throughout the month of March, you're invited to submit your loglines for your original feature, TV pilot, or short film to our panel of industry judges comprising filmmakers, producers, managers, and executives. And it's absolutely FREE to enter!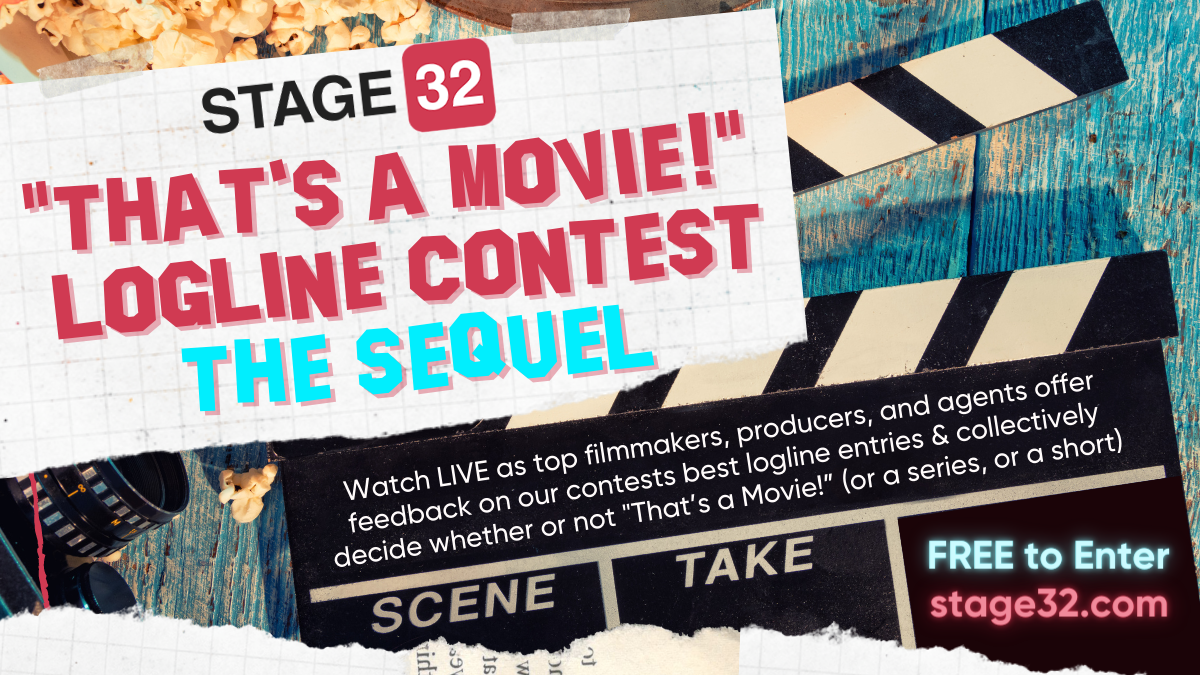 And just like last time, an esteemed panel of industry professionals will review each logline, offer their expert opinion and pitch their favorites LIVE every Friday throughout April & collectively decide whether or not "That's a Movie!" (or a series, or a short).
The writers of the winning loglines will receive exciting prizes including FREE PITCH SESSIONS, FREE 30-min & 60-min CONSULTATION CALLS, FREE PREMIUM & STUDIO COVERAGE and more from Stage 32!
Just how impactful was our first "That's a Movie" logline contest? It ended up getting a writer signed! Zach Tirone has his logline selected by prolific manager Andrew Wilson of Wonder Street Entertainment during our contest! That selection led to a consultation call between Zach and Andrew - and Andrew later signed Zach to representation!
"This happened because of Stage 32. Had I not been one of the winners of the Stage 32 logline contest, in which Andrew selected one of my scripts, he would not have been so clearly on my radar. This led to a consultation call with him about one of my true crime TV pilots, "The Westies". Andrew very graciously responded to my writing and after some discussion, he offered to sign me as a client. We are now working on putting together The Westies as a Wonder Street project!"
As you can see, there is nothing to lose and everything to gain! This contest is FREE to enter and you are able to make as many entries as you like! But remember, you only have until March 31st to submit your logline. Our first webcast in which we announce the winners is April 16th.
---
Let's hear your thoughts in the comments below!
Got an idea for a post? Or have you collaborated with Stage 32 members to create a project? We'd love to hear about it. Email Taylor at taylor@stage32.com and let's get your post published!

Please help support your fellow Stage 32ers by sharing this on social. Check out the social media buttons at the top to share on Instagram @stage32 , Twitter @stage32 , Facebook @stage32 , and LinkedIn @stage-32 .