I felt the warm California sun radiating through my window the moment my flight touched down at LAX. It was like a hug from the Patron Saint of California herself (Lana Del Rey). Of course, twenty seconds later, I immediately started sweating through my no-fewer-than-forty-seven layers because it's late October and I flew out of the meat locker that NYC turns into because WE JUST SKIP FALL OVER HERE? It was my second time in Los Angeles, and, thanks to Stage 32, I met with eleven Very Important People about my show, Mania.
Greg Mania Recaps his trip to Los Angeles
I'm not a fan of the phrase "fun fact," mostly because my idea of fun includes, and is mostly limited to: mall food courts, Law & Order: SVU marathons, and blackout curtains, so I will just preface this with the word "fact": my show was originally titled Maniac, and I was already knee-deep in submitting it to screenwriting contests and festivals before news broke of Emma Stone and Jonah Hill starring in an upcoming Netflix original series called Maniac. So Mania was born, and, a year later, winner of the Stage 32 4th Annual Comedy Writing Contest it became. When I found out I won, I was like, "oh, wow, someone is getting fired for that typo." But my name was still listed as the winner the next day, and the next, followed by congratulatory emails from the Stage 32 family. Pinch me!
It was the little pilot that could. It was then announced that Stage 32 would fly me out to LA in the fall to meet with industry professionals. I didn't know what to expect—I've never pitched a TV show before!—but I knew that I should probably present myself as someone who didn't just eat a bunch of leftover garlic knots over the sink for dinner. I tried on look after look after look, the contents of my closet bleeding out to almost every room in my apartment. I picked the best of the best, packed enough hairspray to warrant several sternly worded letters from myriad environmental non-profits, and made sure to not forget the three most essential items for my trip:
Printed copies of the Mania pilot script
Printed copies of the Mania show bible
Imodium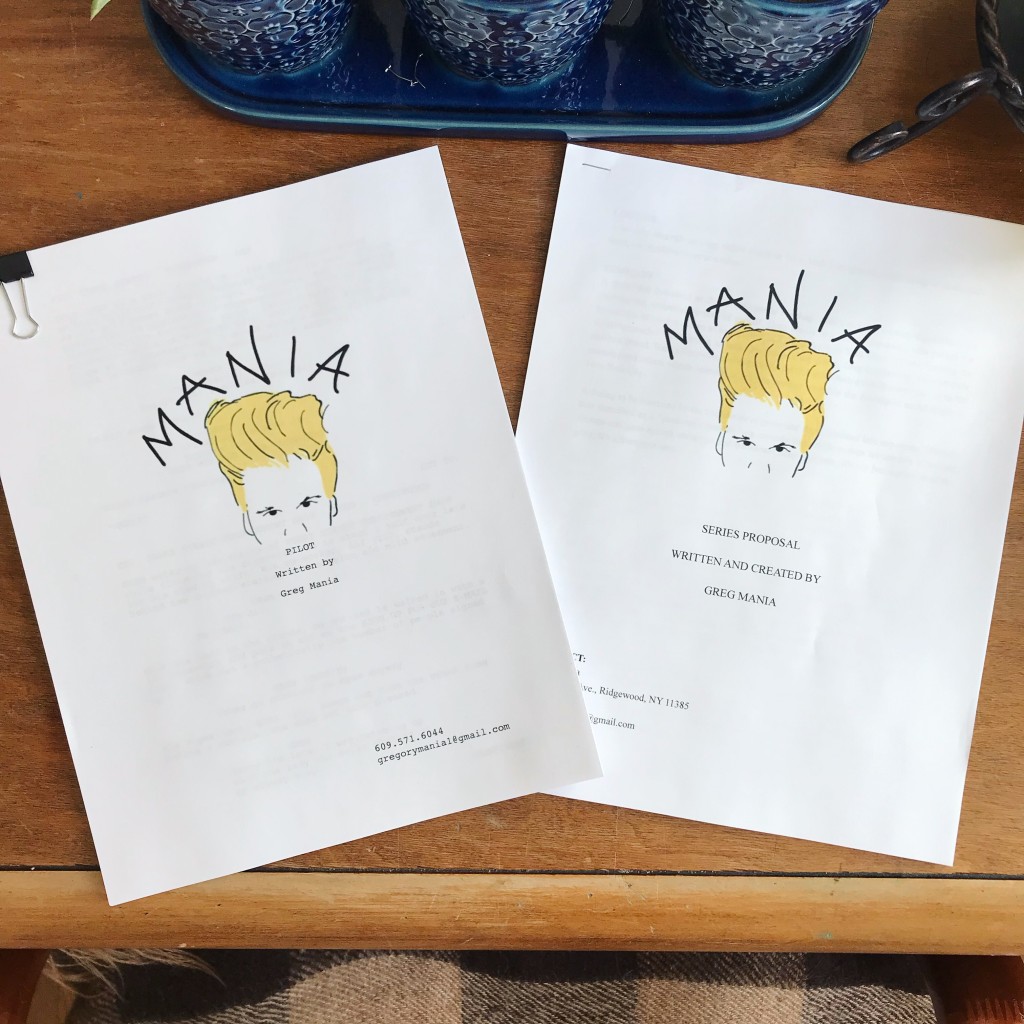 Mania by Greg Mania
Listen, if you're someone with a chronically weak stomach—like me—you can't be too safe. If I'm meeting Anna Henry, the development executive who helped bring shows like This Is Us and The Deuce to fruition, I know the intimidation is going to turn my stomach into a bubbling cauldron of nerves. In addition to Anna, I met with ten other people, seven of whom were lit managers, two other development executives, and Miguel Valenti, a wonderful producer, talent manager, and entertainment attorney. I went from zero to sixty in one week. My day-to-day life in Brooklyn includes face-to-face interaction with no more than, like, four people: my roommates, therapist, boyfriend, and my roommate's dog. Now I'm meeting with eleven people whose combined IMDb credits could circumnavigate the moon. Not only that, they actually wanted to meet me, get to know me, and talk about my future; as in, they weren't paid to sit there and laugh at my moronic jokes about how I'll never fit in in LA because my chakras are way too misaligned. Contrary to what my omnipresent anxiety lead me to believe, I ended up meeting down-to-earth and insightful people who made me feel anything but intimidated.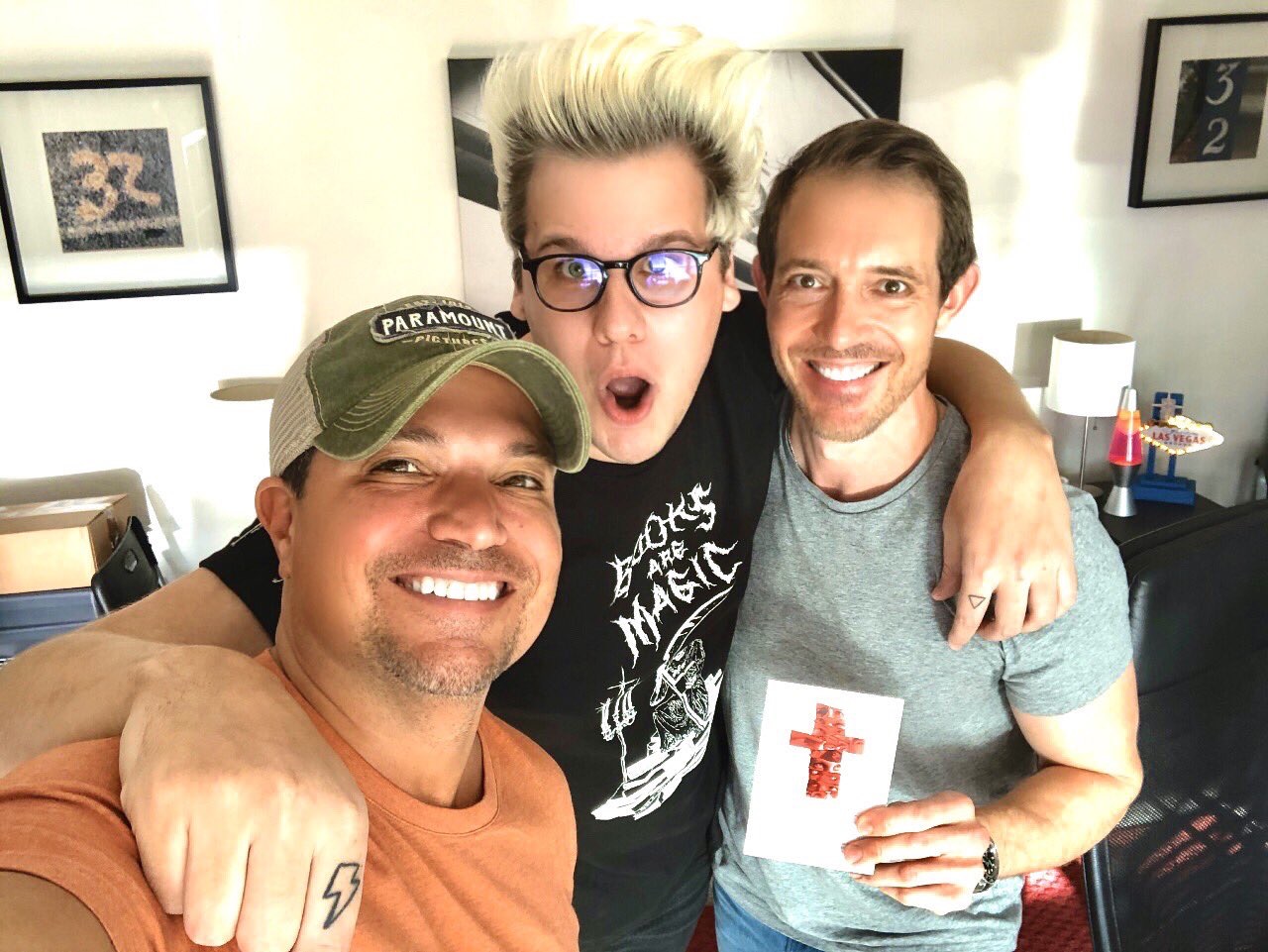 Stage 32 Founder & CEO Rich Botto, Greg Mania, Stage 32 Director of Script Services Jason Mirch
To be honest, I was more overwhelmed than anxious before my trip. I was coming into town with my script, my current projects, and I was faced with—what seemed like—umpteen different avenues I could follow, each path different than the next. My question was: how can I be positioned from where I am now (a twenty-eight-year-old writer still on a family plan) to where I want to go (The Emmys. Preferably as a nominee, but will happily attend as someone's date).
After meeting with people like Audrey Knox (The Cartel) and Molly Hurwitz and Joe Riley (Zero Gravity Management) and Spencer Robinson (Art/Work Entertainment), all of whom are known for championing comedic voices, each was able to map out a trajectory for me. Of course, everyone's approach was a little different, but the value of these insights were just the same. I went from overwhelmed to optimistic. Maybe I can do this thing as someone who writes dumb Panera Bread jokes for a living. I was able to achieve the clarity I sought, especially after meeting with Jonathan Taub and Laina Cohn (Cohn/Torgan Management), who taught me that there is no wrong path to follow, no problem that can't be solved with a little creativity.
It was a wonderfully productive week on the whole, and I was introduced to a slew of relationships I'm excited to watch grow. I even got an idea for another pilot while I was in town. I should probably get to work on it. I think some of the aforementioned folks might be interested in taking a look.
Bio: Greg Mania is a writer, comedian, and award-winning screenwriter. His words have been published in Vanity Fair, PAPER, Out, HuffPost, The Rumpus, Electric Literature, among other international online and print platforms. His first book, Born to Be Public, will be published by CLASH Books in spring 2020.
---
Let's hear your thoughts in the comments below!
Got an idea for a post? Or have you collaborated with Stage 32 members to create a project? We'd love to hear about it. Email Taylor at taylor@stage32.com and let's get your post published!

Please help support your fellow Stage 32ers by sharing this on social. Check out the social media buttons at the top to share on Instagram @stage32online , Twitter @stage32 , Facebook @stage32 , and LinkedIn @stage32 .