I know, I know. Hold back on hurling the rotten fruit until I've made my point.
Believe it or not, for as tumultuous as 2020 has been, this black cloud of a year is not without its silver linings. To start, we had over 550 connections made between screenwriters and filmmakers and the industry professionals who work with Stage 32 this year alone. (By comparison, last year, it was 327.) This year we have had more than - wait for it - 3,000 requests from industry professionals for scripts through Stage 32. That doesn't count the over 300 scripts that were requested as a result of the Stage 32 contest and "Double Recommend" lookbooks that were sent directly to executives throughout the year.
And those successes are just the tip of the iceberg. This year writers in our community have been optioned, signed to representation, hired to write by major studios, and even had their screenplay produced and released theatrically! While Stage 32 allowed for the facilitation of these successes, it is the talent of our members which allowed the connections to result in some of the greatest successes we have seen.
That is why I want to take this week and next week to look back at some of our biggest success stories of 2020. There are just too many highlights to share in one post, so this week we will focus on the early part of this year up through June. Next week, we will dive into Summer 2020 up through December. Now, let's take a stroll down memory lane and revisit our biggest successes from 2020!
In January, our first success story blog post of 2020 came out blazing! We told you the story of writer Laurie Ashborne whose script, 10-31, was optioned by legendary horror filmmaker and producer Eli Roth through his company The Art's District. Laurie developed the concept in a Stage 32 lab and pitched through the platform.
Laurie Ashborne's script 10-31 was acquired by Horror legend Eli Roth!
Laurie has multiple projects set up through Stage 32! She also has over 20 projects in various stages of development and many of her industry connections came through Stage 32, including her attorney and sales & distribution agent. She has been on many different sides of the industry and like all of us, works hard to push the rock uphill.
Laurie said, "I've been in this industry for many years, as I've said, and I come to Stage 32 to keep my projects moving forward."
In February, we brought you the story of Stage 32 member Emily Aspland who has been a member of Stage 32 since August 2019. Emily has had tremendous success as a writer. "I come from a very working-class background in the UK and my stories tend to focus on women who come from similarly impoverished circumstances. I write mostly period drama - but the dark and violent kind, not the Jane Austen kind."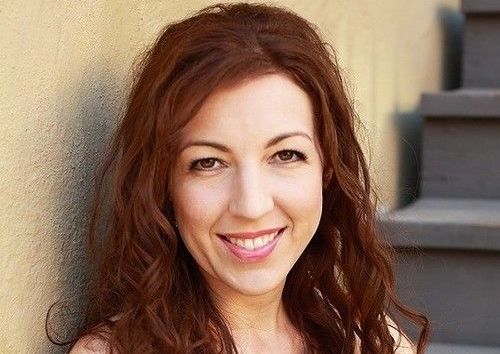 Emily Aspland connected with dozens of executives
Emily decided to start pitching her projects directly to producers, development executives, and literary representatives through Stage 32 Pitch Sessions. And the results have been astounding. "Stage 32 has been invaluable to me to bridge this void. Through doing 14 pitches, 13 [executives have] requested my script," Emily said, adding, "From those 13 I've had several meetings with managers and development people who've expressed interest in working with me."
In March, we were excited to announce that author and screenwriter Greg Mania officially signed with Cohn/Torgan Management for literary representation!
As you probably remember, Greg was the winner of our 4th Annual Comedy Writing Contest with his original pilot, "MANIA". As part of his winning the contest, in October of 2019, Stage 32 sent Greg on about a dozen meetings with literary managers, television producers, and development executives. It was during one of these meetings that Greg met with Literary Manager Jon Taub who works with Literary Manager & Partner Laina Cohn of Cohn/Torgan Management.
Since being signed, Laina and Jon have attached producers Dorothy Canton and Mark Canton to help produce Greg's book, Born to be Public! Awesome momentum and more proof that development was roaring even as the industry was being hit with the lockdowns.
Screenwriter and Author Greg Mania signed with Cohn/Torgan Management!
In April, I was excited to announce to the Stage 32 community that StudioCanal hired Stage 32 New Blood Contest Winner Christina Pamies to adapt their Horror Thriller, BAGHEAD! In 2019, Stage 32 set Christina up on over a dozen meetings with literary managers, producers, and studio executives as a result of her winning the competition. One of those literary managers was Jake Wager. From there, Jake worked to get Christina a literary agent at Verve Talent, and in April it was announced in the Hollywood Reporter that Christina has been hired by StudioCanal to adapt the feature length adaptation of the horror short, BAGHEAD!
As a result of winning the contest, Christina landed her literary manager through Stage 32, and in less than a year she was hired for a writing gig adapting a massive property with a major studio! And according to the Hollywood Reporter, she is a "rising genre writer" who will no doubt have an amazing career ahead of her.
Screenwriting Christina Pamies was hired by StudioCanal to adapt BAGHEAD!
In May, we announced that Jonathan Jordan, the winner of Stage 32 3rd Annual Feature Screenwriting Contest also signed with Verve and landed his first paid screenwriting gig! Within seven months of being signed, Verve helped him score his first paid screenplay — and he got paid more than the standard minimum, which is rare for a first-time writer.
Jonathan says, "The fact that there are resources like Stage 32 that can help you bring your work in front of real industry insiders, get real pitch meetings, get real agents and managers in your corner is practically miraculous."
Jonathan Jordan signed with Verve and landed his first paid writing gig!
And in June, Stage 32 member Seoras Wallace in Scotland signed with Alexia Melocchi, who is now acting as his worldwide manager and representative, with Alexia's company, Little Studio Films prepping the background work to produce and bring Wallace, the Legend of Braveheart to screens as an epic television series.
Seoras Wallace and Mel Gibson on the set of Braveheart
Seoras is the acting Chief of the Clan Wallace Scotland. Yes, that "Wallace"...as in William Wallace. As in Braveheart. Alexia first reached out to me via email to let me know, saying, "I would have never found him had it not been for Stage 32."
See! Despite all of the adversity in the world in 2020, Stage 32 writers had an awesome first half of the year! We saw writers getting signed, writers getting optioned, writers getting paid writing jobs! And there were even bigger successes from the Summer, Fall and Winter of 2020! Come back next week and we will check out the best stories from the back half of the year!
---
Let's hear your thoughts in the comments below!
Got an idea for a post? Or have you collaborated with Stage 32 members to create a project? We'd love to hear about it. Email Taylor at taylor@stage32.com and let's get your post published!

Please help support your fellow Stage 32ers by sharing this on social. Check out the social media buttons at the top to share on Instagram @stage32online , Twitter @stage32 , Facebook @stage32 , and LinkedIn @stage-32 .