In 2014 I screened my first short film The Window in front of an audience at the London Independent Film Festival where it played to a full house. We won the audience award for 'Best Short Film' and I had my first taste of success as a filmmaker. Standing there with my trophy in hand, I stared blindly at a room full of blurred shapes and flashing lights who I knew to be my friends and fellow artists. I can't see the faces watching me, but I can feel their smiles. Do I feel disabled or cursed in this moment? I am blessed and empowered that I am being celebrated for creating something of merit in a visual medium with only partial sight. I give a short speech thanking my cast and crew before re-joining my team with the prize.
Flashbacks to being diagnosed five years earlier with LHON (Leber's Hereditary Optic Neuropathy, a rare mitochondrial disease that caused the deterioration of my central vision. Now, it's 2020 and I reflect on the last 11 years as a defining period of my life that reshaped me spiritually. Sometimes our faith is shaken, but I find that the universe always gives after it has taken. In 2009 I lost the majority of my eyesight, but my imagination and ambition have continued to grow ever since. Many people told me I would find it difficult to get work as an actor because of my condition, let alone direct films! No way was I going to let anything or anyone discourage me from doing what I love most. Now, I am more positive than ever that I can exceed the expectations of others after directing my first feature-length film Lucid (2019). All you can do is back yourself when the odds are against you and I was sure that betting big on your aspirations is the only way to manifest them into achievements.
Adam Directing "Lucid"
DIAGNOSIS AND DENIAL
The first signs of sight loss started shortly after my nineteenth birthday in Dubai 2009. I was working as a production assistant for my cousin Ali Mostafa on his debut feature film City of Life, unlike the other runners on the crew, it was an all-access pass for me to shadow the director and I also got to be in front of the camera briefly in a couple of scenes. My ambition at that time was to learn as much as I could about the technical side of filmmaking, but my main passion was performing. I was looking forward to building my career as an actor first and foremost.
One night after we wrapped shooting for the day, I noticed I was seeing a tiny blurred dot in the middle of my vision. Later, these dots would multiply and begin flashing into a neon haze of fireworks that were exploding before my eyes; right this second as I type these words. I flew home to London and was tested for months before being diagnosed with one of the rarest eye conditions on the planet.
Social workers told me that I would need a guide dog and cane in order to help me with day-to-day mobility. I refused both and decided I was not going to let myself be defined as disabled and instead surprise the world with what I was still capable of. In fact, I felt inspired and more motivated than ever to go against what was expected of me. Of course I struggled mentally and had to readjust to operating with one of my senses being severely impaired, but I was constantly reprogramming myself to be positive about the future. As my eyesight was deteriorating, my ambition was only growing.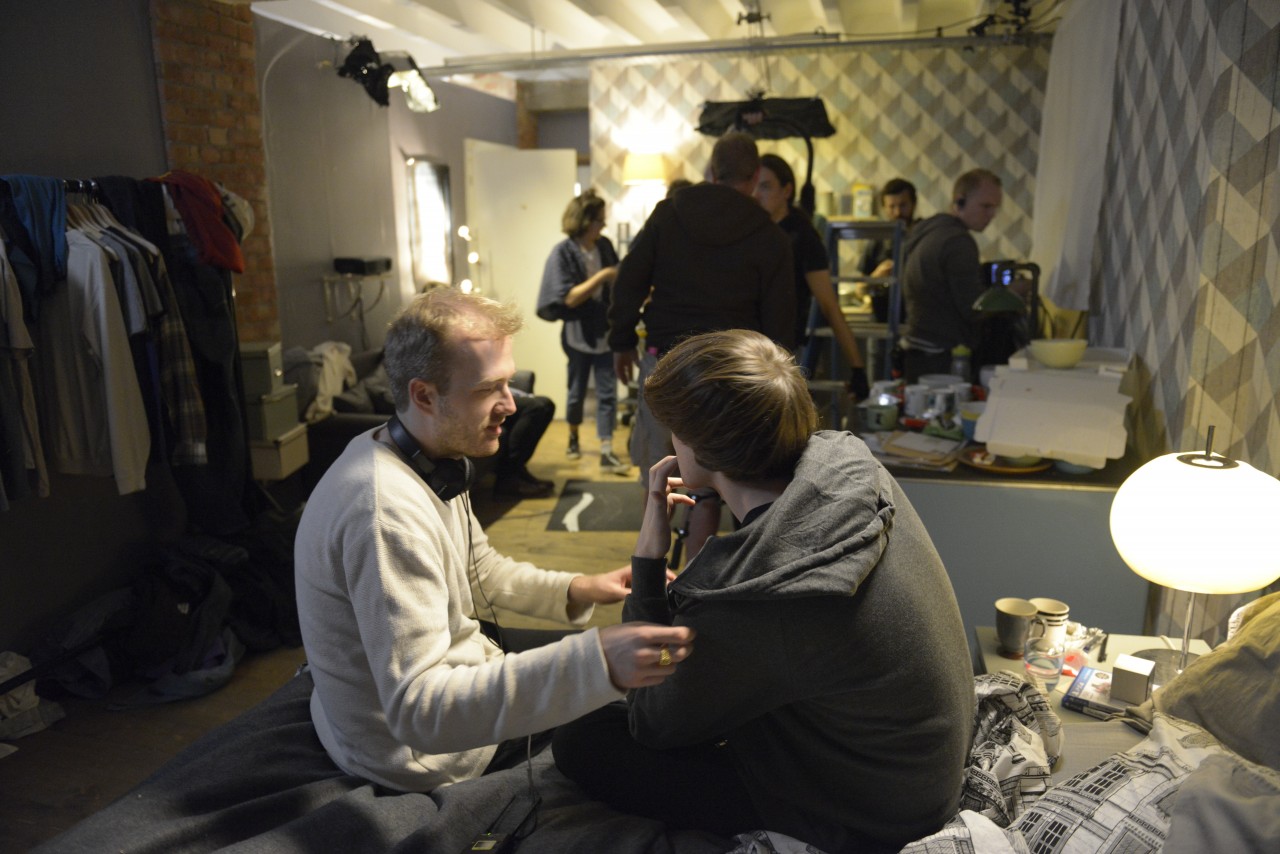 Adam and actor Laurie Calvert Behind the Scenes of "Lucid"
LIVING AND RE-ADJUSTING
In the summer of 2010, I agreed to go on a road trip with three of my best friends. We were to travel by car across Central and Eastern Europe, driving from London to Sarajevo and back again. I had been legally blind for one year and was ready for an adventure, as I knew it would inspire new creative ideas. I could and probably will write a script about that trip, because we met many memorable characters and found ourselves in some extremely strange situations.
Coming home from these experiences, I was excited to write about the different people and cultures I had encountered. I had spent two months on the road partying every night in different cities and was starting to feel confident again. Why can't I still be an actor? My process would be different, but I could still embody a character and fake an eye-line. Maybe I couldn't see my marks on set anymore but I could memorize them and hit them on cue the same way I could know my lines. And so I started writing screenplays.
I learned how to use online workshops and tutorials. My goal was to make my own work by writing films and acting in them. My education in filmmaking had begun. The school of life was teaching me every day about relationships, my psychology, and myself in general. Actors, writers, and directors have to be keen observers of human nature. I did more traveling on trips across Central and Northern America, which further expanded my creative sensibilities and inspired new character/story ideas.
Adam and actor Sophie Kennedy Clark Behind the Scenes of "Lucid"
PLAYING THE GAME
Pitching my first feature script in meetings to companies and potential investors always felt comfortable to me because I genuinely believed in what I was selling. However it was never easy because I was very guarded about my condition and knew that if the industry found out I was registered blind then it would be harder to find finance. "Hey, Can I please have a million dollars to make a movie? Oh by the way, I'm legally blind!" It sounded ridiculous. Plus, I wasn't looking for sympathy.
After years of rejection and relentless pitching, I finally found a financier who was committed to backing my project. The process of trying to raise the funds on my own had been very lonely but I, at last, had a partner who was willing to come on the journey with me. In addition to my producer, my cinematographer and lead actor knew about my condition but I was cautious about word spreading to the crew or investors.
When we got to shooting on set, there were definite tells which people picked up on. For example, my director's monitor was about 60" inches and Billy Zane's first words when he walked into video village was "What's with the fucking IMAX?" Keep in mind that my face was only about an inch away from the screen. I could use my partial peripheral sight to frame shots and direct the camera as well as the talent themselves. I remember overhearing my make up designer one day say "Aww, look how close he gets to the screen. He really cares!" Everyone had their own interpretation of my unusual methods, some thought I had immaculate attention to detail, others thought it was just some quirky new wave style of directing by getting right up in the screen. One thing everyone was in agreement on was that I was totally in my element, zero nerves, and assured in my decisions. I could see everything crystal clear in my mind's eye and loved every minute.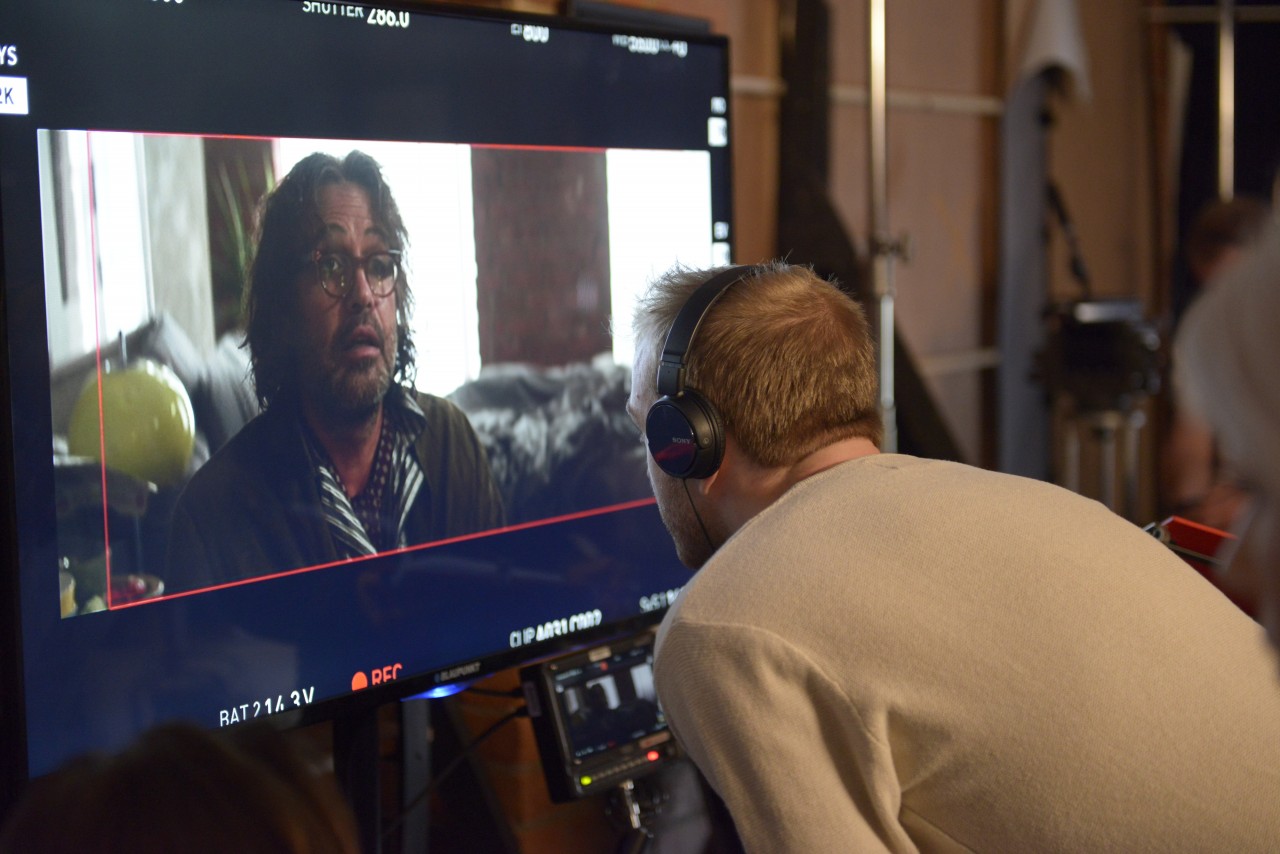 Adam's 60 Inch Monitor, Featuring Billy Zane as Elliot in "Lucid"
OWNING IT
After 20 days of filming and several months in post-production, I completed work on Lucid and began submitting the final picture to film festivals worldwide. My debut feature film as a writer/director was done and I had proven that I could deliver under pressure. It was time to let people know the truth and come clean with everyone.
A week before the premiere at Edinburgh International Film Festival, I spoke to Variety magazine and did an exclusive interview to open up about being a differently-abled filmmaker. The resounding reaction from my colleagues and associates was pure bewilderment. Some actually felt offended, "Why didn't you tell me? I thought we were friends!" It was my choice to be private about my condition for that time and if you didn't notice then what does it matter? "Oh that's why you are always wearing sunglasses inside? I just thought you were a douchebag!"
Getting my truth off my chest was extremely liberating and the panic attacks started going away. Nothing to hide. Accept me or don't, judge me if you wish, but at least now I have a track record to make me credible. Hopefully the stigma that surrounds disability will soon be a thing of the past. I feel motivated to make my mark as an artist and lead by example to blaze a trail for differently-abled filmmakers and actors. I delivered a movie on schedule without my "disability" preventing me from pulling off a quality job.
My process may be different from other directors, but the result is just as strong. I enjoy being candid about my experiences now because I feel they motivate other aspiring filmmakers to shed their fears and be optimistic. Coaching and mentoring has become a part of what I do because I feel it's my responsibility to champion self-acceptance and self-confidence. I'm driven by energy and want to charge up everyone I encounter with good vibrations. Love and light is the key to success...I can testify to this!
LESSONS
It is all about who you know, not what you know. True as this may be, contacts don't mean a lot if you don't know how to use them. Building an impressive network is great but it's no good unless you work it to connect the dots. I never had a problem with asking people for favors or introductions to other useful people because my mother taught me "If you don't ask, then you don't get".
Timing is important too, so of course it's about picking the right moments but sitting back and being shy will have you stagnating. Pride will get you nowhere. Being bold and cheeky might not sit well with everyone you deal with, but the direct approach is always the best tactic in my opinion. I came into the industry without knowing anybody and made an effort to be social and get out of the house to meet new people every week.
When it comes to sending your own material out, I've learned not to be precious because everyone is always going to be trying to make another version of your film. Being open to script notes has made me a stronger artist. When it comes to directing, you always need luck on your side, but luck is simply preparation meeting opportunity. If an opportunity opens for you and you're not prepared then you will be unlucky.
Preparation is key to filmmaking, I believe movies are made in pre-production, not on set, not in the edit, but in the office when are all your heads of department are putting their efforts together to plan and prepare. The most invaluable point I can preach from own experiences is how filmmaking is a team sport and that projects live and die based on human relationships at their foundations. Treating your team with respect and making them feel valued. Set the tone by being humble and hardworking, people will appreciate you and go further for you. Finally, know your own worth and don't let anyone lower your self-esteem. Be reflective and constructive with criticism but don't let it dishearten you. Like that song by Journey, "Don't stop believing". Dare to dream big and bring your dream into reality.
About Adam Morse
Adam Morse is an award-winning filmmaker and actor from London, England. Morse first emerged with critically acclaimed short film debut The Window (2014), which won multiple audience/jury awards internationally. Honors include an Audience Award for 'Best Short Film' at the London Independent Film Festival; and an Official Selection at Cannes Film Festival's Marche du Film. Adam recently wrote, directed and produced his first feature film Lucid (2019) starring Billy Zane, it had a sold-out world premiere at the 72nd Edinburgh International Film Festival where it was nominated for the prestigious 'Michael Powel Award'. Keep up with Adam on Instagram @themorseforce, Twitter @adamdavidmorse, and IMDb.
You can watch Lucid on iTunes and Google Play.
---
Let's hear your thoughts in the comments below!
Got an idea for a post? Or have you collaborated with Stage 32 members to create a project? We'd love to hear about it. Email Taylor at taylor@stage32.com and let's get your post published!

Please help support your fellow Stage 32ers by sharing this on social. Check out the social media buttons at the top to share on Instagram @stage32online , Twitter @stage32 , Facebook @stage32 , and LinkedIn @stage-32 .