When I was 10 years old, I stayed home sick from school (totally faked it) and watched 'Army of Darkness' on the USA Network. Little Nick's mind was blown. Since then, I've wanted to make movies. Specifically, wacky sci-fi/horror comedies.
If you know me, you know I'm a writer, and I spend a good amount of my time focusing on my writing. I have scripts out to production companies for the first time in my life, and the waiting can start to feel like a very long time. So I started out 2019 with a simple idea. Make a movie. Experience it, no matter what it takes to just finally feel like I've achieved the singular goal I've had since that fateful day as a 10 year old.
So I thought, "How the Hell would I go about this? Maybe take a week off work? Do it in Big Bear?" And I made a post on Facebook.



Those 65 comments were all from people I know from the community volunteering their help and support. Most were actors, some were crew, others were just friends offering to send food for the cast once it began. From that simple post, I was inspired, and I started turning a script I had began into something much cheaper to shoot, sent every actor who volunteered a scene to audition with, and began casting before I was even done with the first draft as I was immediately on a time limit now.

I was BLOWN AWAY that people not only wanted to be involved in this project, but that they were willing to do it just for the fun as well, and I couldn't wait to get started. I picked the vacation time, and I immediately booked a house.



Casting was tough.

There were so many people interested, and it was really overwhelming and flattering to receive so many self-tapes. I ultimately ended up with an awesome group of actors. Sarah Claspell who I knew from UCB, who was recently featured on Brooklyn Nine-Nine (we all had the pleasure of watching her episode with her while on set as it was new that week.) Kevin Shen, who had just wrapped a movie in Bulgaria and who you may have met at one of our past Stage 32 meet ups, but I knew from a table read I did a couple years back. Justin Baker, someone I met at a party in my apartment as he's friends with my roommate (and now me). And Siena D'Addario, who I first met 10 years ago when we were in a Shakespeare company's production of A Midsummer Night's Dream together.



I was so excited about my awesome cast that I finished the first draft of the script in just a few weeks. We then did some Google Hangout table reads. I rewrote it a couple more times. Ended up at 70 pages (kind of a two act with the second half being entirely one long scene). My inspirations were movies like 'Paranormal Activity', 'Funny Games', 'Creep', and weirdly enough a lot of 'E.T.' (which is one of my favorites of all time anyway).

In fact, the only reason I made this a ghost horror comedy was because I couldn't afford to do what I really wanted to do: a movie where an adorable couple are on vacation together being terrorized by a tiny alien. The tiny alien was subbed out with a ghost, and fun was to be had regardless, but mark my words... some day I'll make that movie, too.
We were ready to go, at least in terms of script and cast. Next was crew!



THERE WAS NONE. :O
I started researching equipment I'd need. I ordered low budget versions of everything. I made a shot list. I watched a million videos on YouTube for inspiration and to steal from. I set a shooting schedule. I was doing this myself and needed to be prepared. I shot everything using either a tripod or a shoulder rig (which there are unfortunately no photos of, because it was pretty cool) on just a simple canon DSLR.



Before heading out I also set a meeting with a friend/mentor of mine, Rob Hampton, who I'd met when he directed me in a commercial about five years ago. Rob knows more about filmmaking than anyone I've ever met, as he'd been making Super 8 films since he was a kid, some of which have since resurfaced that he made an excellent documentary about called 'Super 8 Daze' (click to watch for free!) which you should go watch immediately. It's very funny and informative. I'd only directed theater, and several sketches/shorts in the past.

I was eager to direct a feature, just not the most qualified (possibly the least qualified honestly) to also be the cinematographer, the sound, and the lighting. I wanted to make sure I was ready. I had some ideas for how to cut corners, and Rob helped me turn those ideas into functional problem solving solution.

Ultimately, what I ended up doing was hiding the sound recorder in every shot (often times the actors held them during OTS shots), wiggling lights around until they were right, and imitating shots from my favorite films that I knew I could pull off. He also helped me figure out how to prep some of the ghost scene footage for post, as I also can't edit or do FX, but I wanted to make sure I had everything an editor and after-FX artist would need.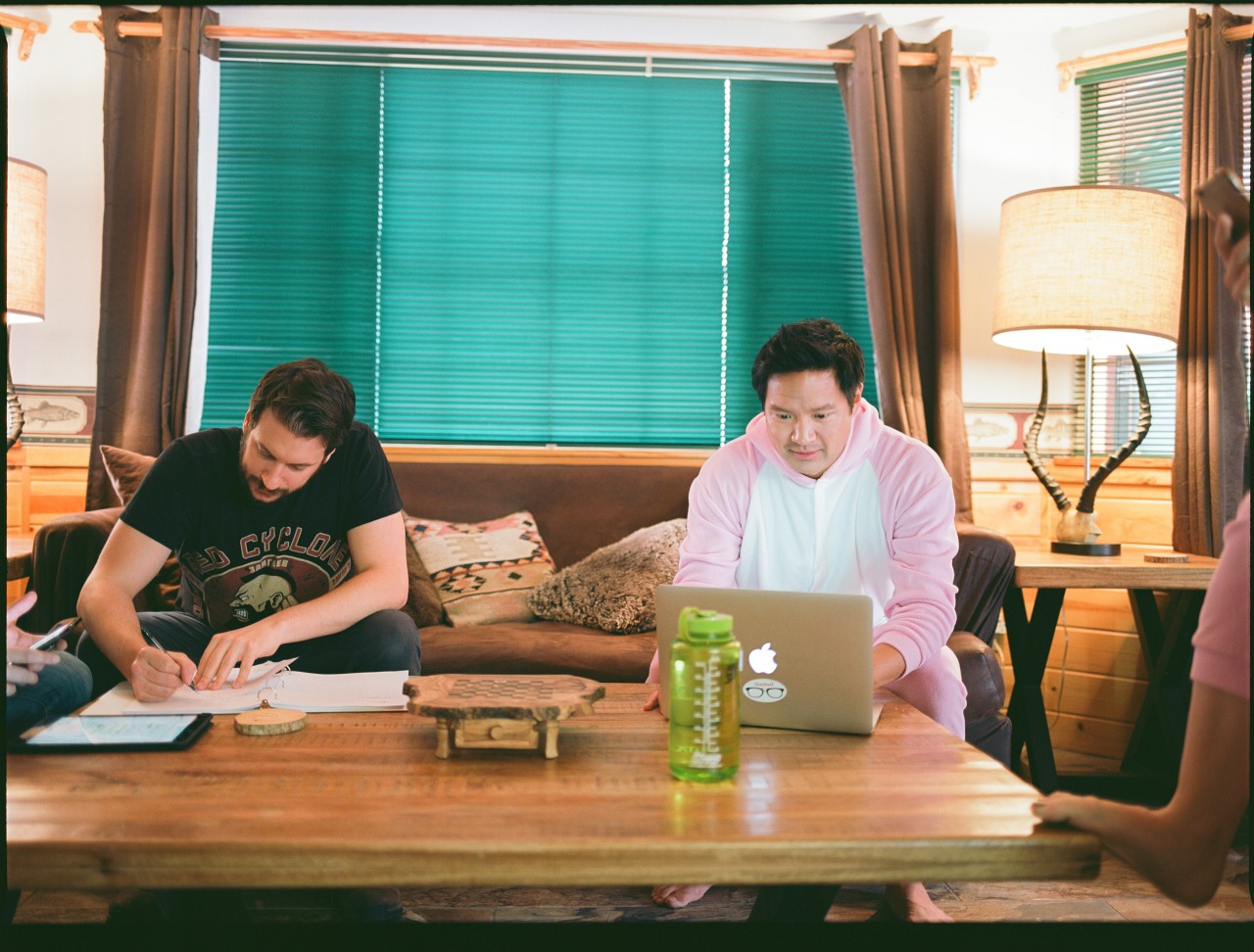 The only thing I couldn't do was make-up. That's an art I'm just not equipped for despite studying under the awesome Joe Rossi in college. I was out of practice. So a friend from the comedy community stepped up, as she had recently put all of her focus into getting steady make-up gigs because she's great at it and loves it. Kristen Gull.
I've always believed that to make something great, you need to surround yourself with people you're impressed by and in awe of. That's exactly what I did, and man I wish I could say it was the same for them, but to be honest, it probably was not :) I went in this as a rookie, but I came out of it feeling accomplished.
When we got to set, the first few days were just me, Sarah, Kevin, and Kristen. Kevin and Sarah play my lead couple, and god do they play them adorably. We shot the first half of the film before the other characters were needed. While some stuff was out of order so we didn't have to keep changing setups in rooms, a lot of the film was still shot sequentially. I wrote around the time constraints and the location, so that made things a lot easier.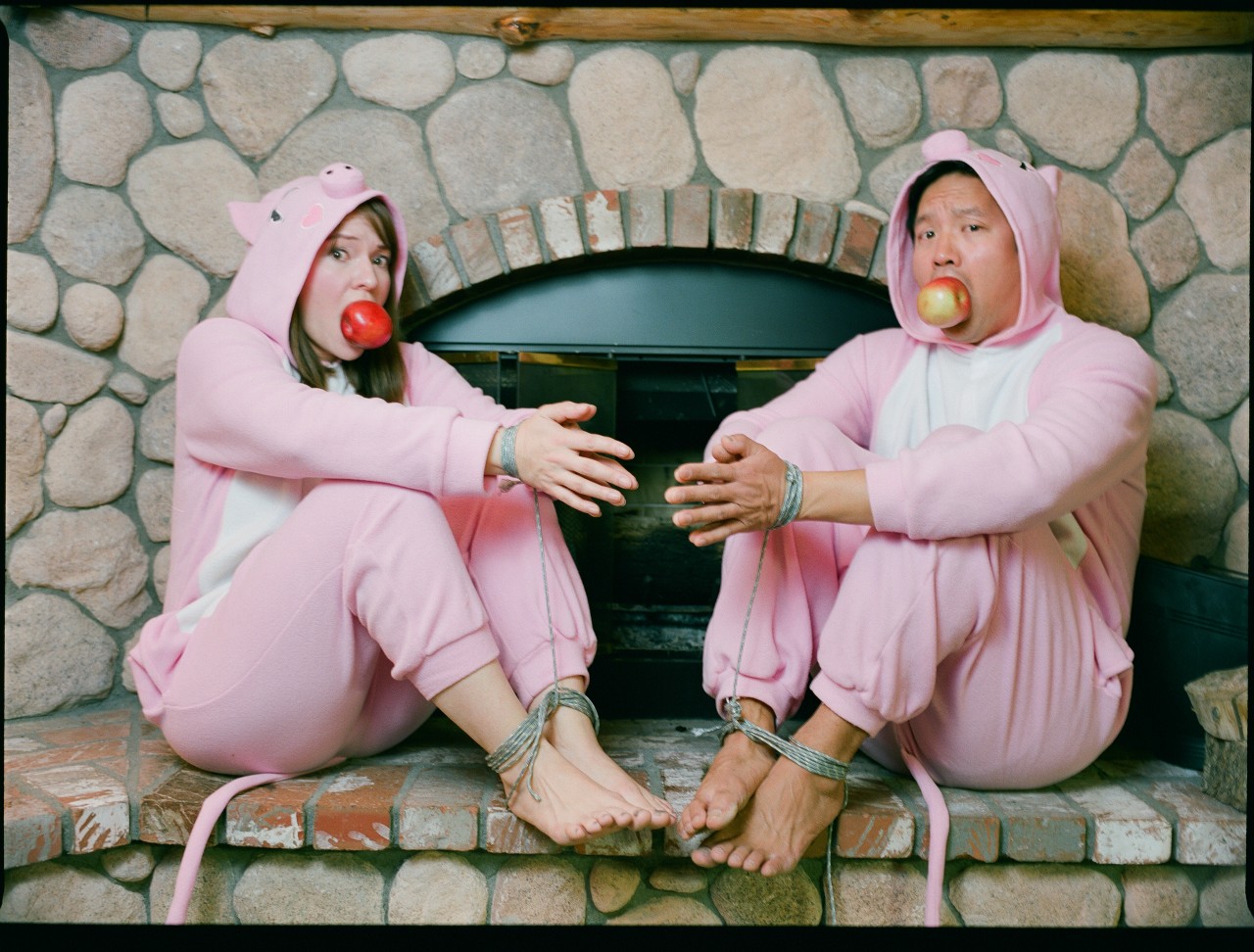 We shot almost 20 pages on day one, which was the hardest day of shooting because I was so damn excited to get to set that I hadn't slept the past two nights. When the day was done, I passed out feeling a total lack of confidence, terrified that I had ruined everything, and that my actors had no faith in me. It was just the tired brain talking, because then day two came around and holy crap was it great! I had slept all night finally, and I was feeling good. Sarah and Kevin hadn't lost faith, but seemed to be just as excited as I was.

By the end of day two we had almost filmed the entire first half and I had spent the entire day laughing and giddy about what we'd accomplished.
It was time for a night off. I made spicy sauce and meatballs because I'm Italian but also love a good kick (also ate some Ghost Pepper jerky while there A+). We played board games. Siena got to set alongside her boyfriend Cooper Gordon, the very talented photographer whose pictures you're seeing in this post. The next day was just as fun as day two. We were on a roll. That's when Justin showed up and things got complicated. Justin, spoiler alert, plays the ghost.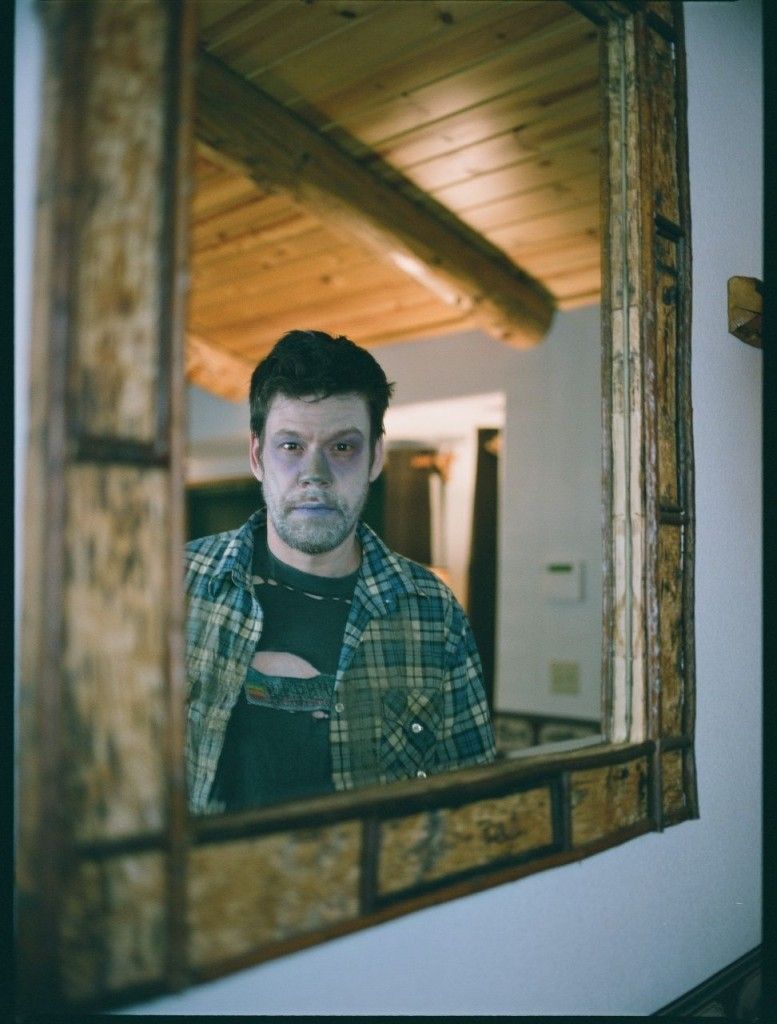 I now had all four characters who take up the majority of the second half of the movie, and all the heavy lifting and tricky shots needed to be done over the next couple of days. Everything involving the ghost needed to be shot multiple times, with a lot of actors freezing in shots, so that I could achieve what I hope to achieve in post, a cool ghost effect like the one Cooper captured in the main black and white photo above.

I won't lie, I was not prepared to handle four actors in a scene at once while handling lighting, sound, and camera. The location was vastly different than what the pictures showed, so I had to continuously reblock scenes in my head and rewrite the shot list each morning and night.

This stressed me out a lot, but thanks to everyone's commitment and awesome help, we didn't miss a single shot. Sure, some had to be changed or adjusted, but some new things were also added. I can only imagine what we could have accomplished with a budget and a crew, because what we did with no money at all I'm extremely proud of, and I can't wait to see the final cut of the film.
Overall, I spent about $4000 on equipment, the location, and food, with about half of that just on the food. Oh my God do actors eat a lot. To quote Kevin while he was on his seventh meal of the day, "You know what my mom says when I'm finally full? Oh thank God." 100% worth it, though. It's the most fun I've had in a long time, and I'm so glad to have experienced what I've always dreamed of doing. I'm not worried if the final product doesn't come out like I planned, but I'm eager to see it nonetheless. (I just need to raise money for editing, FX, and sound mixing/foley now *gulp*.)



So, moral of the story?
Just do it.
Get out there.
Make it happen.

"Whatever it takes." - Captain America
Nick Assunto was previously a first and second round reader for the Austin Film Festival for three years, and a writer for the 2017 CBS Diversity Sketch Comedy Showcase. He holds a B.A. in Theater from Salve Regina University with a focus in playwriting. Nick also studied improv and sketch comedy at UCB in both New York and Los Angeles from 2007-2016 where he also co-hosted the Sunday show B.Y.O.T. for a time at UCB Sunset's Inner Sanctum. Though writing is his passion, Nick has also dabbled in acting, having been featured on Late Night with Jimmy Fallon, an eHarmony commercial directed by Limp Bizkit's Fred Durst (for real), and is infamously known as Tony, the annoying party member from the 'Four Friends' Elder Scrolls spots.
Nick currently is in between management with his scripts out to several production companies, all of which he found through his contacts at Stage 32.
---
Let's hear your thoughts in the comments below!
Got an idea for a post? Or have you collaborated with Stage 32 members to create a project? We'd love to hear about it. Email Joleene at joleene@stage32.com and let's get your post published!

Please help support your fellow Stage 32ers by sharing this on social. Check out the social media buttons at the top to share on Instagram @stage32online , Twitter @stage32 , Facebook @stage32 , and LinkedIn @stage32 .