Connie Brean (Robert De Niro): Stanley, don't do this. You're playing with your life here.
Stanley Motss (Dustin Hoffman): F*** my life. I want the credit. (David Mamet's Wag the Dog)
A Game Worth Getting Into
Let's face it. Given a choice, most Creatives want to make their own art rather than spend valuable hours helping others perfect theirs. I'm always on some level aware that every minute I spend doing the things I talk about in this article I am not spending on my own stuff.
But I also believe that, same as a teacher being an ever-wiser student, I learn more about the Craft and become better at my work while doing work for hire.
And I'm getting paid.
A quick definition. Work for hire is being paid to apply your skills as a story analyst, script doctor, writer, or editor to help someone who is creating a work to up their game. As you'll see, this can take the form of mentorship and advice and go all the way to ghostwriting (writing a considerable portion of the work) without receiving formal credit.
If this last bit bothers you, you may want to stop reading. Like Stanley in Wag the Dog, this kind of work probably isn't a good fit.
But, if you see the sense in getting paid well to help a writer, producer, or entertainment developer make their work better, all while improving your own skill sets, read on.
1. Work for Hire 101
This article is based on my 25 years of work for hire as a dramaturgist, story analyst, ghostwriter, editor, script doctor, and writing mentor. I've been hired to help with novels, memoirs, plays, audio dramas, screenplays, and narrative and interactive puzzle designs. I specialize in true stories, although I work in many genres. My clientele are international and their products have had notable success.
In most cases, you'll have to take a work for hire professional's word for it on the specifics, because, as I've said, we do not get the credit.
But we know what we've done, and that can be enough.
The way into the world of work for hire is building a reputation in the skill sets of writing, editing, story structure, character development, and the ability to work with a team (which means strong abilities in communication and collaboration).
Work for hire is the culmination of foundational practices in writing, directing, acting, and authenticity.
2. Getting Your Brand Out There
When your skills as a writer, editor, and story analyst are developed enough that you can positively affect someone else's work, it's time to advertise as a work for hire creative. It helps to have numerous credits and some success in the areas in which you want to work, but some, like Escape Rooms, are great for branching out. As far as the fundamentals of promoting your brand, read my articles on Showing Up and Vision and Voice. If you apply these fundamentals, your brand will clearly emerge.
As with all businesses, persistence and patience pay. Advertise through social media, making the most of your opportunities because nothing succeeds like word of mouth. Develop a contract that lays out expectations and when the time comes when you're working at a high enough level where the projects and dollars warrant it, find an agent.
3. Initial Meetings
Appropriately, I just finished a Skype meeting with a new client. Although I'm working from home, I dress up for meetings and post a picture on social media advertising my services in conjunction with a mention of the meeting. This is part of your branding, but it's also good practice for all your video meetings.
And I highly recommend video meetings, especially early on. Let them see your work space, see your eyes and gestures, and sense your energy.
During initial meetings I have several goals: first, I want to create excitement about their project by pitching it to them. Sounds counterintuitive, but it works! It shows you've read and understood at its core what they're creating, even if it's just a one-page synopsis or outline. Finding the right editor, story analyst, ghostwriter, etc. is a big relief for a potential client. Many first went to friends, who didn't have the time or expertise to help. Others come to me after being disappointed in the outcome after spending money on someone not up to the job. Part and parcel of pitching their story is being a cheerleader from the onset. Share your marketing expertise in talking about the worth of the project, potential audience, and showing them what they've already accomplished.
Give them a sense of your past projects and how the wisdom earned can be of benefit.
Once they are excited—and even the most reserved always are—I then show them how my skill sets can help in several concrete ways.
This involves doing a formal assessment.
4. The Formal Project Assessment
This is your proof of concept. It should be billable hours. This step is crucial to not only getting the contract, but ensuring a good working relationship throughout the process.
I typically write an overview of the project in five to six sentences; a detailed analysis of the scenes, chapters, etc.; and bullet list recommended steps.
If appropriate, I recommend examples of work that is near enough to the clients that they might benefit from getting to know it. A recent client whose work is getting serious interest has a narrative voice similar to the two memoirs of Hollywood producer Robert Evans. Engaging with those early on gave him confidence and helped him understand his strengths as a storyteller.
This kind of "homework" also builds the relationship.
The assessment—this morning's meeting was going over my seven-page assessment of a 200-page memoir—proves that you have the skill sets you claim, that you understand the client's needs, know how to fill the gaps between where the work is and where it should be, and that you can follow through and meet deadlines.
The assessment meeting is also the time to interview/audition a potential client. If it's not a good fit, don't force it. Bill for the assessment and move on. No one is served in an ill-fitting collaboration and the headaches and frustrations will outweigh any financial gain.
Once you've wowed them with the initial meetings and assessment, it's time to really get to work.
5. Setting You Up for Success
So now you have the job. Congratulations! My advice is simple. Set deadlines and boundaries. Be clear about what you're going to do and how you're going to do it. Let them know when to expect samples, the finished product, and what their duties in the collaboration will be.
I can't stress enough the importance of boundaries. Your work for hire skills are specific and well earned. Some clients want "one-stop shopping" and may ask you to do things not in your skill set or expertise. Although it's tempting to say Yes! because it is more work/money and you aim to please, in the long run it hurts you both.
Part of setting boundaries is a clear indication of how to communicate and when. Depending on the length and complexity of the project, it might be wise to set weekly meetings, even if they are five-minute check-ins. You may want to set a schedule where you submit samples as you go.
A final piece of setting boundaries is to harness all of the enthusiasm you've created in the client so they aren't continually sending revisions or brainstorms at 2 am (it happens) even though you're still working on your part of the project.
6. Nuances of Good Work for Hire Practices
As with any relationship, quality is in the nuances. Keep the lines of communication open. My best advice is to find a delicate balance between honoring the client's vision and applying your narrative and technical craft to make the work the best it can be. It's not your work. The best work for hire professionals can match a client's voice when called on to fill gaps, provide bridges when scenes, paragraphs, etc. are moved, and, in the case of ghost writing, to speak with them and learn their vocabulary and syntax enough to match them. My background as an actor has helped me immensely here.
Pick your battles. Know when to let things go. All you can do is advise and inform. Sometimes you need to negotiate. Leadership expert Clint Sidle's 90/10 rule is our guide. Ninety percent of the time, let the client have their way, which gives you ten percent where you can ask for their trust and confidence in your choices. As you would in a critique group or classroom, be sure to have solid evidence and examples ready to make your case.
As a Creative, you know how precious our work can be. That will lead to the empathy that will ensure success in this part of the work.
7. The 3 Cs (Contracts, Compensation, and Credit)
As you progress with work for hire projects, the 3 Cs become increasingly important. The contract should encapsulate all of the things I've discussed: expectations, timelines, responsibilities of both parties and, of course, the second and third Cs: compensation and credit.
I have a tiered payment schedule for work for hire projects. Brushing up the text or doing a brief assessment are at the low end. Ghost-writing is the most expensive. You can easily research different markets to get an idea of what you should charge.
You should also specify in the contract how you get paid and how often. I don't charge until I've done some work. Some work for hire professionals ask for a portion of payment up front. And many of my clients offer, so if that's something you want to do, it's not unreasonable. Most of my clients are repeat customers or referrals, so there's less risk.
Last is credit. There are times when, in addition to the contract, there's a non-disclosure agreement (NDA). So we're back to the quote that started us off. If you want the credit, work for hire might not be for you. But, if a project finds success, and you were a part of it, you can talk in generalities on your resume and in your advertising. You just can't name names and be specific.
The takeaway is that you must honor the contract and, if applicable, the NDA.
Final Thoughts
Do you need the credit? Or is expanded opportunity enough? Believe me—they go hand in hand. Work for hire has broadened my network and led to contracts for my own projects. It's no small thing to be toiling away on your own work while getting emails and phone calls about high-level meetings with production companies, publishers, and agents your clients are having because of the improvements you brought to their projects. Because of my willingness to explore new areas through work for hire I have done everything from design Escape Rooms to ghost-write books.
My first blog article for Stage 32, which led to a commission to write for a screenwriting magazine, was on applying screenwriting skills to Escape Room narratives. Two years later, the proof of the good sense in doing work for hire and expanding your creative horizons is in the additions to the credits on my resume and the (non)credits I have benefited from financially and in my skill level as a Creative.
About Joey Madia: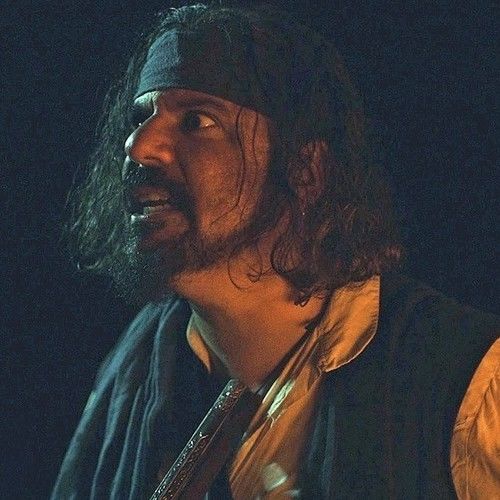 After 25 years in the theatre as a playwright, actor, director, and teacher I have spent the past 5 years putting my focus on screenwriting, developing an audio drama series, writing storylines and designing puzzles for immersive theatre-based Escape Rooms, and creating Historical Education programming with a focus on the Golden Age of Piracy and the lives of Che Guevara and Allen Ginsberg. I am the Artistic Director of Seven Stories Theatre Company and Creative director of New Mystics Enterprises, a multimedia production company. I am also the author of three novels, 5 nonfiction books, and 17 produced plays.
More Stage 32 Blogs by Joey Madia
How Blogging for Stage 32 Landed Me Jobs
Preparing for Auditions: 7 Guided Script Approaches that Land You the Job
7 Less Talked about Pre-Production Essentials for the Beginning Director
7 Steps for Writing Escape Room Narratives and How to Find Opportunities to Write Them
7 Steps for Writing Knights and Dragons Fantasy
The pros and More Pros of Intuitive and Analytical Writing
7 Differences Between Writing for the Stage and Writing for the Screen
The Art of Showing Up: 7 Things Creatives Must Practice to Succeed
Self-Tape Success: 7 Strategies for the Actor, Director, and Reader
7 Essentials for Projects Based on a True Story
The Pros and Cons of Adapting a Classic
7 Questions to Develop Your Vision & Voice
The Role of Creatives in this Time of Crisis
---
Let's hear your thoughts in the comments below!
Got an idea for a post? Or have you collaborated with Stage 32 members to create a project? We'd love to hear about it. Email Taylor at taylor@stage32.com and let's get your post published!

Please help support your fellow Stage 32ers by sharing this on social. Check out the social media buttons at the top to share on Instagram @stage32online , Twitter @stage32 , Facebook @stage32 , and LinkedIn @stage-32 .