As we get ready to take in the Academy Awards this Sunday, I am tempted to think about some of my own memorable Oscar Moments and the lessons that those moments have taught me over the years.
And, not only are they some of my fondest memories to date, but they read like a list of what to do and what not to do.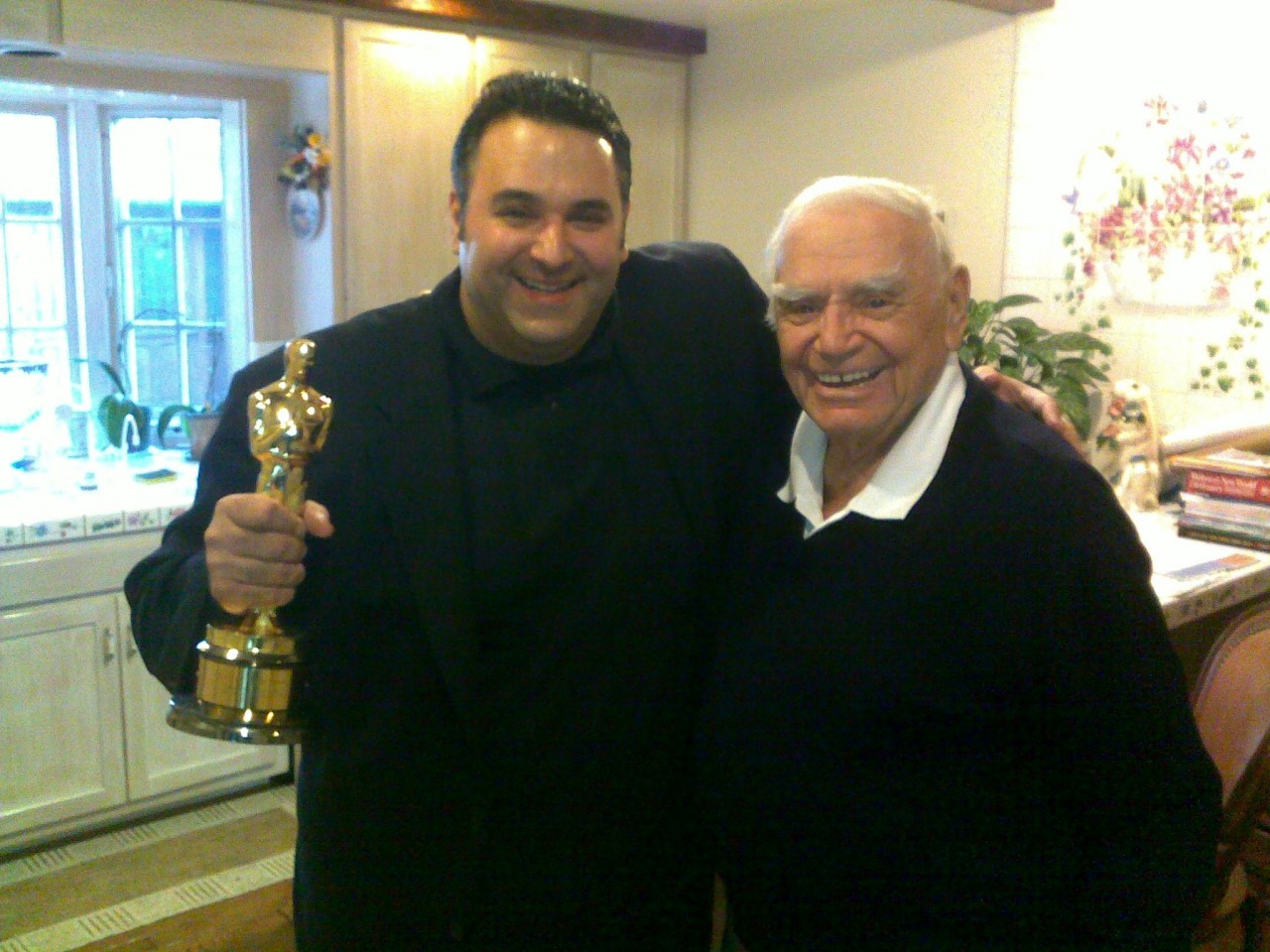 Sam, Oscar, and Ernie …
As you can see above, I got to hoist Ernie Borgnine's Best Actor Oscar from 1956 that he won for portraying the title character in Marty. That was nearly a decade ago. I am so grateful that I got the chance to direct Ernie in Night Club and that wonderful photo was snapped before we worked together when I met him at his home.
His Best Actor statuette was prominently placed on a mantle and my eyes were immediately drawn to it. Then, he pointed it out and insist I take a picture with him and Oscar. What's the lesson here? That was a perk of getting to work with a great Oscar-winning actor and much hard work went into making that a reality. Blood sweat and tears, if you will.
That one photo was the culmination of almost a year in pre-production and fine-tuning the script and then being able to cast Ernie coming off his humorous performance in the Bruce Willis vehicle RED.
But, if you dare to read on, there are many more lessons that Oscar taught me.
LESSON ONE: Get the Right People for Your Network
One thing we did on the set of Night Club was to hire a very talented photographer - David Nitzsche - to snap behind the scenes photos, press stills and we even held a photoshoot on Ernie's last day of principal photography. Almost a year later, sadly, Ernie passed at 95. I lost a dear friend and mentor on that day. Perhaps five months after that, the Academy's telecast reached out to me via David, who was working with them. They wanted to license a photo that David took of him during a poignant moment in Night Club, and one that was used in an important scene in the movie, for the "In Memoriam," segment.
They were willing to pay a fair rate for the photograph. Now pay attention to the lesson in this: I licensed the photo of Ernie to them for nothing. Nada. Zero. I chose not to charge them, as this was the right thing to do. I got to honor my dear friend and chose not to profit from it. However, as a result, it allowed me to open up a relationship and potential future dialogues with the people producing the Oscars telecast. And, it also gave our film some wonderful publicity, which is great, because Ernie's performance was Golden, as was Sally Kellerman's.
And, I practically had tears in my eyes that night, while watching the telecast and seeing my dear friend paid tribute to with a photo from our film, while in the right-hand-corner, rolling footage from Marty accompanied it. A great tribute, indeed.
However, had we not hired a talented still photographer in David, who caught this specific image and who then worked for the Oscars telecast, we would not have gotten that opportunity to pay tribute to our dearly departed Ernie.
It just goes to show you that every hire on a film set can pay off dividends. Also, casting Ernie, instead of a largely unknown, not only helped for distribution but put us in the national spotlight. In addition to the events above, Ernie also was awarded the SAG Life Achievement Award right after principal photography ended on Night Club. Little known fact: The then head of SAG was on our set and told me she was going to suggest Ernie for the Award.
And, it all culminated on Oscars Night 2013 when they shone light on Ernie's wonderful performance in our movie by using that photo to honor him.
LESSON TWO: This Oscar Campaign Had NO Curfew
Ironically, the same night that a picture of Ernie Borgnine in Night Club appeared during the In Memoriam segment of the broadcast, an acquaintance of mine – Shawn Christensen – actually won an Oscar! It was for Best Live Action Short for his film, Curfew, to this day the best short film I have ever seen.
I met Shawn at the 2012 Tribeca Film Festival at a screening of his short. It was nominated for Best Narrative Short. Suffice to say, I was blown away by it and told him so. I looked him straight in the eye and predicted an Oscar win. Shawn wasn't having it … not yet, anyway.
But, to me, it came as no surprise. It's a brilliant film and if you haven't seen it, you absolutely should.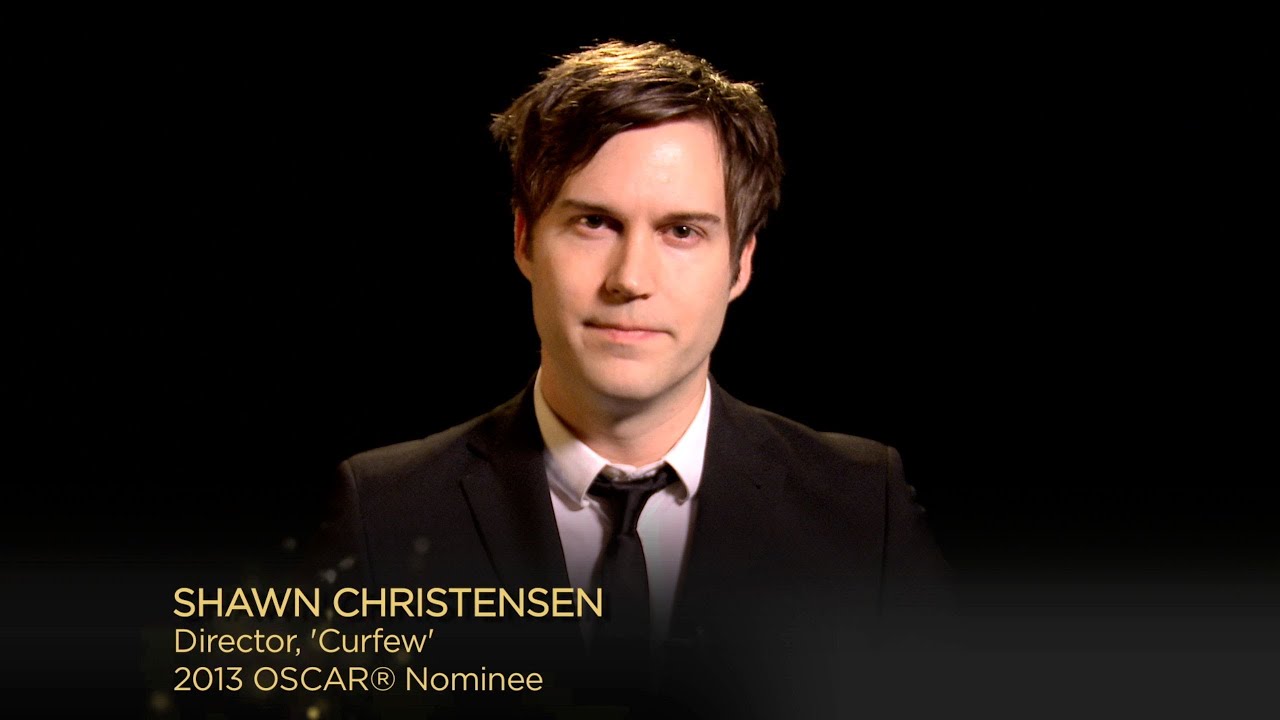 And, when he stood on that Oscar stage in 2013, there were more lessons to be learned about how to make, distribute and market a successful short film. Oscar-Winner Jamie Foxx announcing the category said just moments before he called Shawn's name, "This is the first year that the Academy has made available to the membership on DVD all of the Nominated Live Action Shorts, so pay attention."
Previously to that year, you had to sign into a block of screenings to watch all the Nominated shorts and vote on them. Having a DVD – and now also BLU-RAY – screener helped short films immensely. Not only did Shawn have that, but his previous Festivals leading up to the Nomination – and eventual Win – contained double-digit Oscar-Qualifiers. Win one of those Festivals and automatically qualify for the Oscars. Then, you have a cutdown. Then they slice that in half for the five Nominations.
So, where you choose to screen your film is important. Shawn also had a ton of positive press, media and online reports about his film.
And, it was consistent right up until the Oscar win, having a website, a Facebook page and once he qualified (as per the Oscar rules) releasing the film on I-Tunes.
It was a lesson that I wish I knew when my own short, The Mandala Maker qualified for the Oscars just a few years prior in the Live Action Short category.
LESSON THREE: When Gunning for Oscar, You Must Go the Distance
You see, when I wrote, directed and produced my short that qualified, The Mandala Maker, it was an eye-opening experience, to say the least. Exciting, breathtaking and most of all enlightening. This short brought me a lot of Festival play and a lot of attention that would push my career further.
But this was a few years before the Academy allowed DVD screeners, so as previously stated, once we qualified – before the first cutdown – members had to go to a screening to see the film. It was exciting having our short play at a movie theater in Los Angeles for a week. When the second cutdown comes, it is swift and harsh. Boom! Five films that are all now Oscar Nominees!
When the five Nominees were announced, I began to reflect on the mistakes that I felt our campaign echoed. We premiered at a Film Festival in New York City, however, I felt we had a great chance of winning Best Short Film. After all, our film had the most Nominations in the Fest – 6 – than any other film and those included Best Short Film, Best Director, Best Short Screenplay and Best Actress, among others. We also were a major contender for Audience Choice Award.
We wound placing second in the Best Short category to another film that had qualified for the Oscars – Gone Fishing (NOT the Joe Pesci film), although we edged them out in the Best Short Screenplay category. We were runners-up in Best Actress, Audience Choice and Best Director categories. And, according to different people at the Festival it was very close. I had felt had we won just one of those other awards or premiered at a different Fest it could have boosted our chances of the Nomination a little bit more. Also, in this particular Festival, other than Best Short and Best Short Screenplay or Audience Choice Short, we were going up against Features for Director, Actress and the other two categories. This made it extremely hard for us to take those.
Along our journey, we also received a ton of publicity in major newspapers such as the New York Daily News, the Staten Island Advance and I was even a guest on the radio station, WFAN on their early Sunday Morning non-sports talk show. However, I felt we were top-heavy in our pre-Oscar publicity and if we had just a little bit more press – and Buzz – about our film a little later in the campaign, we could have potentially nabbed one of those five Nominations instead of being a really great bridesmaid.
LESSON FOUR: We Need Inspiration to Envision Success …
And, finally, this last memory is a personal one, but still, one to learn from. Back when I was young, my own cousin, Danny Aiello was nominated for Best Actor in a Supporting Role for playing Sal, the Pizza owner in Do the Right Thing, the Spike Lee joint. That was all the way back in 1990. Many people were calling Danny the everyman and even predicted he would win.
Sam and his Oscar-Nominated cousin Danny Aiello.
But he was going against some heavyweights, not the least of which was the eventual winner of that category … a young actor named Denzel Washington for Glory. Years later, Danny told me he wasn't surprised when Denzel won. Indeed, it was a powerful performance. Still, I got to watch my cousin live on the Oscar telecast being announced as a Nominee, see him proudly sitting there in a tuxedo. And, I got to watch it with my mom, who was so proud, God rest her soul.
If you think that didn't serve as motivation for me during the toughest of times, you would be dead wrong. It did. I always said if Danny could do it, so could I.
And, that is my final lesson. We need inspiration like that. We need to envision what can be … and eventually, it becomes what will be.
These are the lessons that Oscar has taught me over the years.
About Sam Borowski:
Sam is a New York-based director, writer, producer and creator of the twice-monthly "So, You Want To Be An Actor," Workshop.
As a director and producer, Sam has worked with many actors, including Oscar-winners Ernest Borgnine and Benicio Del Toro and Oscar-nominees Sally Kellerman, Paul Sorvino and Mickey Rooney. He's produced features all over the United States including Night Club in Los Angeles, Rex in Georgia and A Place for Heroes in Iowa. The Mandala Maker, a Live-Action Short he wrote, directed and produced, qualified for the 2010 Oscars. He's currently working on Stay Fresh, a large-budget feature he wrote and will direct and produce.
Recently, he produced In This Moment, a short film that he hopes to also qualify for the Academy Awards, and he also wrote and directed another short, Gabriella starring Joe Gannascoli of The Sopranos and John Calvanico
Sam's resume of film festival achievements, which can also be found on IMDb, reads like a veritable who's who of festivals on the circuit. He can be followed on Twitter at @Sam_Borowski or reached via email at cinematicheroes@aol.com. And, of course, you can find him right here at Stage 32!